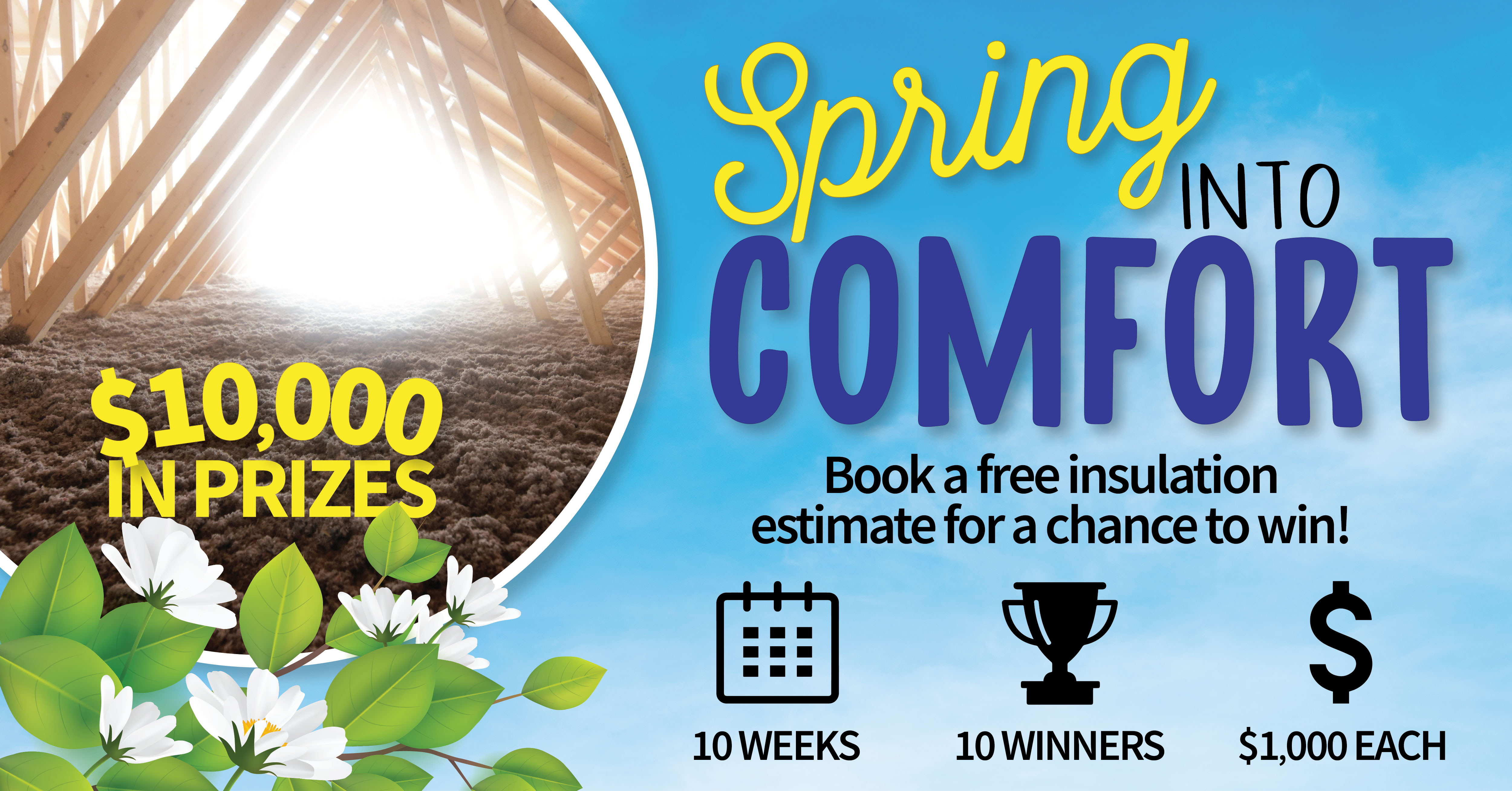 Spring Into Comfort With A Chance to Win $1,000
Make your home more comfortable this spring (especially when it still looks and feels like winter)!
A healthy home is a comfortable home, and nothing improves the health of your home more than insulation and air sealing. From now until June 5, 2020, you can enter our Spring Into Comfort Contest for a chance to win $1,000 in credit for work done by Great Northern Insulation.
Home comfort is a payment you can't see, but once you have it, you can't live without. Say hello to warmer floors and goodbye to that indoor breeze. When the weather outside can't make up its mind, you can relax knowing exactly what temperature your home will be. We make your home so cozy that you will never want to leave.
Upgrading your insulation, air sealing your home, and improving the overall energy efficiency of your home can save you up to 20% on your annual energy bills. Depending on the age of your home and your insulation levels, the payback period could be as low as a few years.
Don't Pay for Your Insulation Until 2021 OAC - Limited Time Offer
We offer financing options that suit your lifestyle. All of our financing options are open-ended, so you can pay them off whenever you want to. You can even make affordable monthly payments using some of the savings from your energy bills that upgraded insulation provides. Plus, for a limited time, you don't need to pay for your insulation until 2021 OAC. It may not be the same as winning this contest, but you'll still feel like a winner when you sit in your now-comfortable home.
Click here to find out if you qualify for financing options online - instantly.
Are You Ready for a Chance to Win $1,000?
The contest rules are simple:
1. Enter your information in the form above, or call us at 1-800-265-1914, to book your free insulation estimate.
2. Complete your free insulation estimate by June 5, 2020.
That's it! Book your free estimate today to make sure you don't miss the deadline.
Have you already had an insulation estimate, but you haven't accepted the quote?
You still have a chance to enter! If you've had an insulation estimate completed for your home before March 25, but you haven't had the work completed, you can still enter the contest by accepting the quote before June 5, 2020.
Are you having insulation installed in your home by us between March 25 to June 5, 2020?
If you've already accepted your quote and you're having your work completed between March 25 and June 5, 2020, congrats! You're already entered!
If you are unsure about having a sales consultant or our crew coming to your home because of concerns about COVID-19, you can read about what we are doing to help protect the health and safety of our customers and our employees.