Is Rim Joist Insulation Really Worth it for Your Home?
November 29, 2019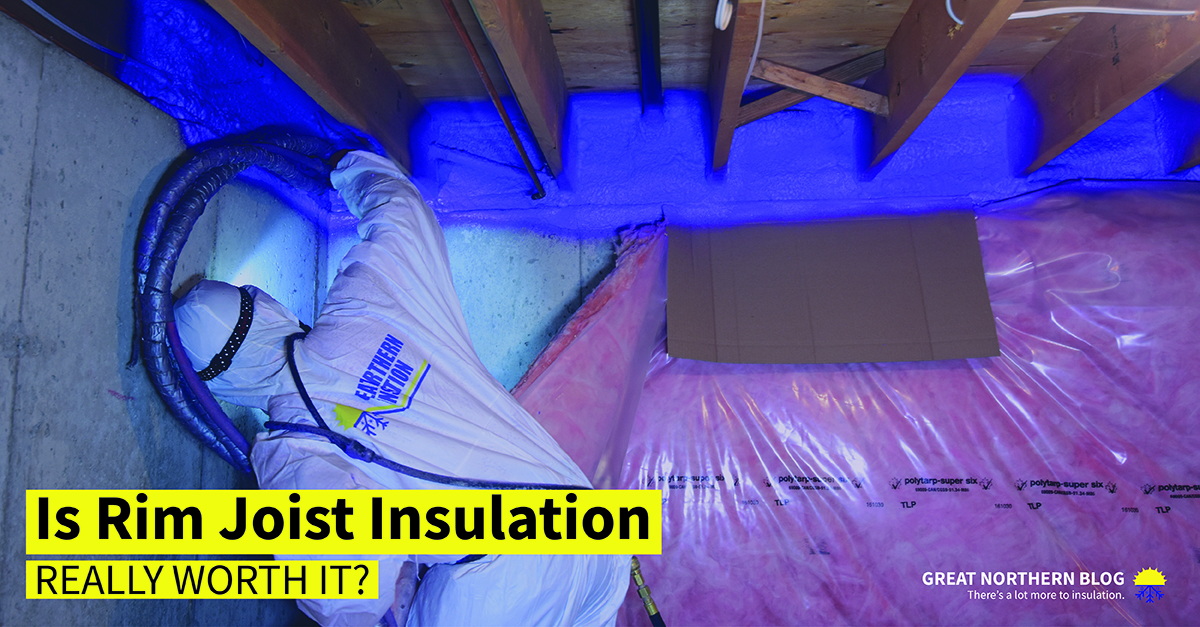 With professionally installed rim joist insulation, homeowners can improve their home's level of energy efficiency and comfort in an affordable manner. In any home, a rim joist is part of the structure of a floor, which works to provide support for the joists themselves. Found around a floor's exterior edges, it is important that homeowners air seal and insulate their rim joists to prevent unwanted energy loss or drafts. Most often, older homes are able to benefit the most from insulation and air sealing upgrades, however rim joist insulation is absolutely worth it for a home of any age.
By scheduling for a professional install from GNI, you receive dedicated service from our team of installers and benefit from their years of experience and training within the industry. GNI also works to maximize cost-effectiveness for our customers, to ensure that you see the biggest upgrades per dollar of your investment. In terms of effective rim joist insulation, GNI can help you determine the potential benefits and the average cost of each potential install. Additionally, GNI's rebate experts are able to provide you with details of what your best potential rebate options, making it even easier for you to see a return on your energy efficiency upgrades.
To learn more about the benefits of rim joist insulation from GNI, or to schedule a time for a free estimate to help you get started on your home upgrades, contact our Customer Experience Team at 1-800-265-1914, or leave us a message online at www.gni.ca/contact.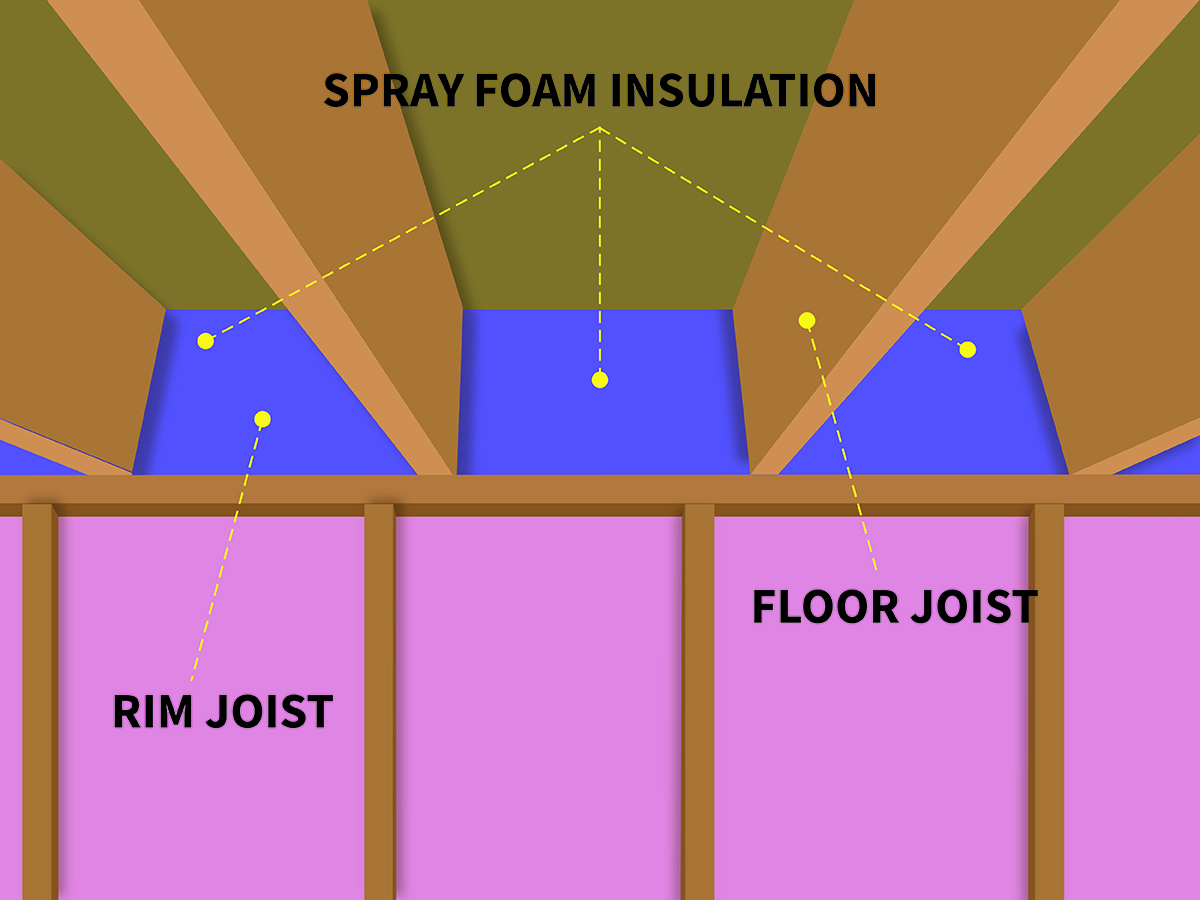 What's Better for Rim Joists? Spray Foam or Fibreglass Batts?
You may be wondering if fibreglass batts or spray foam is the better choice for effective rim joist insulation. Unlike many other parts of a home where fibreglass batts can be chosen as a fairly cost-effective option, spray foam is the better choice for insulating rim joists due to its exceptional R-Value and airtightness. Since spray foam can form an airtight barrier on its own, it works to provide superior moisture control that helps prevent issues such as mould or mildew.
In addition to the increased levels of moisture control, the airtightness found in spray foam also reduces drafts and improves the quality of your living spaces. If you find that your home consistently has cold floors or drafts that you can feel with your feet, you may want to consider having a professional assess your home's insulation in its rim joists. In fact, many older homes do not even have any insulating material in their rim joists, making them perfect candidates for a renovation or retrofit.
Also, while a DIY approach is always an option, spray foam is a product that we recommend having a professional install - and not only for safety reasons. Spray foam differs from fibreglass batts, since it is best applied with pinpoint accuracy to achieve its maximum level of effectiveness. With a professional install from GNI, you can be sure that every nook and cranny of your rim joists are effectively filled and air sealed. That way you can see the biggest energy savings and the biggest home comfort improvements all in one.
What is the Average Cost of Rim Joist Insulation?
The average cost of rim joist insulation can vary quite significantly depending on a number of factors. If you are currently building a home or are already undergoing home renovations, it is absolutely worth it for you to consider insulating your home's rim joists. While it may seem helpful to use affordable batt insulation to try and keep costs down, it may actually be the case that it ends up costing you more money down the road when compared to spray foam.
This is not only due to the increased energy savings that spray foam can attain, but it also helps to prevent any future replacement of insulation. Overall, when it comes to cost-effective home renovations, it is important to consider all of the factors - such as total energy savings, potential rebate options, and the longevity of the renovation itself. Also, since a full retrofit can be more costly in some cases, it can be worth timing your renovations so that they are done altogether.
So, if you are wondering what the average cost of effective rim joist insulation is, then the best plan of action for you to take is to contact a building envelope or insulation expert and request a quote on the cost of your desired renovations or upgrades. GNI will arrange for you to have a home energy audit conducted upon your request, which makes targeting the most cost-effective home upgrades even more straightforward and simple. To learn more about home energy audits and their benefits, or to schedule your time for one, please contact our Customer Experience Team at 1-800-265-1914, or online at www.gni.ca/contact.
Your Home's Energy Performance Matters
By upgrading the energy performance of your home you are able to see a number of different improvements. These include: a lower and more manageable monthly energy bill, a more comfortable living environment with fewer drafts and cold spots, better interior air quality that reduces the risk of sick building syndrome, and an even better market value for your home when it comes time to sell - since energy performance is valued highly by potential homebuyers.
With effective rim joist insulation from GNI, you can lower the average cost of your home's monthly energy bill and benefit from tremendous comfort improvements all at once - making it absolutely worth it for all homeowners. By using spray foam for your rim joists, you can see the biggest improvements per dollar of investment. For this reason, GNI often recommends homeowners to consider using spray foam, and to have a home energy audit conducted to determine the most cost-effective renovation options.