Winterizing Your Cottage
November 14, 2022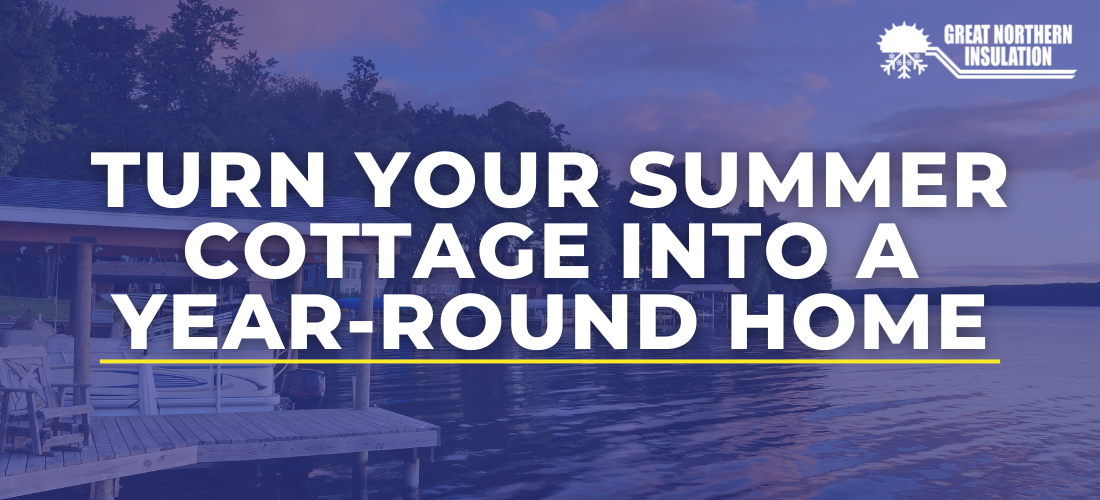 Want to transition your cottage from three seasons to four – and enjoy it no matter what the weather? It's a request the installers at our Gravenhurst branch get a lot, especially now that many of us are able to work from anywhere, at least some of the time. More and more cottagers are extending the use of their vacation homes, with a number moving up to the Muskokas and Haliburton full-time.
"Properly installed insulation, along with air and vapour barriers, are an important part of turning that summer cottage into a year-round home," says Chris Harris, who works in the Gravenhurst office. "Your first step is to insulate, and insulate well. It eliminates drafts, reduces heat loss, prevents mold and mildew, and decreases the amount of energy needed to keep things comfortable."
Read more: 8 reasons to upgrade your cottage insulation
3 things to think about when winterizing your cottage
Insulate under the floors
Winterizing a cottage requires more than putting insulation in the walls. Don't forget the floors – they can be a major source of heat loss.

"A lot of cottages don't have basements and are sometimes even built above-ground," says Chris. "Insulating floor undersides makes a big difference. And for cottages with crawlspaces, insulating and heating those spaces can go a long way to keeping things comfortable and moisture-free year-round."
The best areas to insulate and air-seal are:
Inside empty wall cavities
In gaps between studs and top and bottom plates (Rim Pockets)
Around windows, doors and vents
Under the ceiling
Inside the crawlspace
Around wires and plumbing penetrations
Seal up anywhere air can get in
Adding or upgrading weather stripping and interior/exterior caulking around doors, windows and vents is an additional strategy for keeping outdoor air where it belongs – outside. And don't forget about the holes used by wires and pipes – including those that carry water into appliances like dishwashers and refrigerators. Sealing up those gaps will prevent pipes from freezing and cold air from entering.
Have a consistent heat source
Insulation and air sealing on their own won't stop things from freezing. There still needs to be some heat going in the coldest months so a minimum temperature is maintained, even when you're not around. However, insulation dramatically reduces the amount of energy you need to stay at that minimum threshold and keep pipes from freezing.
"You can put heat into any building, whether it's insulated or not," says Chris. "But the better the barrier between the climate inside and the one outside, the more effective the heating system will be. Heating a poorly insulated space is inefficient, as well as unhealthy for the structure long-term."
But having the heat on doesn't mean you actually have to be there 24/7. Installing smart technology lets you control the temps when you're not around. And then when you're heading up, you can turn up the thermostat remotely so everything is warm and cozy when you arrive.
Looking to winterize your Muskoka cottage so you can enjoy it this winter?
Our Gravenhurst office services all of cottage country, and we still have a few appointments available to get your place ready to enjoy all year! Contact us today to book your free consultation.