Is Spray Foam a Vapour Barrier?
When professionally installed, spray foam (Spray Polyurethane Foam) serves as a vapour barrier. The application satisfies all the pre-requisites for a vapour barrier as specified by the majority of building codes. In fact, SPF does the most complete job of any application – it provides excellent thermal insulation; an effective air barrier; and an efficient vapour barrier all at one time. Best of all, installing SPF provides the highest R-Value of any insulation material available today.
For many professionals, Spray Polyurethane Foam has proven to be the best overall product for the job. And while municipal building inspectors recognize SPF as a vapour barrier "system", there remain various interpretations, depending on locale. At Great Northern Insulation, the team can professionally assess a project and verify code requirements. As it is, SPF delivers consistent results in spaces where air and moisture control are critical to the success of the project.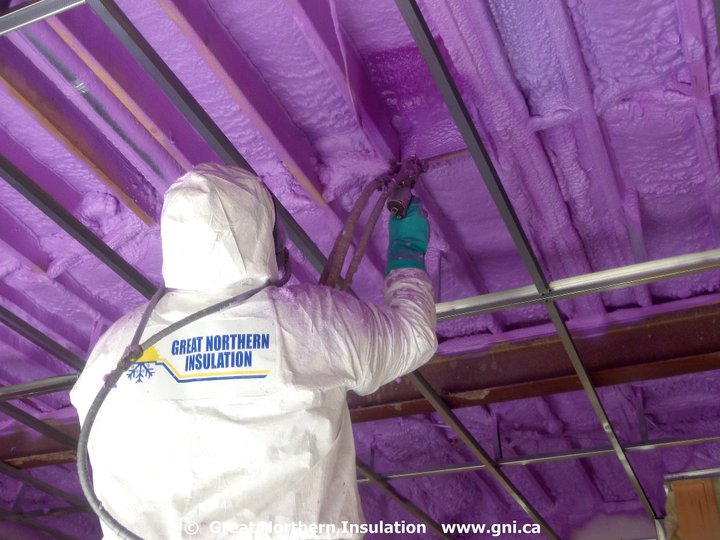 Beyond thermal insulation, SPF is particularly effective because it impedes the accumulation of moisture. In a typical residential home, almost 60% of the heat loss is somehow related to the moisture in the air, so it makes sense to stop undesirable moisture movement, and consequently stop heat loss. Spray foam does it all, and more – it's essentially a "built in" vapour barrier that does not absorb moisture and won't allow mold to grow. No other product can compare.
Whatever the project, and regardless of scope, Spray Polyurethane Foammust be installed with a professional touch. At Great Northern Insulation, the install teams specialize in SPF. Installers are experts in the field, and have years of experience with the SPF product and the installation. GNI teams abide by construction standards, national building codes, and local by-laws. Everything is installed according to the manufacturer's product specifications, without taking any shortcuts.
GNI stands behind every product installed, and every installation performed. The idea is to do it right the first time, and to provide 100% customer satisfaction on every job.