DIY Spray Foam vs. Hiring a Professional Contractor
June 08, 2018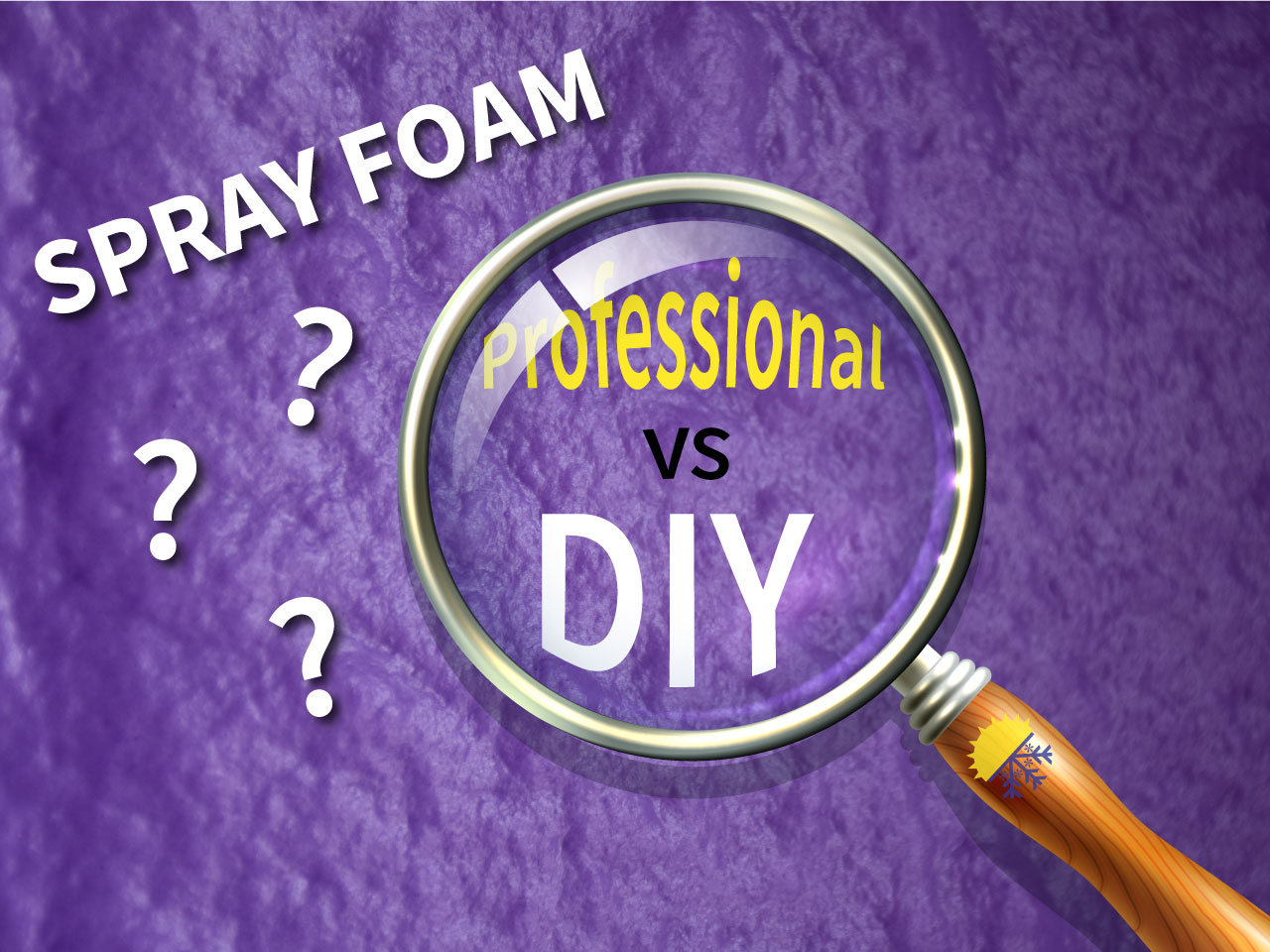 If you're in the midst of deciding between DIY spray foam or hiring a professional contractor, there are some pros and cons to consider. The good news is that you've decided to install spray foam – likely the most effective insulation on the market when properly prepared and installed.
Industry wide, spray foam insulation is becoming the go-to product for attics, basements, and even exterior walls. Unlike other insulation products on the market, spray foam is a specialty application, and therefore requires both product knowledge and relevant installation expertise.
Going with DIY spray foam or hiring a professional contractor
To be sure, a DIY approach to home improvement is about saving money. But spray foam is not your run-of-the-mill home improvement. The fact is, spray foam insulation is well beyond the expertise of a typical homeowner, and a poor installation can quickly makes things much worse.
Granted, there are smaller projects where a DIY spray foam application could work. But if you're talking about a comprehensive insulation application in the attic or basement, even the savings on equipment and material can't make up for the lack of technical knowledge and experience.
In a worst-case scenario, a bad spray foam installation will cost far more to repair and restore than doing it right the first time. By hiring a qualified professional, you'll get a manufacturer's product warranty as well as a company guarantee on the installation and any potential issues.
The pros and cons of DIY spray foam VS hiring a professional
Anyone deciding between DIY spray foam or hiring a professional contractor should be well aware of the pros and cons before starting the project. You will be dealing with a product and installation that requires special handling, expert application, and essential safety precautions.
To be fair, the only "pro" argument for DIY spray foam is the potential for savings. Here, a spray foam kit may be worthwhile, to insulate a small area or weatherize the doors and windows in the home (this would require some research to determine the right product). True, this might be beneficial to your wallet when compared to hiring a contractor, but the savings would be small.
The "con" argument is far more compelling. Homeowners choosing between DIY spray foam or hiring a professional contractor should take note. To begin with, spray foam requires mixing of compounds. For the inexperienced, mistakes could ruin the compounds, creating situations that heavily outweigh the any pros. Most importantly, it can result in more product being used, lowering your perceived savings.
Do you know how to handle the equipment? Do you know how to troubleshoot if there are issues with the hose or gun? Do you know how to spray consistently and evenly? Do you have all of the protective body wear? Anything short of a YES to all of these questions is a recipe for disaster.
With spray foam insulation, hiring an expert is the best option
As a homeowner, you have to acknowledge the need for an expert when required. When you're choosing between DIY spray foam or hiring a professional contractor, you have to be ready to admit when professional expertise and experience overrides the perception of savings.
Whether insulating existing walls or basement foundations, professionals have the tools and equipment to proceed efficiently, while providing optimum results. And when it comes to the larger jobs, a professional team can complete the work in far less time than a DIY homeowner.
When you hire a professional insulation contractor, you're hiring a licensed and insured installer. If anything goes wrong, they know how to handle it, and how to prevent your potential for a disastrous DIY experience. Furthermore, an experienced contractor knows how to dispose of old, deteriorating insulation.
The bottom line with hiring a professional contractor is having the job done right the first time. Professionals work to code. They understand the nuances of spray foam. They know how to deal with structural issues. And they have access to valuable government rebates and incentives.
With spray foam insulation, all the work has to be done right
With spray foam insulation, the work has to be done right for best results. There is no benefit to saving money if the job is half done. And there no benefit if the DIY work takes twice the time of an experienced contractor. Hiring a professional is by far the best option for long-term success. Home insulation is not one of those aesthetic projects – like a kitchen makeover or bathroom upgrade. Insulation is about improving home comfort and energy efficiency, and expert installers are the ones who can deliver long-term value. They treat the home as a "system" and attend to everything from air leakage, to air moisture, to air circulation. The work is quite comprehensive.
Working with a professional makes cash incentives available
GreenON rebates help to offset the overall cost of home energy upgrades and reduce your carbon footprint. Insulation upgrades are eligible for up to $7,200. Available to Ontario homeowners, the rebate provides an opportunity for big savings on the upfront cost of home insulation upgrades.
Union Gas offers the Home Reno Rebate Program, allowing property owners to receive up to $5,000 for undertaking "energy smart upgrades". The HRRP offers a cash incentive to defray the cost of upgrades. Homeowners must work with a Registered Energy Advisor for an energy audit.
Enbridge Gas offers incentives of up to $5000 through their Home Energy Conservation Program. When doing energy upgrades or retrofits, homeowners are incentivized with a cash rebate. The idea is to improve home energy efficiency, while improving home comfort, and lowering energy bills.
Count on the experts at Great Northern Insulation for quality
For the average homeowner there shouldn't be much debate about DIY spray foam or hiring a professional contractor. With Great Northern Insulation, you'll be assured of quality from start to finish. We only use quality products. We always provide the manufacturer's warranty. And every install is company guaranteed. With GNI you can be sure that the work is done right the first time.
To find out more about spray foam, call Great Northern Insulation at 1.800.265.1914 or fill out our online form (we'll offer you a FREE in-home assessment).