Union Gas: Home Reno Rebate Program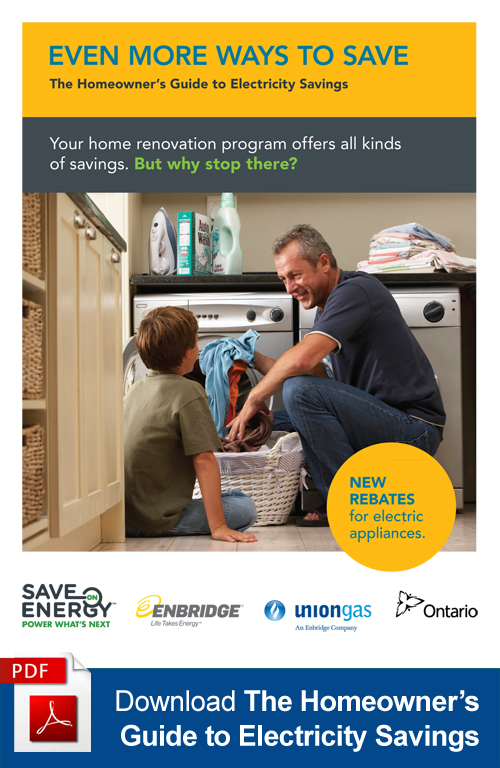 Probably the most important home renovation is the one that delivers value. And here, making a home substantially more energy efficient may be at the top of the list. At Union Gas, energy efficiency upgrades are eligible for various rebate programs. In fact, property owners who do "energy smart upgrades" can qualify for significant rebates to offset the cost of those upgrades. Better still, the long-term utility savings will make a big difference on the monthly home budget.
By improving overall energy efficiency throughout the home, property owners may qualify for up to $5,000 in renovation grants. And when that work is professionally done, energy bills can be reduced by up to 20% every year. The truth is, a high-quality energy retrofit will also increase the value of the home – today, an energy efficient home is much more attractive to a prospective buyer, offering a distinct value advantage over other homes that may be less energy efficient.
Rebates have never been higher. For those who qualify, the Home Reno Rebate Program offers cash-back up to $5,000 to offset eligible renovations or upgrade costs. To begin with, property owners must work with a Certified Energy Advisor who will professionally expedite a pre-reno energy assessment. This energy assessment will be evaluated, and recommendations will be made for renovating or upgrading the premises to enhance energy overall efficiency.
In terms of actual renovation work, a property owner must commit to two renovations from a prescribed list. A reputable, professional contractor must perform all of the renovation work, and when renovations have been completed, the Energy Advisor will execute a post-reno appraisal. As a last step in the process, all the necessary paperwork is submitted to Union Gas, and a rebate cheque is forwarded to the property owner (usually arrives within 60 days of submission).
In order to assure eligibility and a professional approach to retrofitting, there are various pre-qualifications for applicants. As well, applicants must pay HST on both energy assessments.
Applicants must heat their home with an oil, gas, or propane furnace/boiler
Wood burning stoves are also applicable - electrically heated homes are not
The owned home must be detached; semi; row townhouse; or mobile home
Applicants must also abide by the following geographic requirements Be a Union Gas customer or otherwise reside a franchise area:

Be a Natural Resources Gas customer or live in a franchise area
Be a Utilities Kingston customer or reside in the Kingston area
Be a Kitchener Utility customer or reside in the Kitchener area
Applicants may also live in the following districts shown below:
Algoma District
Brant County
Bruce County
Cochrane District
Hastings County - Tudor – Cashel
Kenora District
Manitoulin District
Muskoka District Municipality
Nipissing District
Parry Sound District
Rainy River District
Sudbury District
Sudbury Regional Municipality
Thunder Bay District
Timiskaming District
Frontenac County – Bedford – Portland – Loughborough - Storrington
For the homeowner, insulation upgrades are sure to deliver short-term and long-term benefits. These upgrades might include insulation enhancements in the basement, attic and roof, exterior walls, and other areas of the home where R-Values can be substantially increased.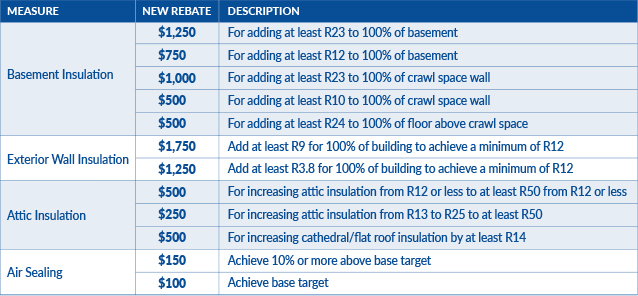 To take full advantage of the Home Reno Rebate Program, homeowners must take responsibility for ensuring their eligibility; for choosing a qualified Certified Energy Advisor; for undertaking to hire an authorized contractor; for compiling invoices; and for meeting the required deadlines.
With higher rebates (up to $5,000) now available through Ontario's Green Investment Fund, it's the perfect time to start doing the energy retrofits that will pay off in the years to come.