Large Scale Energy Retrofits and Affordable Housing: Parkdale Landing in Hamilton
October 03, 2018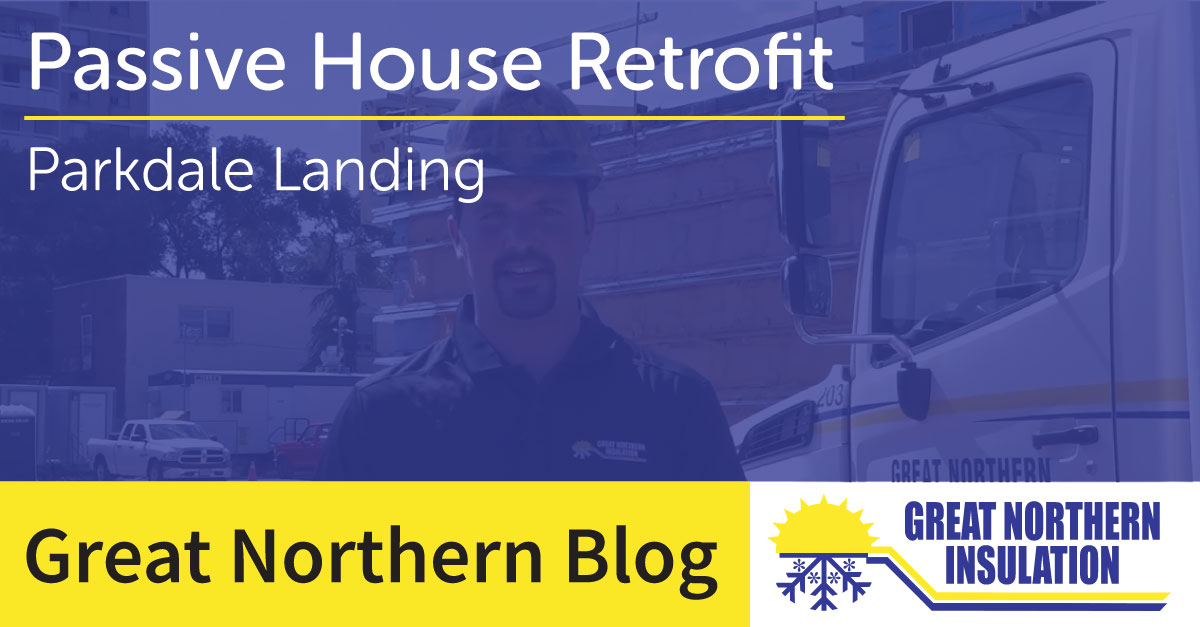 Developing affordable housing while also taking energy efficiency and carbon emissions into consideration can be a challenging endeavour. For Indwell's Graham Cubitt, one of Ontario's leading affordable housing developers, green energy practices such as proper insulation and ventilation are not to be overlooked; as they provide comfort and affordability to people who have often had very poor housing experiences in the past. Looking to provide community renewal for affordable housing tenants and their neighbours, Indwell aims to lower their tenant's utility bills while also increasing the comfortability of their home. Our team at GNI is looking to provide this very same service to everyone across Ontario.
This is being demonstrated in Hamilton, as Indwell has teamed up with Invizij Architects and our team at Great Northern Insulation to take on one of the largest Passive House retrofit projects in Canada. By utilizing Elastochem's Insulthane Extreme, our experienced insulation installers are able to spray foam insulate the entire exterior of the building, directly over the brick that is already there. Chosen for having an exceedingly low global warming potential (GWP), excellent thermal performance and a similar cost to alternative products, Insulthane Extreme is the first product in Canada to use Honeywell's ultra-low GWP Solstice® Liquid Blowing Agent. This allows Elastochem's closed-cell spray foam insulation to be applied in a 6 inch layer, providing a high-performance building envelope and boasting a 99.9% lower global warming potential than commonly used HFC blowing agents for spray foam, such as HFC-245fa.
Being able to transform any existing building to achieve Passive House certification is simply astounding. The size and scale of this of this retrofit is the first of its kind in Canada to be transformed to meet Passive House standards for energy efficiency, and makes us all the more excited to continue being a part of these projects in the future.
For a building to achieve Passive House certification, it must pass rigorous testing to ensure the utmost energy efficiency, including: a maximum demand for space heat, a rigid airtightness with at most 0.6 ACH (Air Changes per Hour), an interior/exterior pressure difference of 50 Pa max, and a total primary energy demand of no more than 120 kWh/m2a.
Here at GNI, we are happy to see companies such as Indwell and Invizij looking to keep the price of utilities low for families in affordable housing through large scale energy retrofits. Regarding this particular project in Hamilton, the 60 year old building has 57 apartments, with the project aiming to promote quality of living for its tenants. As such, a restaurant and retail space, along with a large upper deck for growing vegetables is also being added for tenants to use.
We hope this large scale energy retrofit inspires other developers to consider updating their buildings' energy efficiency to meet Passive house standards - helping to keep affordable housing affordable, and reducing harmful carbon emissions. Thank you to everyone involved.
Read the full case study here.