Ottawa Concorde Apartments

Ontario has an aging residential infrastructure problem.
In August 2018, a high-rise residential apartment building in Toronto caught fire, leaving nearly 1,500 residents without a home for over a year while the building underwent repairs. The fire, which occurred in an electrical room, devastated the aging infrastructure and caused extensive damage to the building and its electrical components.
The story of this Toronto high-rise fire is significant not only because of the difficulties and harm caused by displacing so many people from their homes, but also because of the conversation and potential political action it spurred regarding Ontario's aging residential infrastructure. Ontario contains tens of thousands of high-rise residential apartment buildings, a majority of which were constructed between the 1950's to late 1970's. At a glance, high-rise units make perfect sense; they are a housing solution that provides high population density with a low urban geographic footprint. As these buildings continue to age, though, they require more and more upkeep and funding to keep each building running, comfortable, and profitable. Today, many of these older buildings are experiencing infrastructure failure or require full replacement for vital building infrastructure such as boilers, windows, elevators, and electrical systems.
In 2019 a Bill was tabled that would amend the Residential Tenancies Act of 2006. One of these amendments would require landlords of residential complexes of 10 or more residential units to maintain a financial account where, each month, a prescribed percentage of all rents would be deposited. This fund would be used only for repairs to the complex to combat aging residential infrastructure. The Bill, known as the St. James Town Act, was tabled by MPP Suze Morrison, whose riding includes the St. James Town community where the August 2018 fires left almost 1,500 without a home for over a year.
"This winter, other high-rise buildings in St. James Town experienced floods and electrical shutdowns. Some buildings were without heat, water, or electricity for several days during some of the coldest days this winter." Suze Morrison said when announcing the St. James Town Act to the media.
While a building fire is an extreme – but very real – potential circumstance of aging residential high-rise infrastructure, many of the other points mentioned by Suze Morrison are far more common. An overarching contributing factor to many of these issues is air leakage within a building, primarily caused by aging, worn, or completely missing air sealing measures. Over time, the built-in air sealing within windows, doors, and around other air leakage pathways becomes ineffective and must be replaced to avoid excess stress on mechanical systems, decreased building energy efficiency, and increased number of tenant complaints in regard to overall comfort or drafty conditions.
While the St. James Town Act has not yet been passed, it showcases the need and desire for ongoing improvements to Ontario's high-rise residential building infrastructure. Unlike other potential infrastructure repair costs, improvements made to building air sealing measures can result in large improvements with a comparatively minor overall cost.
With over 40 years of experience, Great Northern Insulation has carried out building envelope infrastructure improvements to many high-rise residential buildings. The Concorde apartments in Ottawa are one such building, where Great Northern Insulation carried out a complete air sealing upgrade package to replace weatherstripping on all suite windows, caulk units with siliconized latex caulking, install commercial-grade weatherstripping on all stairwell doors, garbage chute doors, and exterior doors, and air seal penetrations in mechanical suites using proper firestop materials. In this Featured Project article, we will briefly explain each of these upgrades, and the benefits they provide to both tenants and the building itself.
In December of 2019 GNI completed a comprehensive air sealing package to our 15-storey apartment building in Ottawa. The building was over 40 years old with original windows and balcony doors. All the weatherstripping was replaced with new commercial grade stock to reduce drafts and energy consumption. The reduction in gas consumption was noticeable, even though we had switched our MUA unit to 100% in March 2020 due to COVID-19. Our tenants were also pleased with the results, commenting on reduction in drafts and sound transmission from outside. I feel this was a worthwhile project which will definitely show a return on investment.

- Steve Goldberg, P.Eng
Director, Construction & Property Standards
Realstar Management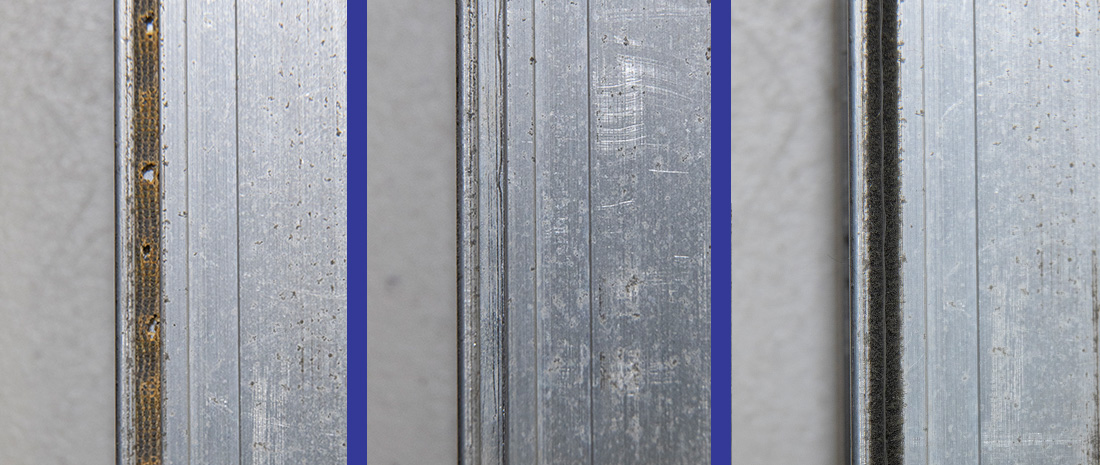 Left: Existing, aged weatherstripping to be replaced. Middle: A cleaned window frame with aged weatherstripping removed. Right: New commercial-grade weatherstripping installed.
Window Weatherstripping Upgrades
As weatherstripping on windows wears down and ages, it allows for conditioned air to leave or external air to infiltrate the unit. It's important to monitor the quality of window weatherstripping for signs that it may need to be replaced, as air exfiltration or infiltration means decreased overall comfort, higher energy costs for consistent indoor temperatures, and reduced tenant satisfaction. Replacing weatherstripping within every unit of a high-rise residential building can be a daunting task, but the overall time commitment and can be drastically reduced by hiring a professional company to complete the task.
Like window weatherstripping, existing caulking measures can degrade and wear over time, leaving gaps and cracks that allow for air leakage pathways. New caulking works in tandem alongside improved weatherstripping and can be installed at the same time to reduce not only the amount of time required to complete the upgrades but the time required inside each unit, as well.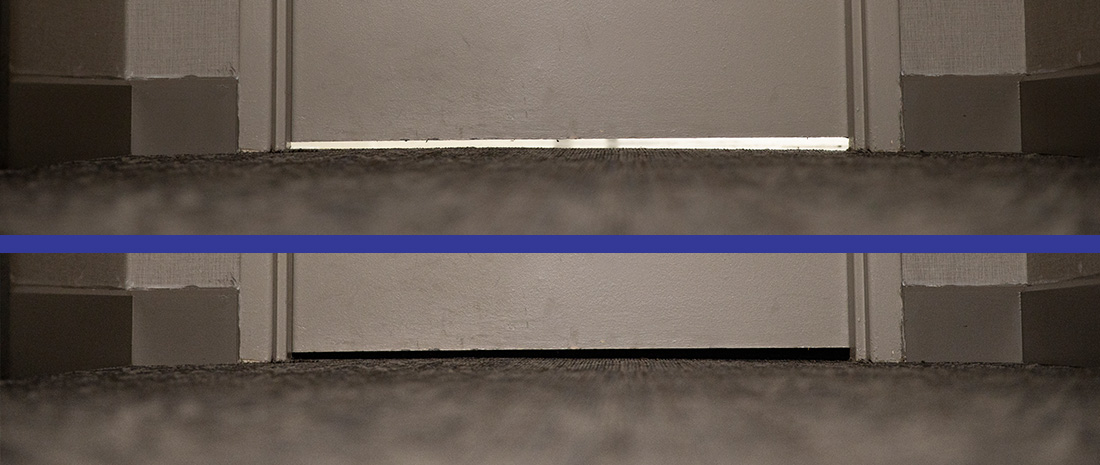 Top: A stairwell door without door sweep installed. Bottom: After installation of commercial-grade door sweep.
Weatherstripping Doors
Stack Effect occurs in all types of buildings, but particularly in taller ones. It is a phenomenon that happens when natural air enters the lower floors of a building, flows throughout, and exits through the uppermost floors. This effect causes air leakage issues, increased condensation, and compromised air quality. Left unattended, these issues can escalate with the age of the building and cause major headaches for property managers.
Equipping stairwell and external doors with new, commercial-grade weatherstripping helps to alleviate the stack effect, reducing the overall impact on the building HVAC systems and improving overall comfort by stabilizing internal temperatures. In addition to these external and stairwell doors, Great Northern Insulation also installed new weatherstripping on garbage chute room doors in order to minimize odours that were otherwise able to waft into hallways and occupied units.

Air Sealing Mechanical Penetrations
In air sealing or fire stop terms, a penetration is an opening in a wall or floor, usually for an electrical, mechanical, or structural item that passes through. These penetrants can include pipes, electrical conduits, ductwork, and many other items. Closing these pathways around the item with proper air sealing methods is vital in reducing air leakage pathways throughout a building. In certain cases, fire stop materials may be used to ensure that, in the case of a fire, the opening will not allow smoke or fire to pass through to other areas of the building.
Proper building envelope and insulation upkeep of residential high-rise buildings in Ontario is a task that requires a professional assessment. Contacting Great Northern Insulation, as the Concorde apartments in Ottawa did, to conduct an assessment is the first step in obtaining a specific, strategic plan in increasing the energy efficiency and lifespan of mechanical components and HVAC systems within your building. Carrying out air sealing upgrades is a great way to improve tenant occupancy and retention, reduce overall heating and cooling costs, and counteract the aging high-rise residential infrastructure problems that are occurring throughout the province.