Why Upgrade Your Cottage Insulation
May 05, 2022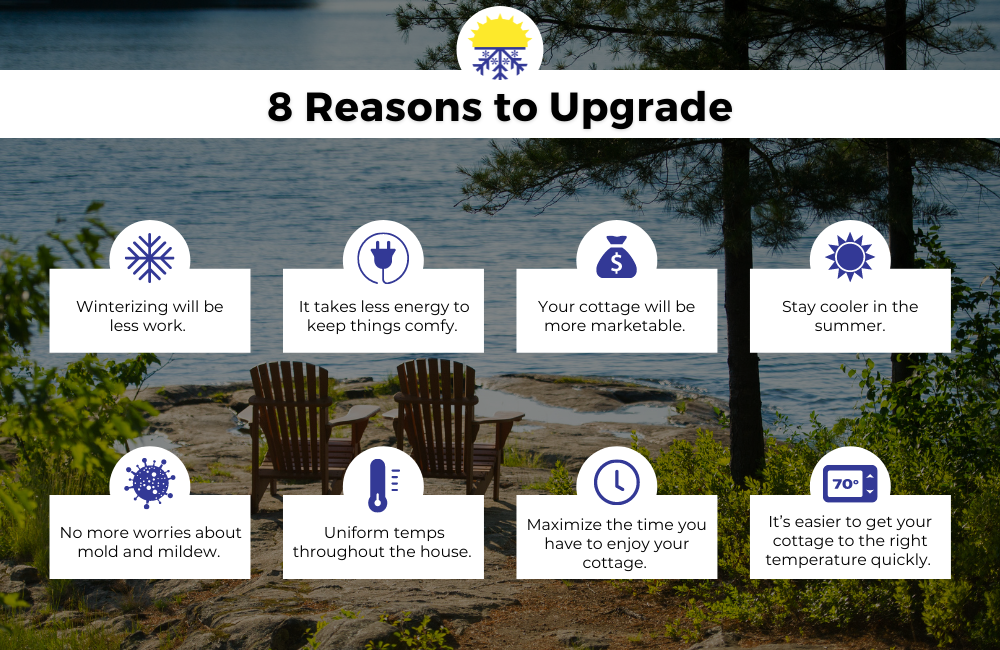 Want to make your cottage cooler in the summer and cozier in the colder months? Whether you're looking to fully winterize or just make your home-away-from-home more comfortable and energy-efficient for more of the year, properly-installed insulation has all kinds of benefits that make an upgrade worthwhile.
Maximize the time you have to enjoy your cottage. New insulation will help you keep things warmer longer – and enable you to get more enjoyment out of the property every year. (Which is great for locations with 4-season activities.)

It takes less energy to keep things comfy. Good insulation, along with air and vapour barriers, reduces air leakage and minimizes drafts, so you'll use less energy to heat or cool the space. That saves you money – and helps out the environment, too.

Winterizing will be less work. Even if you don't use your cottage in the coldest months, proper insulation means that as long as you keep your heat on at a minimal level though the winter, your pipes won't freeze. Enhanced thermal protection (especially from spray foam) keeps warmth in and reduces the amount of heat you need to keep your pipes safe.

It's easier to get your cottage to the right temperature quickly. Do you like to keep your windows open in spring and fall? The fresh air is great, but things cool off fast once the sun goes down. A well-insulated cottage means your recovery time will be minimal once you've closed the windows, and the climate will get to where you want it a lot faster and more efficiently.

Stay cooler in the summer. Insulation makes it a lot easier to maintain a comfortable temperature when it's hot out, which means cooler days, more comfortable nights, and less need to run the AC. And when you do need to run the air conditioning, insulation makes it easier to maintain the temperature you want with less energy output.

No more worries about mold and mildew. In the summer, proper insulation reduces unwanted humidity. In winter, it prevents warm air from condensing on the walls or in the attic and causing mold. So your space stays healthy and mildew-free.

Uniform temps throughout the house. No more drafty spots, hot or cold rooms, or dealing with an upstairs that's 10 degrees hotter than the main floor.

Your cottage will be more marketable. Should you decide to sell at some point, a cottage that's usable for more of the year will appeal to a greater number of buyers – and likely sell for a higher price.

We serve all of cottage country
Whether your cottage is land or water access, close to town or completely remote, we'll bring the insulation to you. From Pelee Island to Algonquin Park, Lake Huron to Ottawa, there aren't many cottages that are out of our reach. Get in touch today to see how upgrading your insulation will make your cottage cozier – and even more fun!
Get started with a free cottage inspection.
Our expert consultants will help you choose the right insulation for your needs and budget – and get your cottage more comfortable and energy efficient in no time.