Everything You Need to Know About Wall Insulation
October 11, 2019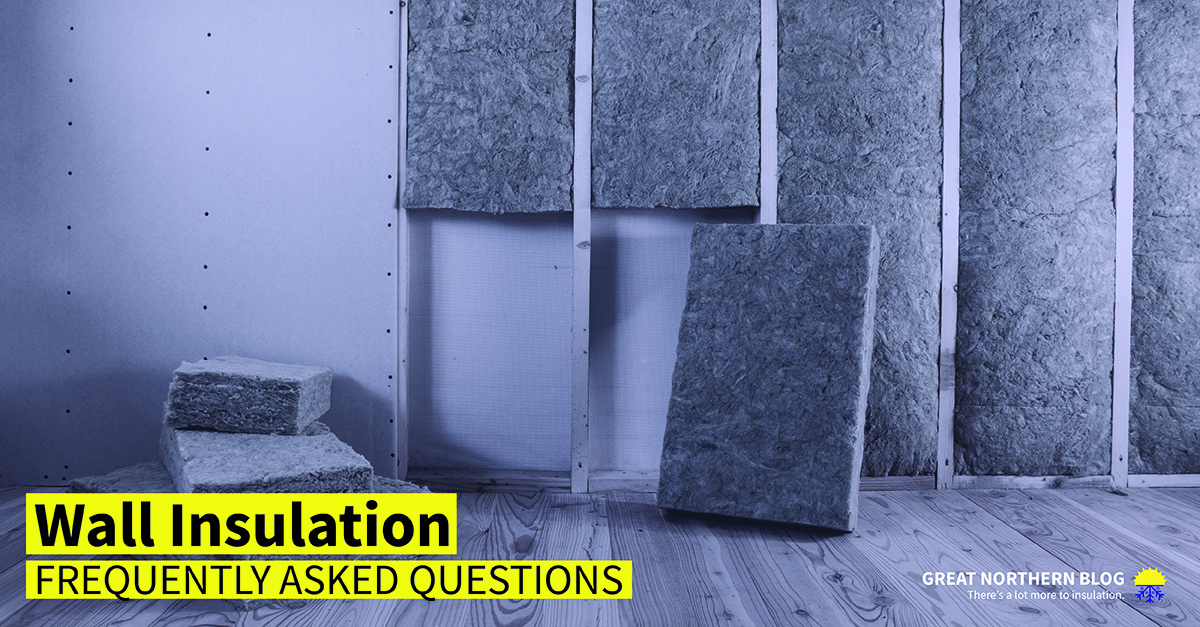 Effective wall insulation is an important part of home comfort and energy efficiency. Without it, a home is significantly more expensive to keep warm during the winter and cool during the summer. Strong wall insulation also reduces unwanted drafts, keeps interior temperatures more constant and uniform, and improves overall air quality and humidity levels - meaning a lower risk of sick building syndrome for the home's inhabitants and visitors.
Here at the GNI offices we've put together a cheat-sheet of the questions most commonly asked about wall insulation and its benefits. If you have any questions, comments, or concerns about wall insulation, or about any of our products or services, please contact us via phone at 1-800-265-1914, or through our website at www.gni.ca/contact, and our Customer Experience Team will be happy to assist you.
What Can be Used for Wall Insulation?
A wall can be effectively insulated in many different ways and with many different products - depending on the needs of the homeowner and their home. This includes: blown-in insulation, spray foam, batts, exterior insulating techniques, and the retrofit drill and fill method.
For this reason, we often encourage homeowners and condo owners to apply the most cost-effective method of wall insulation available to them. This does not mean sacrificing performance by cutting corners, instead it means insulating for maximum effect and affordability.
To determine the most cost-effective way for your home's walls to be insulated, an energy audit should be performed by a registered energy advisor. This can be done by a certified company that specializes in building science, such as our friends at Barrier Sciences Group. For more information about energy audits and their benefits, stop by their website.
Can Spray Foam be Used for Wall Insulation Behind Finished Drywall?
One of the many benefits of spray foam is its versatility of use, and in this case it is able to insulate the exterior of a home - if the interior cannot be insulated for one reason or another. Unfortunately, if drywall is already installed, there is no way to apply spray foam to the interior without tearing down the drywall first. However, with loose fill insulation and the retrofit drill and fill method, our professional installers are able to insulate behind finished drywall, while still within the interior of the building (unless there is a physical impossibility to do so).
With this method, our installers drill a series of small holes in the drywall that are easily patched upon completion. From there, loose fill insulation is blown into the empty wall cavity, completely filling and sealing it without modifying the structure or the appearance of the wall itself. This makes it an effective and non-intrusive technique for improving the R-levels of a wall that already has finished drywall.
What is Blown-in Insulation?
Blown-in insulation is a professionally installed type of insulating material that is largely made with eco-friendly recycled product. It is able to expand and fill the area where it is applied, leaving fewer gaps than batt insulation alone. In most applications, strong R-values can be affordably achieved using blown-in cellulose or fibre. It also works extremely well when used alongside other forms of wall insulation, but will require effective air sealing to prevent unwanted leakage when used alone.
Blown in cellulose / fibre is often used as effective attic insulation, but it can also be used in a wall to great effect through the retrofit drill and fill method or through standard application. Perhaps equally as versatile as spray foam, blown-in cellulose / fibre still has a wide array of uses that maintain affordability.
Can Different Types of Insulation be Combined? Such as Spray Foam and Batts?
Absolutely! In fact, combining multiple different types of wall insulation is an excellent method for achieving high R-values and moisture control within a home; while still maintaining a cost-effective approach.
For example, fibreglass batts can be used to provide solid R-value per cost, and then enhanced with touches of spray foam to add even more R-value and air seal. The spray foam is used to fill the gaps and air spaces that the batts are unable to reach, without having to apply a significant amount that would start to increase overall costs. This is what many homeowners consider to be a 'best of both worlds' scenario, where the affordability of batt insulation is combined with the durability and effectiveness of spray foam. The same method can be used with blown in insulation by applying the spray foam first to maximize air sealing, and then adding the blown in insulation to provide increased R-value.
To see if this approach would be right for you and your home, schedule a time for a free home evaluation from GNI. For a comprehensive look at your home's current energy performance and to see possible energy efficiency upgrades, a home energy audit can be performed by a registered energy advisor.
Will Fibreglass Batt Insulation be Enough?
It completely depends on the expectations and aims of the homeowner. Using fibreglass batts as the only form of wall insulation in a home is affordable and can be effective if it is done properly and it is well air sealed beforehand. This method can also lead to high levels of energy efficiency and home comfort, but will require more material and diligence when compared to a home that used a combination of spray foam and fibreglass batts, for example. Our experts will always let you know when air sealing is required, and are more than capable of getting the job done – the right way.
Additionally, it's worth noting that while fibreglass batts compete to be one of the most effective forms of wall insulation available, they are still more than able to keep a home comfortable and affordable when installed and properly air sealed by a professional. Our expert installers have insulated and air sealed countless homes with fibreglass batts to great effect, and we have had many homeowners express their satisfaction with their new improvements.
With the help of our experienced team of insulation experts, you can easily determine the type of wall insulation that is right for your needs and your budget. This means that the benefits and costs of each type of wall insulation are laid out clearly in front of you, aiding in your decision. Additionally, GNI can help you target the right rebates to maximize your savings and lower your utility costs even further.
To learn more about your wall insulation options or about our free home evaluations, please call our Customer Experience Team at 1-800-265-1914, or chat with us through our website at www.gni.ca.