Keep Cool in the Summer with Insulation from GNI
July 19, 2019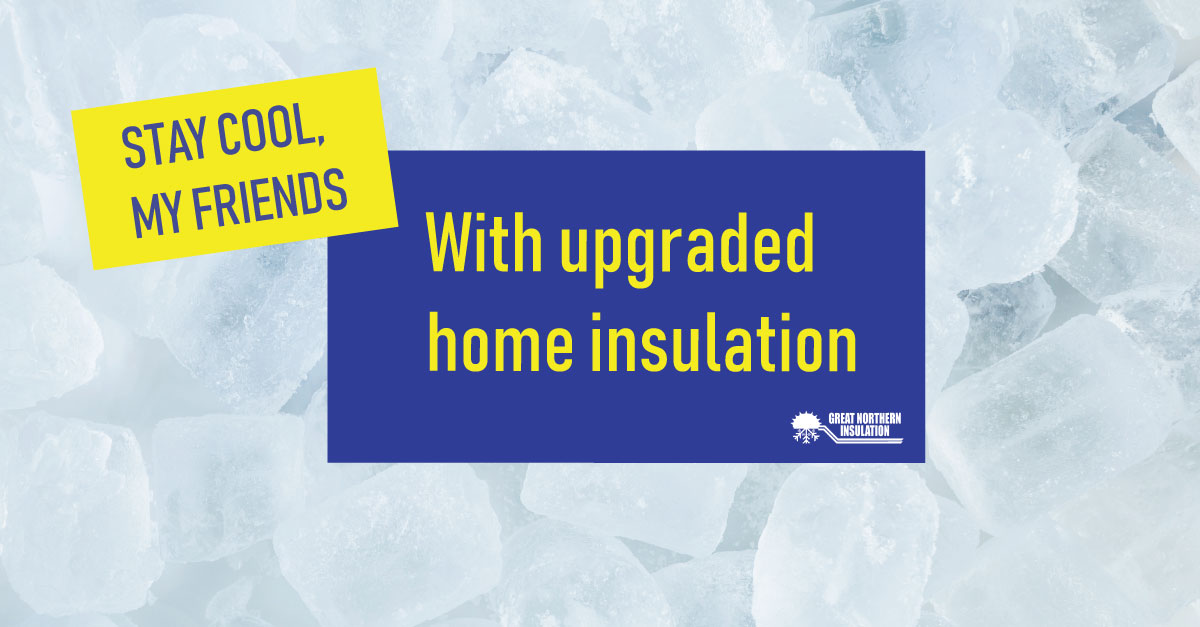 Even in the heat of the summer, insulation quietly works its magic. When you read or hear about the benefits of strong insulation, it is usually in the context of staying warm in the winter. This means that the many benefits of summer insulation are often overlooked, leading homeowners to undervalue its effectiveness during the hotter months. Instead it is important to look at how insulation improves a home all year long, as this allows you to see its full value.
As the months grow hotter, and the days longer, so too does your reliance on your air conditioner. If you need to run your a/c more frequently, you are not only paying more in utility costs, but you are also increasing the wear and tear on your air conditioner/HVAC system itself.
By making energy efficiency upgrades to your home that reduce the stress put on your HVAC system, such as adding attic insulation and improving airtightness, you can successfully drive down your utility costs and your maintenance costs. In addition, your home will become a quieter and more comfortable living space, with less drafts and a more uniform temperature throughout every room.
In the Summer, Your Insulation is What Keeps you Cool
Although it may seem a little backwards at first, your home's insulation is actually what keeps your home a comfortable and consistent temperature. While it may seem like your air conditioning unit is the real hero, it is actually your insulation that is making the biggest difference.
Just for a moment, let's pretend that you are in the market for a new standalone workshop/shed. You want to be able to work inside it during the heat of the summer, so you decide to add a portable air conditioner once it has finished. However the shed is wooden framed and aluminum sided, meaning that it provides an extremely minimal level of insulation. This also means that the air conditioner you purchased is ineffective and costly to keep running, as all the cool air easily escapes to the outside.
If you were to insulate the shed with the appropriate type of insulation, the cold air from your air conditioner would hang around much longer, and actually work to keep your workspace cool. This means you will have a cheaper electricity bill (from not having to run the a/c as often) and a more comfortable environment for your workshop.
The same concept works in homes, buildings, and even large industrial facilities. As insulation and airtightness improve, so too does the building envelope. This means that you can maximize the effectiveness of both your heated air and your cooled air, and reduce your utility bills in the process. Also as the months grow hotter this summer, your new insulation improvements will become even more noticeable as they help you to beat the heat.


How Insulation Works to Beat the Heat
Whether it is spray foam insulation or batt insulation, the general method for how insulation works to improve a home stays the same. In basic terms, the goal for it is to: provide thermal insulation, prevent unwanted air flow, resist fire, and prevent mould from growing. It does this by successfully managing the three different ways that energy/heat is transferred: conduction (energy transferred through a solid object), convection (energy transferred through the air), and radiation (energy transferred through light waves).
By managing the three types of energy transfers, both heated air and cooled air can be used to make a home more comfortable without having to worry about energy loss. This means that a well insulated home retains the cold air from its air conditioner for longer.
As another example, think about a cooler at a family picnic. It has drinks and ice inside it that would melt during the heat of the summer without any insulation. In this case, the cold air is being kept inside due to the effectiveness of the cooler's insulation and its level of airtightness - and you are thankful that your drinks stay cool all afternoon. This concept also applies to summer insulation, and how it keeps your home cool as the temperatures outside continue to rise. Much like how a well-insulated cooler needs less ice to keep the drinks cool all afternoon, a well insulated home needs less a/c to keep the occupants comfortable all summer.
With effective summer insulation and a sufficient level of airtightness, the result is a home that is more comfortable to live in - even during the hottest months - and has a lower utility cost all year long.
Attic Insulation Improves the Whole Home
When looking at a home's energy performance, or rather, its ability to provide a comfortable living space per amount of energy used, it is important to look at the entire home as a functioning system - a system that involves many different factors working in cooperation with each other. This means that when one part of the home is changed or improved, the effects can be noticed throughout. In many Ontario homes, making attic insulation upgrades is the most cost-effective way to improve the energy efficiency, comfort, and utility cost of the entire home.
The reason for this is due to the stack effect. If a home isn't sufficiently air tight, and has poor levels of insulation - especially in the attic or basement - the stack effect occurs more significantly. With the stack effect, any heated or cooled air inside the home is replaced with undesirable exterior air, due to how the airflow in a home works. In the winter, warm interior air rises and escapes through any holes or leaks in the home's attic, causing cold exterior air to be drawn in from the building's base. This causes your furnace to work harder and dramatically reduces your home's energy efficiency, and overall comfort. The opposite effect occurs in the summer, with hot exterior air replacing cold interior air.
By adding attic insulation and improving airtightness, the stack effect can be effectively managed in both the summer and the winter, helping to keep your heated and cooled air where it belongs - inside your home.
GNI - the Insulation Specialists
Here at GNI, we take insulation seriously. That means a commitment to top quality installation and a dedication to using the most tried and tested products. Our experienced insulation installers are able to recommend the type of insulation that would be the best choice for each individual application. And with a home energy audit from a certified service organization, such as our friends at Barrier Sciences Group, the most cost-effective home improvements can be targeted.
Whether you are retrofitting with spray foam insulation, fibreglass batt insulation, or are looking to have old insulation removed - GNI has you covered. Also if you are looking to beat the heat this summer with new insulation or home improvements, there are up to $5000 of home reno rebates available for Ontario homeowners through the Home Efficiency Rebate program, making it even easier for you to see a return on your home investments.
If you would like to see our installers in action, or if you are curious as to what an insulation upgrade/retrofit looks like, stop by our facebook page and you will find a series of terrific photos taken by our installers themselves. If you have any questions about how your home's insulation could be improved, or if you would like to see which Home Efficiency Rebates you could qualify for, call us at 1.800.265.1914, or stop by our website and leave us a message, and our Customer Experience Team will be happy to assist you.