5 Reasons to Use GNI's Expert Commercial Solutions Teams
July 24, 2023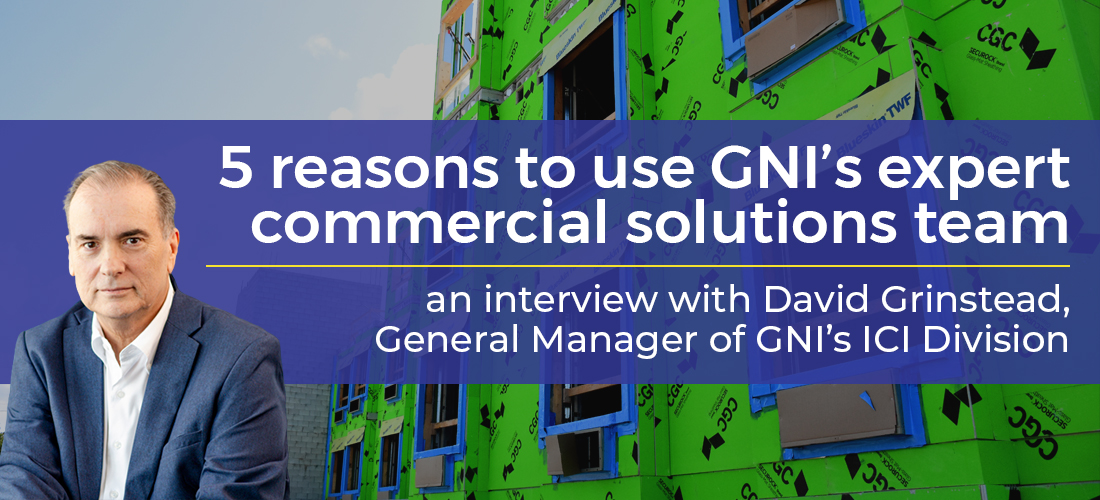 Ever been on a project that failed to live up to expectations or overrun budget because it failed fire inspection? How about completed work that had to be revisited because fireproofing, insulation and firestopping providers or trades weren't sequenced correctly? Nobody in the construction industry is a stranger to these challenges. So, what's the solution?
A one-stop building envelope services provider like GNI Management Group's ICI Division.
Instead of juggling multiple providers and getting less-than-optimal performance as a result, think holistically. Bring on a single partner that offers a full portfolio of building envelope solutions: one team that can do everything and do it right.
We sat down with David Grinstead, General Manager of GNI's ICI Division, to better understand how utilizing a single team of building envelope professionals can help avoid some of the most common headaches in our industry.
Working with one building envelope specialist can have significant benefits
1. You don't have to manage multiple vendors
Having a single partner that takes care of everything isn't just easier; it saves effort, time, and money.
"Yes, there are companies that do just insulation or just fireproofing or just blue skin waterproofing," says David Grinstead, "And while each of those individual organizations may be great at what they do, all the planning and sequencing is left up to the customer. So, if there's a delay at one stage, or you book the work in the wrong order, vendors further down the line get delayed and they may not be available when you're ready for them to do their thing. It's headaches and hassles all around. By working with a single source provider, you inherently gain a higher degree of collaboration and coordination."
2. You get deeper expertise and a top-down, big-picture view
When you're working with a plethora of different companies, it's easier to miss items and then have to disturb completed work to get things up to code. A single provider of Building Envelope Services, like GNI, has the capabilities and expertise to help with planning, product selection, and ensuring the right products are installed correctly at the right time.
With a team like Great Northern Insulation, those capabilities and expertise comes from decades of experience and thousands of completed projects. When you incorporate that deeper level of expertise earlier in your project's development, it helps avoid costly production headaches.
3. No more panic moments!
While a drywall contractor may be able to apply firestopping, whether they're doing it to code is another matter. Drywallers do a great job of drywalling, but an application like firestopping is one that should be completed by a specialized team to ensure it's done right the first time.
"We get a fair amount of work on an urgent basis," says David. "I can't count how many times a general contractor will call and say 'I just had the fire inspector in and the firestopping between floors doesn't meet code – he won't give me a certificate of completion.'"
Fortunately, GNI Management Group offers professional firestopping solutions and is a member of the Firestop Contractors International Association.
4. You can realize significant savings
We get it. You want to save money, so you go with the provider that gives you the lowest quote. But when you have to re-visit work to fix their errors or omissions, it ends up costing you more in terms of labour, materials, occupancy delays, and general goodwill. Bringing in a one-stop provider like GNI early in the project lifecycle means experts are involved from day one, setting you and your project up for success.
5. You get a partner you can trust
With over 40 years in the industry, continuous product and installation training, and an unparalleled commitment to safety, GNI is an invaluable resource you can count on to provide you with a range of options.
"Some contractors tend to think of GNI only in terms of insulation," says David. "But we offer a lot more than that. We have an incredible ICI team providing commercial new build and retrofit expertise in-house. We can do it all."
GNI's institutional, commercial, and industrial building envelope services include:
"We have the largest dedicated workforce in the Building Envelope industry, with the biggest fleet of vehicles," says David. "But, more importantly, we've got industry professionals who are hands-down the best in the business at specifying, estimating, and delivering solutions. I know it's a bit of a cliche, but we really are a turnkey solutions provider when it comes to all things building envelope."
GNI works with general contractors, architects, construction engineers, building owners, and property management companies – anyone who can benefit from quality building envelope support. Talk to GNI Management Group's ICI team about your next new build or retrofit project. We'd love to show you how we can make your next project safer, more efficient, and more cost effective.
Looking for more information on GNI's commercial services? Get in touch: