About Sustainability

High quality, professionally-installed insulation plays a large role in creating a sustainable, energy-efficient home. Great Northern Insulation believes it is our job to provide information on insulation products and services that will contribute to a more sustainable environment, whether it be through home energy efficiency or the creation of a building that utilizes sustainable building products, or both.
There are many definitions and paths to sustainability. A sustainable home, for instance, can be one with extremely high energy efficiency achieved through high-quality insulation and air sealing construction methods. Oftentimes these homes are given the title of a Net Zero or Passivhaus home, meaning they have met the stringent requirements for airtightness, energy efficiency, or even their ability to generate electricity through external means, such as solar panels.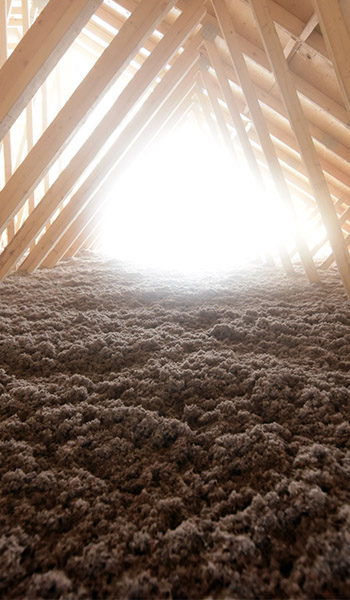 Additionally, sustainability may be defined through the actual products and construction methods put into the building itself. Different home or business owners may have different ideas of what qualifies as a sustainable insulation product. For many, spray foam insulation is considered to be a sustainable insulation type because of its extremely high insulative value and its excellent air sealing ability. While that may be true, it is also true that the creation of spray foam insulation requires various types of chemicals that can lead to higher greenhouse gas emissions during its production than other insulation types, such as sheep's wool insulation or hemp insulation. It is possible to quantify exactly how sustainable an insulation product is through something called its embodied carbon, which is a way of calculating how much carbon a product accounts for or eliminates during its lifespan.
No two products are created equal, of course, and it can be difficult as a consumer to track or learn the various differences in sustainability on a per-product basis. There's just too many to account for! Great Northern Insulation believes it is our job to be the experts in sustainability - it is up to us to be able to provide our customers with information on sustainable insulation options, regardless of what their definition of sustainable is.
How do I select a sustainable product option at Great Northern Insulation?
Great Northern Insulation understands that sustainable product offerings are constantly being improved and innovated on. Being an industry leader with over 40 years of experience, we have noticed large shifts in construction when it comes to sustainability. In the 1990s, the concept of overall building performance and air barriers became a far more frequent topic of conversation, leading to new insulation materials, testing, and building design concepts. Great Northern Insulation stayed on top of these industry shifts by being a member of the Ontario Building Envelope Council, where we were exposed to some of the earliest considerations for energy efficiency, green building, and sustainability.
After being in operation for over 40 years, Great Northern Insulation continues to strive to be an industry leader in sustainability. We are committed to identifying, sourcing, and providing insulation materials that are sustainable in both their production and performance and aim to promote the use of Canadian-produced materials wherever possible.
If you have any questions regarding sustainable insulation types for your home, please contact us via our webform or by calling 1-800-265-1914.
Is spray foam insulation sustainable?
One of the types of insulation that Great Northern Insulation promotes is BASF's WALLTITE spray foam insulation. WALLTITE spray foam insulation provides an extremely high thermal resistance value and excellent air sealing capabilities, meaning it is a very high-performance insulation type that can assist in creating a building that has high energy efficiency. Your home or business will be warmer in the winter, cooler in the summer, all while requiring the HVAC system to work less often. This leads to lower energy consumption and higher overall energy efficiency, meaning a more sustainable home.
Great Northern Insulation utilizes the next generation of spray foam insulation, WALLTITE CM01, that utilizes hydrofluoroolefins (HFOs) as its blowing agent. This new generation of spray foam insulation is Zero ODP, meaning that no ozone-depleting agents are utilized in its installation, and has a drastically lower Global Warming Potential than previous generations of spray foam insulation. By utilizing HFO-based spray foam insulation, Great Northern Insulation is reducing the global warming impact of foam insulation in Ontario. In addition, this new generation of WALLTITE spray foam insulation is EcoLogo Certified, confirming that there is a minimum recycled content of 5% by weight of finished product, GreenCircle certified for LEED v4 compliance, and GREENGUARD Gold Certified, a certification that requires lower total VOC emissions levels to ensure that it is safe for use in environments like schools and healthcare facilities.
By those standards, WALLTITE CM01 spray foam insulation can be seen as a sustainable product option, providing a balance between extremely high performance for energy efficiency and GHG emissions produced during its production.