How We Train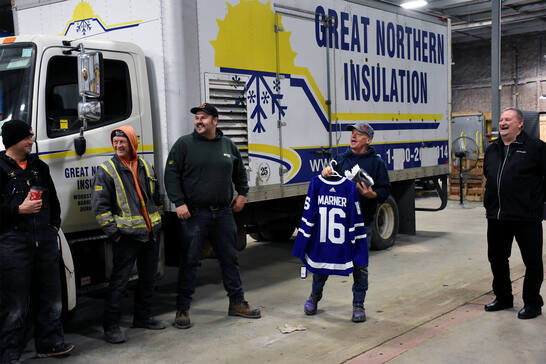 How Great Northern Insulation Trains Our Insulation Installers
Great Northern Insulation may have begun with two entrepreneurs and a single truck, but we have grown to be one of the largest educators in the Ontario insulation industry. We set our bar high for customer satisfaction, and our professional insulation training standards are designed to provide consistent results that leave you feeling a difference in comfort, health and safety. To achieve this, we combine the strengths of our industry experience, manufacturing and government partnerships, and tenured training staff.
We train and employ full time insulation installers across Ontario, and it takes more than luck to generate hundreds of positive reviews from our customers. Our approach to training begins with understanding the fundamentals of building science. From there, our insulation installers receive hands-on-training within a controlled environment. We are constantly looking for ways to improve our processes, and even our trainers are constantly being trained for new innovative building techniques. Our longest standing insulation installer celebrates his 40th year with Great Northern Insulation.
The Science Behind Training Insulation Installers
Great Northern Insulation has been an Ontario insulation contractor for more than 40 years, and in 2020, our longest standing employee dates back to our founding in 1980. A lot has changed since then, including a focus on sustainable insulation and building design. Insulation and air sealing are at the heart of Net Zero Homes, Passive Homes, and increased energy efficiency in general.
For this reason, our professional insulation training starts online or in person with a primer on building science. These learning modules connect the importance of insulation with modern building code and beyond. Everyone learns differently, so we are always looking for new, innovative ways to elevate our digital training. This includes online classes and pre-rerecorded videos.
While understanding most of these concepts begins online, much of the learning process involves gaining experience within a controlled environment or in the field. We pair every new insulation installer with a mentor who has specialized in that type of insulation. Whether it is fiberglass batts, blown-in cellulose, or spray foam, each installer understands how to prepare the jobsite and properly install insulation to maximize its effectiveness.
Training from Experience
The most experienced trainers at Great Northern Insulation have all gained their knowledge through countless hours in the classroom, and even more practicing their craft. Whether we are researching the performance of new sustainable products, or reinventing proven insulation methods, we document and train our installers on an ongoing basis. This allows us to make sure insulation installation is perfected before we step foot on the jobsite.
Pictured: Dense packed cellulose insulation with cross bracing designed and installed for training purposes.

Training for Insulation Certifications
Some insulation materials, such as spray foam and fireproofing, require certification from the manufacturers. This ensures that our installations meet code and perform without fail. We are proud to admit that our passion in the industry drove us to be leaders in the certification process of spray foam insulation. We are just as excited to be working with manufacturers and government bodies on the next new product.
We do not stop with material certifications. One aspect of our training that has not changed since the founding of Great Northern Insulation is our dedication to health and safety. Above all else, we make sure that our insulation installers are trained to safely handle the materials they will work with. This includes providing and training them how to use personal protective equipment.
Every insulation installer at Great Northern Insulation is also trained and certified for Observation Based Safety through IEC, Joint Health and Safety through WSPS, Working At Heights administered by licensed trainers, and First Aid. We take safety seriously.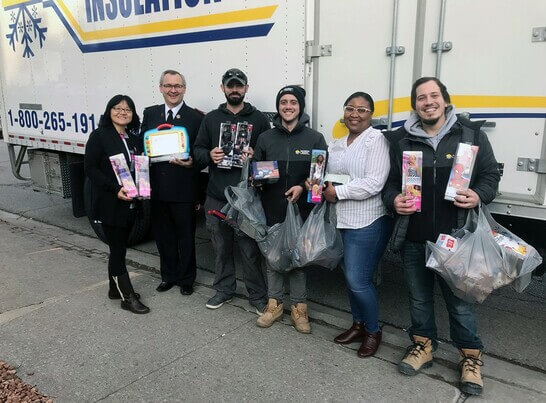 Training Our Communities
We have locations across Ontario, including Comber, Woodstock, Milton, Niagara Falls, Barrie, Port Perry, Gravenhurst and Ottawa. This allows us to employ people in your local community. They personally experience the local climate and know how to help you maximize energy efficiency and comfort. When you choose Great Northern Insulation, you are also choosing a local insulation contractor that supports your community.
We believe that a big part of our training comes from who we train, not just how we train.
Training for Insulation Rebates
Government rebates typically involve extra steps and processes to the installation, such as preparing the correct documentation. We take the time to partner with government bodies and Registered Energy Advisors to create learning modules as part of our professional insulation training. This way, both the insulation and rebate process are as seamless as possible. You can always expect the best customer experience from Great Northern Insulation.