Truck Convoy for Special Olympics 2019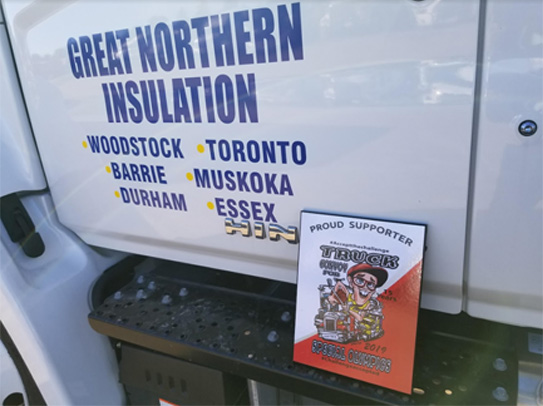 Driving for A Great Cause
On September 14, 2019, Great Northern Insulation participated in the 15th Annual Paris Truck Convoy for Special Olympics, which is a large-scale celebration of the trucking industry in support of Special Olympics. This event, under the direction of the Law Enforcement Torch Run, sees a spectacle of over 130 trucks driving a 140km stretch down Highway 401 and Highway 403 in Southern Ontario. Prior to the 2019 event, the Convoy had raised a total of $930,000 for Special Olympics in its 14 years of operation. With a goal of surpassing $1 million raised in its 15th year, Great Northern Insulation couldn't be happier to participate with a truck from our headquarter Woodstock location.
Over 130 trucks participated in the 2019 Convoy, smashing the event's previous record of 91 trucks in 2017. In addition, over $130,000 for Special Olympics, more than surpassing the goal of $1 million in total donations to Special Olympics! Following the event, our Great Northern Insulation driver participated in a celebratory lunch with an awards ceremony and prize draws.
Great Northern Insulation is thrilled to have participated in an event supporting such a great cause, especially in a milestone year where the Convoy broke $1 million in total donations. Special Olympics Ontario is an organization dedicated to improving the lives of those with an intellectual disability through sport, with a vision to "open hearts and minds towards people with intellectual abilities and create inclusive communities all across Ontario." The organization's values of Empowerment, Excellence, Respect, Diversity, and Inclusion are ones that align with Great Northern Insulation's own core values, and we are proud to support them.