Why Every Homeowner Should Get a Blower Door Test
September 18, 2017
Apart from all of the technical aspects, the bottom line with a blower door test is to determine how much air-leakage there is in a house. Today, a blower door test is probably the most relevant assessment tool for homeowners who want better energy efficiency and enhanced home comfort.
Clearly, an older house, with older insulation, is going to rate quite differently than a new house, with new insulation, and better air sealing. As a rule, a typical home should have a blower door test "number" that is less than its total square footage. And here, the numbers can matter a lot.
Home energy efficiency is all about airtightness – and any industry professional will confirm that there is no such thing as too tight. However, there is such a thing as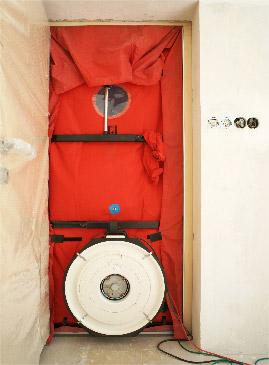 an airtight house without adequate ventilation – it's a house with very high moisture, pollutants, and even carbon dioxide.
The objective with a blower door test is to identify areas of a home that suffer from air leakage. These are areas that can be demonstrably improved with air sealing - in other words, where the building envelope can be sealed to enhance energy efficiency and boost insulation performance.
While a blower door test can accurately assess a home for air leakage, this is only the first step. The idea, of course, is to remediate air leakage once identified. When air leaks have been sealed (and insulated), energy efficiency is improved, and energy savings can be realized every month.
Improving energy efficiency going forward
Today, there is much more focus on home energy efficiency than in years gone by. As such, many homeowners are focused on optimizing their homes, reducing energy consumption, and saving on utilities around the year. A blower door test is an ideal place to start, carried out by an Energy Advisor who's registered with Natural Resources Canada. With test results in hand, it's possible to plan and execute various home improvements that will maximize home energy performance.
Homeowners should consider energy upgrades and retrofits to be an investment – there will be an upfront cost, but the long-term pay-off is realized in measurably reduced seasonal energy bills.
Air sealing
Sealing air leaks throughout a building envelope makes a dramatic difference with winter heating and summer cooling. Having the work done professionally will deliver the very best results.
Attic Insulation
High performance attic insulation prevents air leakage and improves HVAC performance from season to season. Quality insulation and professional installation will reduce annual utility costs.
Basement Insulation
Optimizing basement insulation will make a huge difference when it comes to overall energy efficiency (and home comfort). A well-insulated basement will dramatically reduce energy usage.
For homeowners who are committed to improving home energy efficiency, the professionals at Great Northern Insulation can offer a host of solutions. When a blower door test is complete, GNI can implement the necessary retrofits and ensure long term cost savings. For more information, contact GNI at 1-800-265-1914 or visit the company website at www.gni.ca .