Thermal Imaging Inspection can be Integral to a House Inspection
June 27, 2017
Whether a house inspection is proactive or reactive, a thermal imaging inspection can be integral for detecting deficiencies and inadequacies in a building structure. Simply put, thermal imaging inspection is essential for an accurate assessment - and the collected data is far more salient than other, more conventional diagnostics. With a thermal imaging inspection, damaged or inadequate insulation can be identified - pockets of air leakage (intrusion and extrusion) can be isolated - and areas of "heat loss" can be accurately pinpointed. Assessing the "building envelope" becomes very comprehensive. Typically, a thermal imaging inspection makes use of a highly sophisticated infrared camera designed to identify building deficiencies. These would include heat loss, water leakage, structural defects, and other "performance" issues. Today, one of the more important assessments would include a home's energy efficiency, and this is where a thermal imaging inspection can easily and accurately diagnose problems. With a good inspection, a professional building inspector can confidently recommend a range of repairs, remedies, and retrofits that would rectify specific problems and inadequacies.
Thermal Imaging Inspection in a Residential Home
In a residential home, thermal imaging can quickly detect issues and problems in the building structure. Using an infrared camera, a comprehensive assessment can be carried out without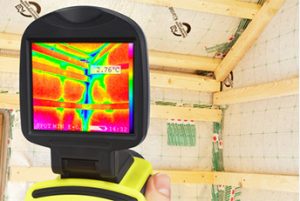 the need to open up any walls, ceilings, or roofs. Air infiltration and air exfiltration are easily identified, and proper repairs can be immediately recommended. Because air leakage is so prevalent in most residential homes, this type of assessment can be very valuable to home owners interested in improving energy efficiency. The best thing about thermal imaging is the capacity to detect more detail than the naked eye. This makes for a much more encompassing assessment, and with more focus on a particular problem. This also allows an experienced contractor to offer up viable solutions, and monitor those solutions after the fact. By using an infrared camera, an experienced operator can offer picture "stills" and "video" to a homeowner in order to substantiate an assessment. No other technology is more detailed or specific. What's most important with thermal imaging is to work with established professionals - with those who understand building science, and who have the experience with imaging technology. This is not the right time to cut corners with a DIY approach or with quick fixes. Structural air leakage, thermal bridging, and moisture control are all dynamics that require expertise. These mechanical issues require accurate diagnosis and viable solutions, something that in itself requires experience and expertise.
There are Benefits to Using Thermal Imaging Technology
With thermal imaging, diagnostic data is more precise and accurate than other options. With photographic evidence, building deficiencies are more obvious, and restorative work is more targeted. It's also the best way to avoid more serious problems from developing down the line. For more information about thermal imaging and thermal imaging inspections, contact the home energy professionals at Great Northern Insulation for a FREE in-home assessment. Call GNI toll free at 1-800-265-1914 or visit the company website at www.gni.ca for more details.