Spray Foam Insulation and Air Sealing
March 02, 2020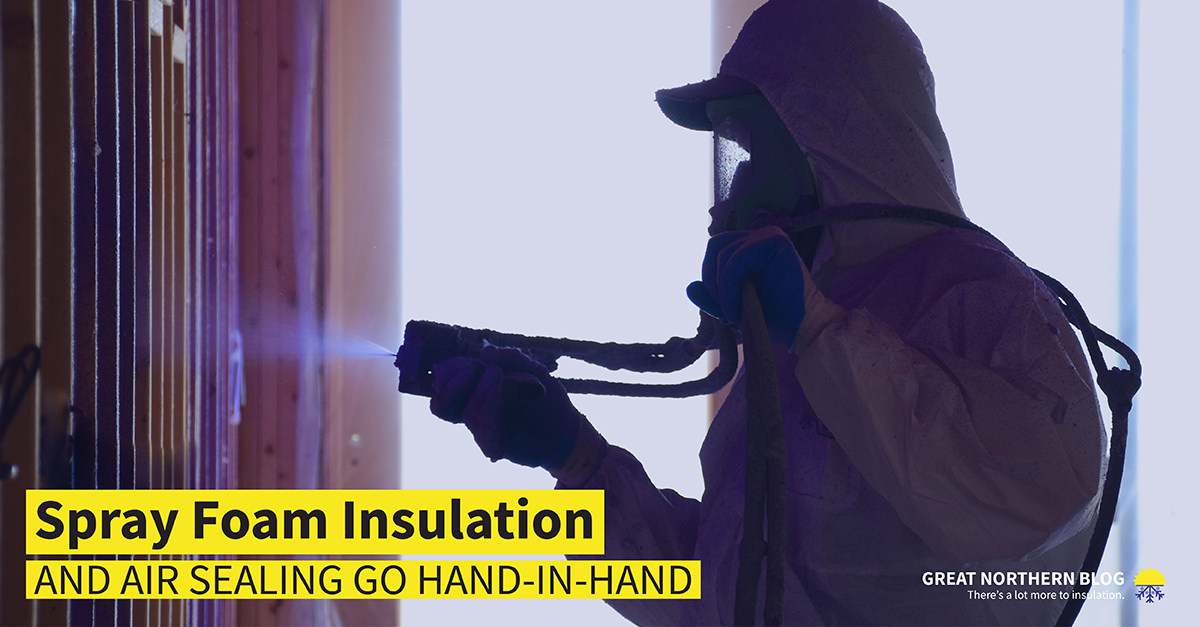 Any home or building can be improved with professionally installed spray foam insulation and air sealing. Made from polyurethane foam, spray foam insulation is a versatile product that can be used in many different applications and areas of a home. When professionally installed, it is capable of providing strong thermal insulation, air barrier, and a vapour barrier. This is a simple and effective way of improving not only energy efficiency and air sealing, but also several other aspects of a home that are important to homeowners.
The Benefits of Professionally Installed Spray Foam Insulation
Reduced energy costs
Improved home comfort
Fewer drafts and cold spots
Higher air quality
A more uniform temperature on each floor and in each room
Lower household carbon emissions
Higher resale value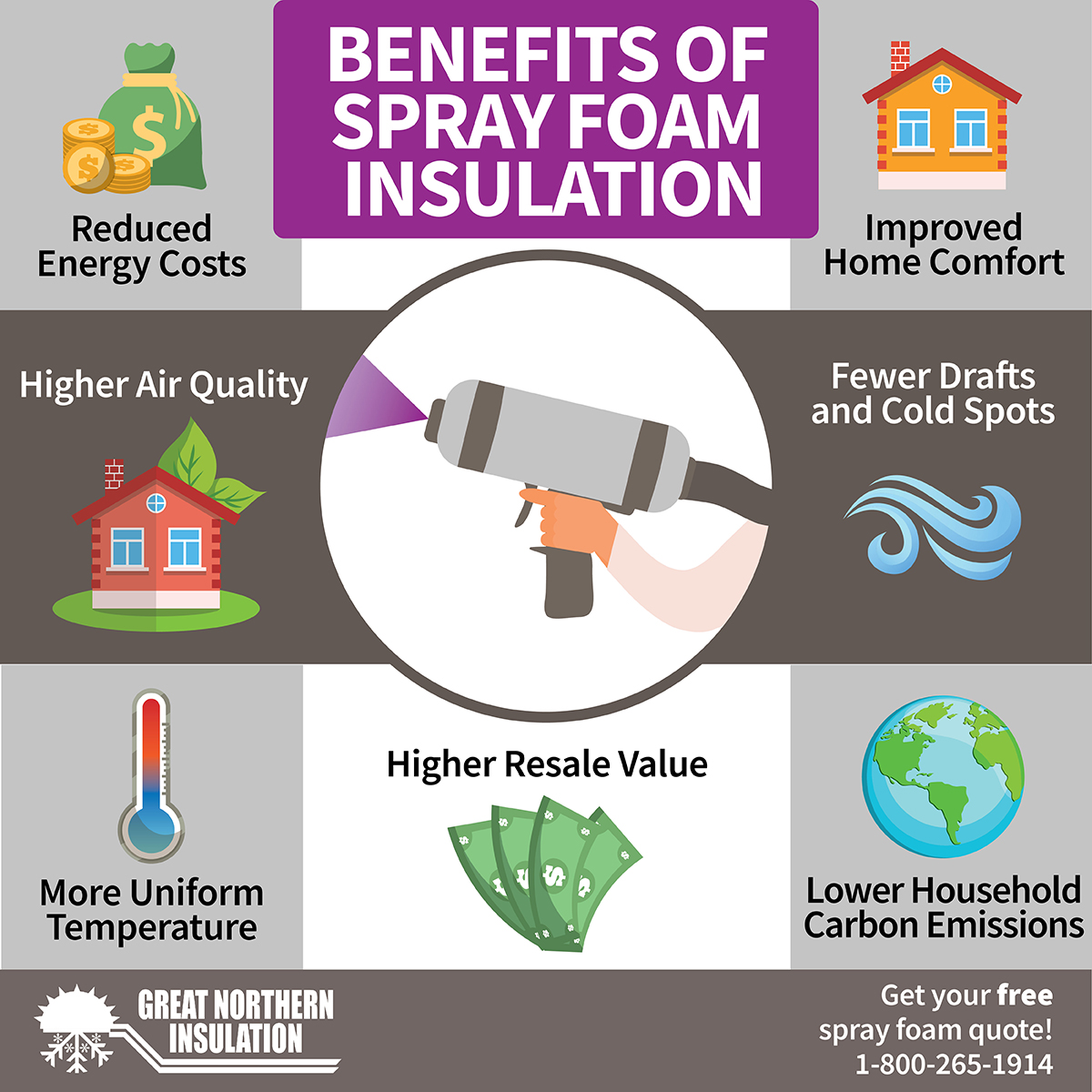 To Learn More, Contact us Directly
If you are interested in learning more about how spray foam insulation and air sealing can improve your home, please fill out the form below and we will be in touch with you shortly. We also offer free estimates for your home insulation needs through a no-charge in-home assessment.
The Different Types of Spray Foam Insulation
Depending on several factors, such as intended use and area of application, different types of polyurethane spray foams may be used to achieve the best results. To determine which type of polyurethane foam should be used for your purposes, GNI recommends that you contact a professional for their opinion first. While both open and closed cell spray foams can provide a strong air barrier, vapour barrier, and thermal insulation all in one, they differ in a couple of ways. To help you make sense of their differences, we put together this small outline.
Open Cell
Open cell spray foam insulation is less dense and expands more than its closed cell counterpart. It provides superior sound deadening and allows for more moisture to permeate through - which is helpful for certain climates and humidity levels. However, due to its low density, it provides an overall lower r-value than closed cell. Open cell spray foam insulation is used throughout residential homes, and is extremely effective for home audio studios or any room that requires additional sound deadening.
Closed Cell
Closed Cell spray foam insulation is more dense and expands less than open cell. It creates an even stronger thermal insulation, air barrier, and vapour barrier. Closed cell is also capable of reaching higher r-values, making it extremely useful for any applications that require high levels of energy efficiency, such as a Passive House or a Net-Zero Home.
The Hybrid Option
The hybrid option combined the benefits of spray foam and air sealing with either batt or loose fill insulation. This offers you a cost-effective approach with polyurethane foam and economical fiberglass or wool insulation. It can be used in wall cavities or attic floors. You can ask us the best way to mix and match insulation products to suit your specific needs.
Polyurethane Foam Contributes to Strong Energy Efficiency
The building envelope is what keeps you protected from the outside elements. Combining thermal insulation, air sealing, and moisture control, a home with a strong building envelope has a high level of energy efficiency and comfort. By using polyurethane spray foam, homeowners can improve all three of their home's important barriers simultaneously - driving their energy costs down and their home comfort up.
Spray Foam and Thermal Insulation
Thermal insulation, or R-value, is what makes your comfortable. Spray foam works to retain the heated or cooled air in any living space – and push back the outside elements that are attempting to harm your comfort. This makes your home more energy efficiency, and lower your energy bills.
Spray Foam and the Vapour Barrier / Moisture Barrier
By preventing unwanted vapour diffusion and condensation build-up, the vapour barrier works to control moisture levels and reduce wear and tear on a home's building materials. When installed properly, closed cell polyurethane spray foam can offer a vapour barrier. You can always ask us if you are not sure.
Spray Foam, Air Sealing and the Air Barrier
To prevent air leaks or intrusions, polyurethane foam also limits unwanted air exchange and energy loss. The air barrier also works to control the proper amount of air flow and improve home air quality by minimizing airborne pollutants such as pollen. It also reduces your family's risk of sick building syndrome. Spray foam can double the impact of an air barrier with its air sealing qualities as well.
FAQ About Spray Foam Insulation and Air Sealing
Does Spray Foam Work for Basement Insulation?
Absolutely! By using polyurethane spray foam for your basement insulation you can see a noticeable difference in your comfort levels and humidity control while below ground.
Does Spray Foam Insulation Add Air Sealing?
Yes! When professionally installed, polyurethane foam provides a layer of air sealing that improves energy efficiency, air quality, and home comfort all at once.
Can I Insulate Rim Joists with Spray Foam?
Spray foam insulation is a fantastic choice for rim joists. It is able to form fit into tight spaces and supplies a high level of air sealing - perfect for helping cold or drafty floors. Oftentimes, older homes are able to see the biggest improvements from adding polyurethane foam to their rim joists.
Do I Need Air Sealing in my Attic with Spray Foam?
Air sealing your attic is important. It helps prevent large energy losses and unwanted drafts on every floor, due to something called the stack effect. By air sealing and insulating your attic with spray foam, you can reduce your home's unwanted air exchange and improve your energy efficiency.
Do I Need A Thermal Barrier with Spray Foam?
Spray foam requires a thermal barrier when being installed. Thermal barriers for spray foam can be drywall, or a specially installed thermal barrier spray. We offer several options to homeowners who need thermal barrier protection for their spray foam installs. Our professionals are always happy to offer free advice to make sure your home stays warm, safe, comfortable, and energy efficient.
How Will Spray Foam Impact My Living Spaces?
The most significant and notable impact from using spray foam in your living spaces is its ability to improve home comfort. Temperatures in each room and on each floor become more uniform, cold drafts are lessened, and living spaces become more quiet and serene.
How Much Will I Save Installing Spray Foam?
Your energy savings depend on several factors, such as your home's current level of energy efficiency and how many upgrades you undertake. However, with a home energy assessment from a registered energy advisor, each of your home's possible upgrades are laid out in order of their cost-effectiveness. This allows you to see which upgrades would be the best for you to target first, and can help you determine which type of spray foam insulation is the right fit for your needs.