The 6 Most Unique Uses for Spray Foam Insulation
June 04, 2019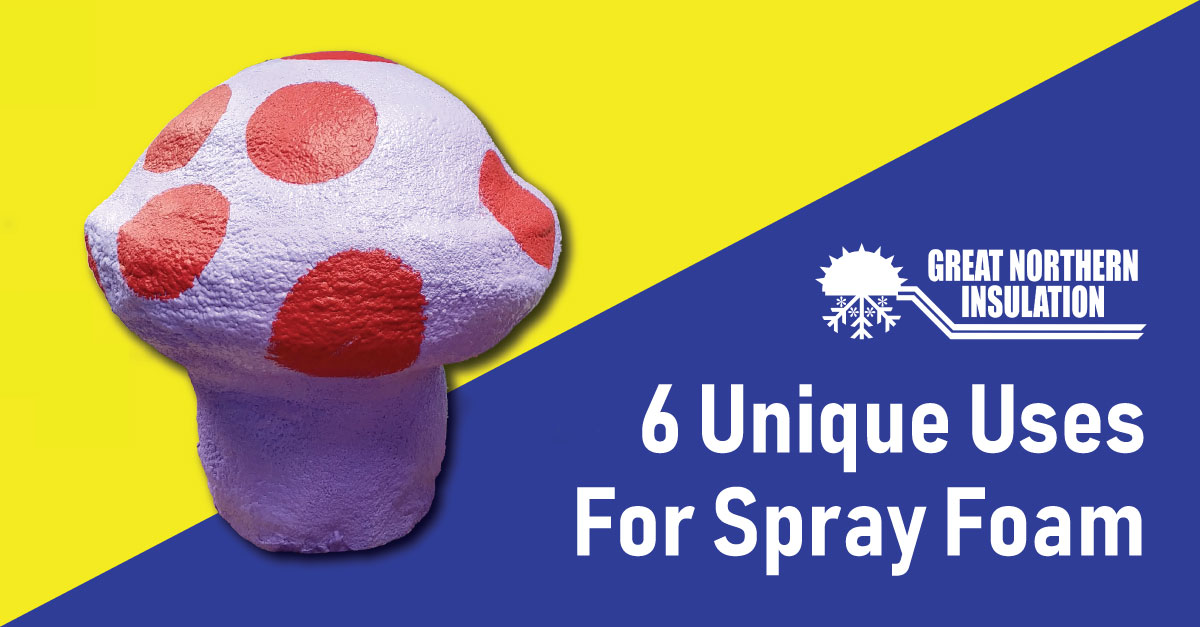 Although most people may not stop to consider it, spray foam insulation is actually an extremely versatile and widely useful product, capable of so much more than just insulating a home or a garage. Here at the GNI offices, we were tossing around our favourite and most unusual ways of using spray foam, and we were inspired to create a list detailing all of our insulation tricks and exploits.
We do not recommend that you try these projects yourself unless you are fully trained to apply spray foam. Also, some products found in spray foam insulation can be toxic if ingested, so it is advisable to wear all of the protective gear that is suggested on the packaging, and to keep all of your insulation products or creations stored safely away from children or pets.
1. Spray Foam Your Van
We have had this request numerous times, and we are now extremely adept at applying spray foam insulation inside of hollowed out vans. Depending on the cargo (some people choose to live in them), you will find your van much more capable of keeping a more stable climate. If you have a van that you would like insulated, we recommend that you contact us to make sure everything is done properly.
2. Enhance Your Arts and Crafts Projects
Surprisingly enough, spray foam insulation has a ton of different uses for arts and crafts projects, and it is only limited by the strength of your imagination. For example, it can be used as an adhesive for figurines or dioramas, as a way of adding support for fragile projects, or it could be sculpted and painted with tremendous success. This makes it especially useful for backgrounds, fakes rocks/trees, or any other fun projects that your imagination can dream up!
We recently had a group of students ask us to spray foam a mushroom for their class play. Naturally, we obliged.
3. Construct a Homemade Cooler
If spray foam insulation is good enough to help you stay warm in the coldest of winters, then it is good enough to keep your drinks cold in the hottest of summers. If you have any old plastic bins lying around that don't see any use, you could make a portable homemade cooler without too much effort.
The first step is to apply a thin layer of spray foam on the inside of your plastic bin and lid, and then wait for it to fully cure (the packaging should have instructions for how long it takes). Once it is fully hardened, take a sharp knife and cut off any parts that have expanded too far, and do your best to make the bottom as flat as possible. Finally, line the inside of your new cooler with a few layers of aluminum foil, ensuring that no spray foam is peeking through. This will help with keeping your drinks cool and separated from the foam insulation.
Just make sure you are using a closed-cell spray foam, as it will be much more resilient to condensation build ups and leaky drinks.
4. Spray Foam Your Driveway
Also known as foam jacking, spray foam insulation can actually raise and level concrete to create a smooth surface for your driveway. It helps to prevent your driveway from sinking into the ground in the future. Spray foam offers a layer between your driveway and the earth below to help prevent it from sagging and cracking. We are commonly asked about this little-known service, so feel free to reach out to us for information on it.
5. Transform Your Treehouse
There is no denying it - having a treehouse is awesome. But sometimes, they can become a little worse for wear as the elements slowly eat away at them. They can also be subjected to a number of unwanted guests, such as ants or termites. With some clever application of spray foam, you can successfully limit the amount of ants that find their way into your family's treetop getaway, and you can also stop the floors from creaking at the same time. The trick is to seal the obvious and easy pathways for their intrusion, such as on the side that is closest to the tree.
If your treehouse is capable of being fully enclosed, spray foam insulation could also make it usable for longer in the year, as it will more comfortable to be inside, and better protected from the elements and harsh weather conditions - much like how attic insulation improvements can significantly improve a home's level of comfort.
6. Organize a Home or Work Office Space
A quick trick that can be handy in an office space, is to use a bit of spray foam as a portable pen organizer. To do this, spray a bit of foam onto a flat surface (such as a piece of paper) and wait for it to completely cure. Once the foam you sprayed has completely set, peel it off your flat surface and puncture little holes in it that will securely hold your pens in place. You could also shape or paint your homemade pen organizer however you wanted, presenting you with the uncommon opportunity to decorate your desk with something unique to you, that is also quite useful.
Here at GNI - We Know Insulation
Whether you are trying to figure out how spray foam insulation could be used to its full potential in your home, or you are wondering which insulation renovations would qualify you for the biggest rebate through the Home Efficiency Rebate program, GNI is here to help. Through the Home Efficiency Rebate program, up to $5,000 of rebates available to Ontario homeowners who renovate towards higher levels of energy efficiency. GNI can help you navigate and make sense of your potential rebate options, ensuring that your home improvements will help you to qualify for the best rebate available.
If you have any questions or comments about the many unique uses for spray foam insulation, or if you have a few unique ideas of your own that you wish to share with us, drop by our facebook page and let us know! If you would like to inquire about our free in-home assessments, or you would like to schedule a time for one, please contact us at 1-(800)-265-1914, and a member of our Customer Experience Team will be happy to help you.