Is It Roxul Insulation Or Rockwool Insulation?
March 20, 2020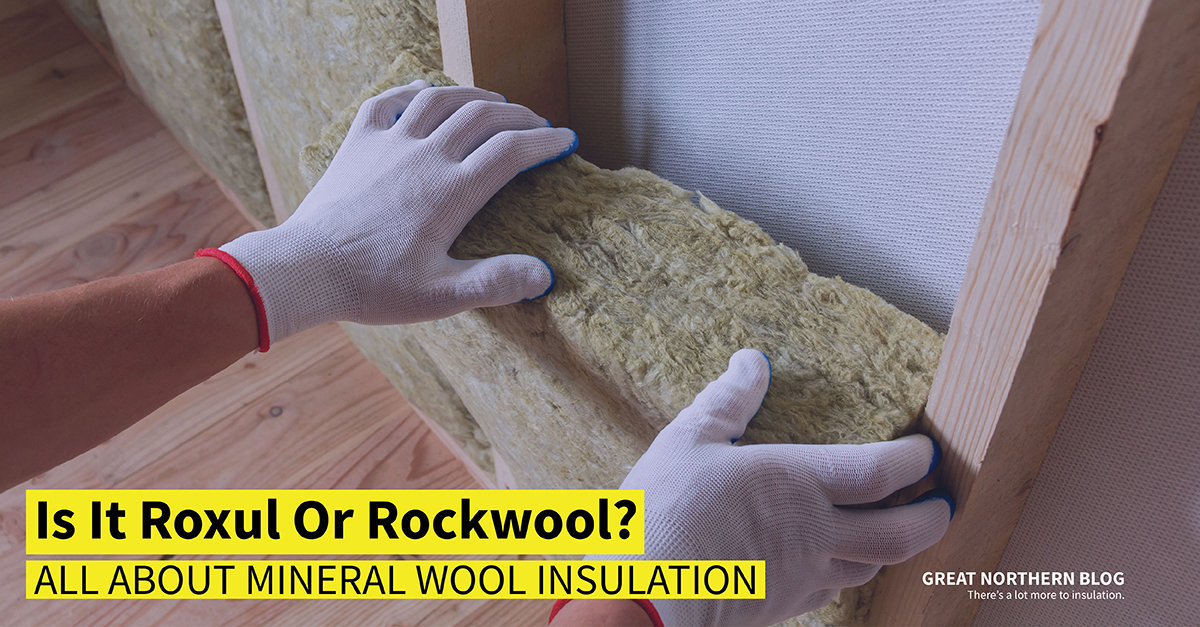 Fairly recently, Roxul Insulation in North America took on the same name as its worldwide parent company - Rockwool Insulation. The same mineral wool is still offered here in Canada, which many homeowners continue to use to insulate and upgrade their homes. When professionally installed, Rockwool mineral wool insulation can provide tremendous improvements to energy performance and home comfort.
To learn more about the Roxul / Rockwool products we carry, or to get in touch with us about upgrading your home, please fill out the form below. Once you are speaking with our Customer Experience Team you can also request for a free evaluation of your home.
What is Mineral Wool Insulation?
Rockwool mineral wool insulation is a material that is commonly used to insulate homes and commercial buildings. It is able to greatly improve energy performance and home comfort when professionally installed, and it naturally controls moisture due to being made from stone fibres.
Exterior walls insulated with mineral wool supply the home with excellent thermal insulation and soundproofing. This also makes it a smart choice for interior or dividing walls that would benefit from effective sound deadening. Additionally, in part due to its stone fibre composition, mineral wool insulation provides a fire resistance rating sufficient for use in town homes.
An industry professional can advise you if using mineral wool is the right choice for your specific set of needs. Contact us at 1-800-265-1914 if you are interested in learning more.
What is Rockwool Insulation?
Rockwool or Roxul Insulation is a type of mineral wool insulation made from stone fibres. It provides a variety of benefits when properly installed, and is capable of making significant improvements to a home or commercial building. These benefits include:
Improved energy performance
Lower utility cost
Superior moisture control and mould resistance
Higher resale value
Improved home comfort
A long lifespan and strong durability for lasting protection
Effective fire resistance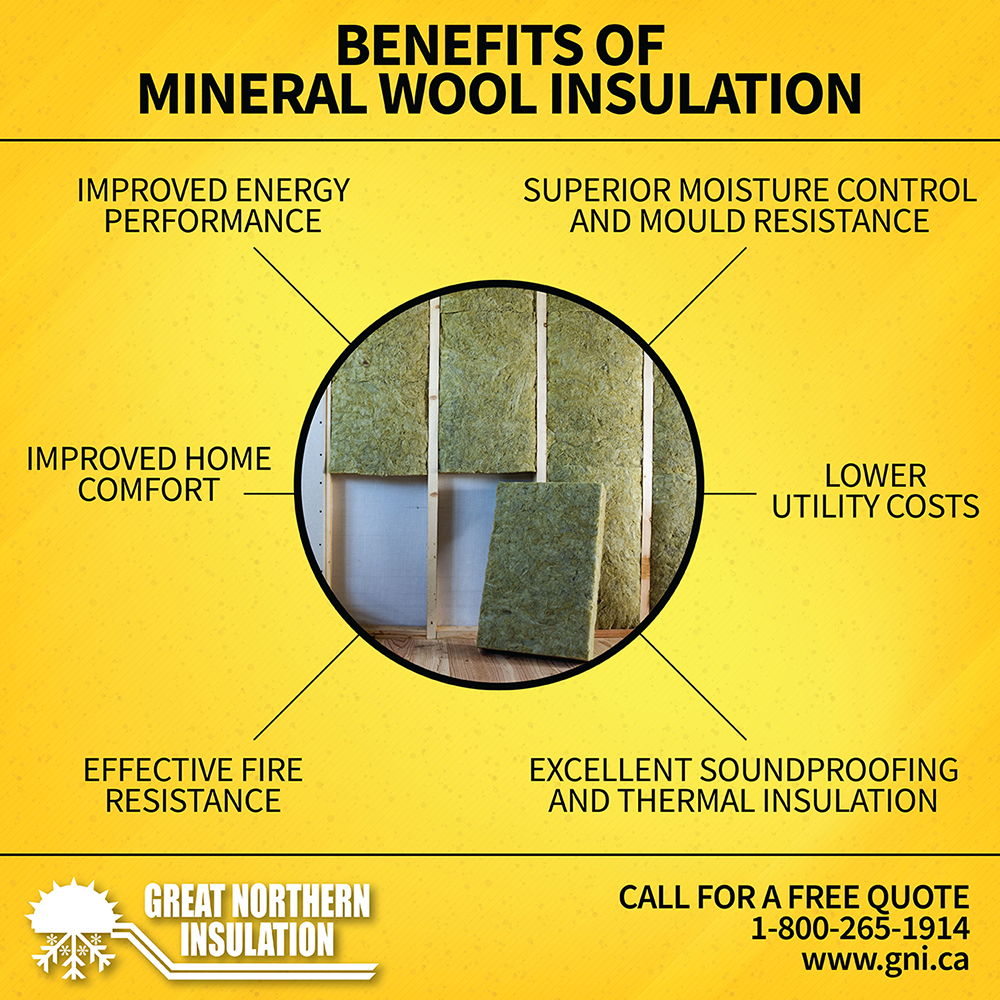 What Should I Use, Rockwool Insulation or Fibreglass Batts?
The answer to this question relies heavily on the specific scenario you are faced with. GNI can help you determine which option is the best choice for your planned upgrades and budget. That said, Rockwool Insulation is often used when moisture control and fire resistance is a higher necessity. Roxul / Rockwool is also extremely durable and resistant to corrosion, and it carries a slightly higher R-Value than fibreglass batts. Mice are also much less likely to be attracted to Rockwool due to being made from stone fibres.
Where can Rockwool Insulation be Installed?
Rockwool insulation can be installed just about anywhere that fibreglass batts can be installed. This includes attics, basements, interior walls and exterior walls. Where it really shines however, is in dividing / party walls for condos, townhomes, and within detached homes due to its strong soundproofing. This provides residents with an increased level of home comfort and separation from outside noises. It can also be used to improve the level of quality in a home theatre or media office.
Does Rockwool Mineral Wool Insulation Improve Home Comfort?
Absolutely! Any type of insulating material that is capable of improving your home's thermal protection will improve your home comfort. Rockwool mineral wool is a fantastic choice for homeowners looking to see R-Value upgrades and effective soundproofing. It also is naturally moisture and mould resistant, and contains no Substances of High Concern. This makes it useful for protecting residents with respiratory issues and against sick building syndrome.
When combined with strategic air sealing, Rockwool is effective at improving the entirety of your home's building envelope - the protective shield that your house forms to separate you from the outdoors. This not only means better home comfort and fewer drafts, but it also means a more affordable energy bill and a lessened impact on the environment.
Professionally Installed Rockwool Mineral Wool Insulation
When your rockwool insulation is professionally installed (and old insulation removed in certain cases) you capitalize on a number of benefits. You can be sure that any potential hazards from the old or damaged insulating materials in your home are under control; that your upgrades are done in the most cost-effective manner possible, and that mineral wool was the best option for your unique scenario. With GNI at your side, you can rest easy knowing your home upgrades are in experienced hands.
DIY Mineral Wool Insulation
It may seem enticing to try a DIY mineral wool insulation install, but there are a few complications that may arise through this method. Without properly accounting for other factors - such as air leaks - the effectiveness of your install may be hindered. The lifespan of your mineral wool can also be compromised if it is improperly handled or installed, and you may be exposing yourself to potential health hazards during the DIY process. A GNI home renovation expert can ensure that you are targeting the most cost-effective upgrades in your home; helping you to see the biggest improvements for the lowest investment possible.
The Home Efficiency Rebate Program
Before you start any home improvements or renovations, it is worth taking a look at the Home Efficiency Rebate program and seeing if you are able to qualify. A home energy audit is required both before any renovations start and after they have been completed, but a rebate is available through the program to help with these costs. A maximum rebate of $5,000 can be obtained by Union Gas and Enbridge Gas customers that make home renovations to improve their energy efficiency.
Questions About Mineral Wool? Contact Us
If you have any further questions regarding mineral wool and how it can be most effectively used in your home, please contact us at 1-800-265-1914, or chat with our Customer Experience Team online at www.gni.ca/contact. To get started on your home upgrades right away, you can also arrange to have a no obligation home assessment conducted for free.