Insulating Remote Cottages
May 19, 2022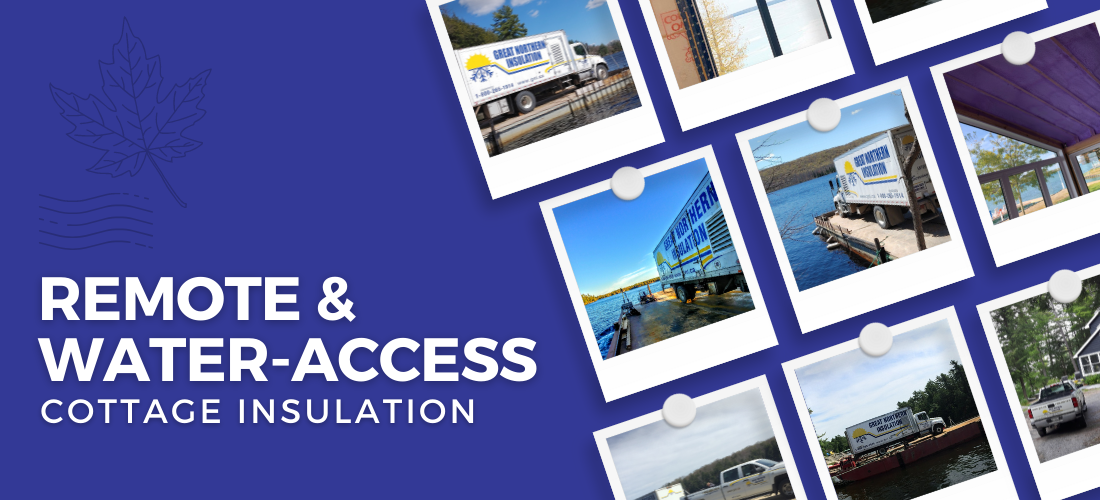 One of the questions we're asked most often is if we can insulate cottages, bunkies and boathouses that are either remote or can only be accessed by boat. So, we talked to Chris Harris, of GNI's Gravenhurst location, to find out more.
Can you insulate our water-access or remote cottage?
The short answer to that question is YES – we have a few ways to get to harder-to-access spots. Basically, if GNI can get our equipment there, we can do the work.
How do you get to islands with your truck?
If you need a boat to get to your cottage, that's how we get there, too. Every job starts with us coming to you to do measurements and determine needs. Most of the larger lakes have barge services that can easily accommodate our 5-ton trucks. You simply contact your local barge service to make the arrangement. (Barges are the responsibility of the client – you book it and pay them directly. That way, you don't have to deal with markups or middle men.)
The barge will run our truck out to the island. If the property can accommodate it, we drive right off the boat onto the island, and then proceed just like any regular job. If we can't drive off, we back up to the dock, and the truck stays on the barge while we do the work.
Can you access islands year-round?
No. Being able to cross the water depends on the season – and the weather. For safety reasons, we don't drive our trucks across the ice in the winter. At other times of the year, storms can make transporting a truck across the water a little too dicey. But if you've got a cottage on an island, you're probably used to weather-related delays…they come with the territory.
What if we're on a smaller lake that doesn't have barge service?
There are a lot of small lakes in cottage country, so not having access to a barge isn't a deal-breaker: we're set up to serve water-access cottages in those locations, too. GNI has a portable unit that can go on the back of a pickup truck, then be transported by boat. It takes a while longer to do the insulation than it would with our 5-ton truck, but the work still gets done.
What about really remote cottages?
For cottages located on tight back roads and small fire routes, our crews have a Mercedes sprinter van that can better navigate those small roads. We did a job last year where we had to cross a tiny, low-capacity bridge to get to the client. The big truck wouldn't have been able to get across safely, but our van got there no problem.
Set up your consultation
If you can get to your cottage by car or boat, so can we. Our 9 locations offer Ontario-wide coverage for all of cottage country, including Muskoka, Haliburton, Parry Sound, Kawarthas, Lake Erie, Eastern Ontario and beyond. Want to get your vacation home more comfortable and energy-efficient for the coming season? Get in touch today.