People of GNI: Derek
September 15, 2022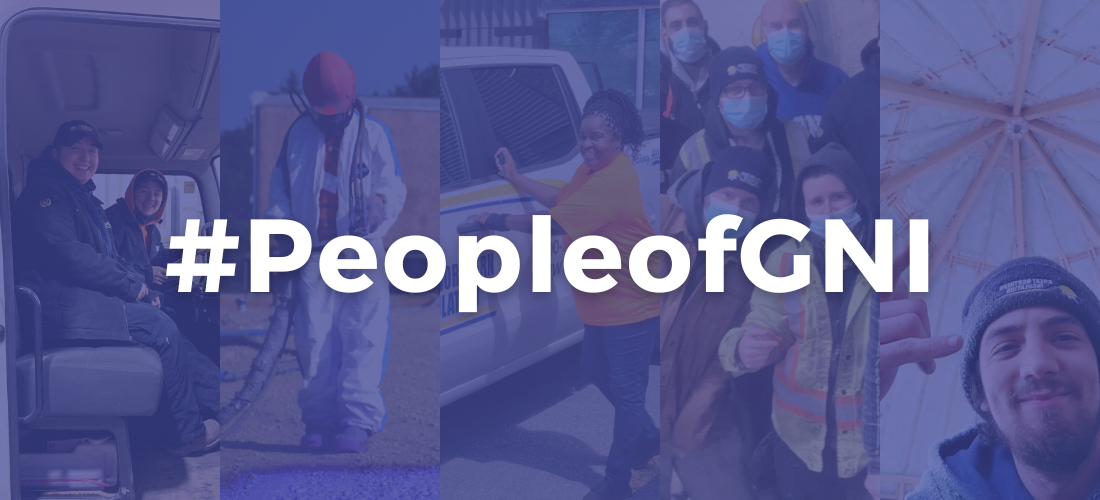 #PeopleOfGNI is a blog series that showcases folks from across our company, from sales reps to installers (and everyone in between!). Get to know who's doing the work in your home, the team behind the scenes, why they're great at what they do, and what makes them tick, both on the job and off.
Meet Derek Bullock, who's been with GNI for his entire career. After starting off as a green estimator brand new to the construction industry, he has moved up the ranks to his current role doing technical sales for GNI's Industrial, Commercial and Institutional division (ICI), working out of our Woodstock HQ.
Derek Bullock: 20 years at GNI
How an "I'm not sure this is for me" job straight out of school turned into a satisfying, long-term career.

How did you get started at GNI?
It was my first job right out of school. I knew a couple of people in the company, and they brought me on as an estimator. I wasn't sure it was what I wanted to do, to be honest, but they encouraged me to try it – and if I found another job that interested me, they told me I should take it, no hard feelings. But as I learned the business, they added more responsibility – and 20 years later, I'm still here. I started looking at paper drawings in estimation, did some inside sales, and now I'm in outside sales. My title is ICI Technical Sales Consultant…at least that's what my email says.
What has made you stay at GNI for so long?
It's interesting work, and GNI is a company where you can really progress your career. They're great in terms of providing us with what we need to develop and move up. I've completed courses and attended seminars on everything from effective sales to building science and energy efficiency.
Honestly, whatever I've asked for in terms of learning, they've said yes to. If anything, management comes to us to see if we want to do any additional training – it's a very learning-focused culture. They want us to know more so we can serve our clients better. If you are interested in bettering yourself, GNI is willing to invest in your future. I've expanded my knowledge, built great relationships with clients and helped win some pretty fantastic projects for Great Northern.
What kinds of projects have you been involved with at GNI?
I do everything from helping contractors respond to public tenders, to working with owners of existing buildings on retrofit projects. I love driving around different cities in Ontario (which I do a lot with two kids in rep soccer and hockey!) and seeing buildings I've had a hand in. There have been some pretty high-profile ones, like the Ontario College of Art and Design, which was very, very cutting edge. I also worked on Tim Horton's Field in Hamilton and BMO Field in Toronto, which is where the Toronto FC play. It's fun to be able to say I was involved in those.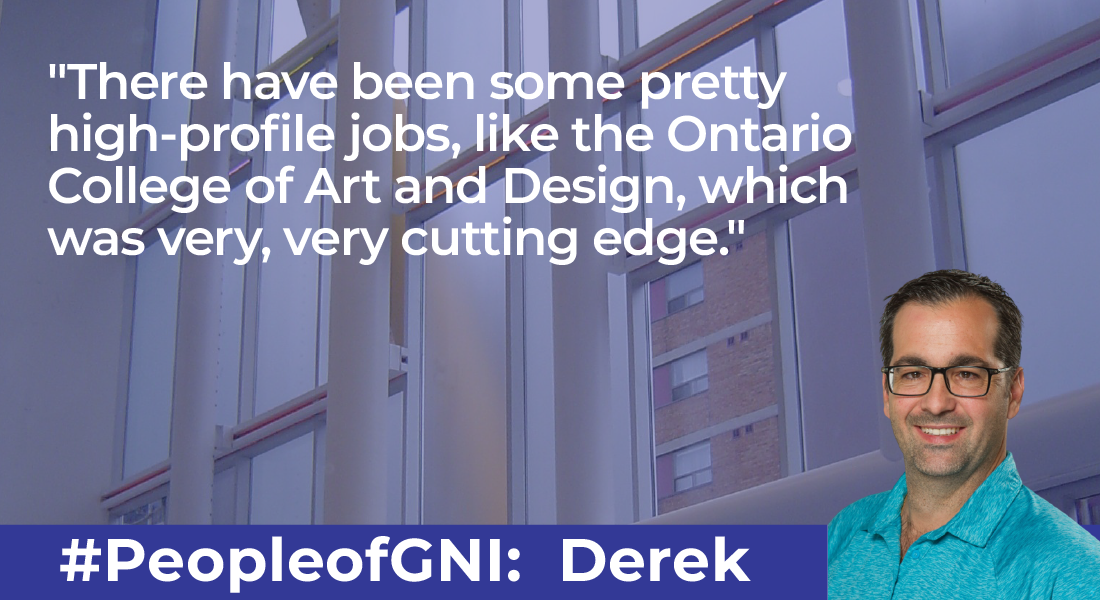 Read more #PeopleofGNI: Meet Julie "Sales is in my DNA" Griffiths
What do you love most about what you do?
The people, definitely. In the ICI group, we operate well as a team – it's a very collaborative environment. Outside the company, I've built relationships with some great people as well. And I love the variety of the work. Every project is different, and I'm always finding interesting ways of solving problems and meeting challenges – it's very satisfying when a solution I've come up with helps a client – and helps GNI win the job.
Recently, I was talking to a client – the owner of a building that houses laboratories. He already had a good idea of what he wanted. But as he described what he was trying to accomplish, I realized there was a solution that was more efficient, greener, and more cost-effective for him. So I was able to save him money and provide a solution that met his goals better than his original approach – he appreciated it. It's a great feeling, being able to help someone out like that.
Green building is an increasing focus for GNI and the industry as a whole. How do you help clients find more eco-friendly solutions?
Our business has always been about making buildings more efficient – and by extension, reducing their carbon footprint. No matter what the job, I always look to do that. Maybe the drawings don't show a specific detail or the owner didn't think of it ahead of time. But as we're walking through, I always point out potential areas of energy efficiency that we could help out with (or maybe they could have someone else help with) to make their project more eco-friendly.
What do you do for fun when you're not at work?
My family keeps me pretty busy. Having kids in rep sports means a lot of driving around to tournaments, and we have two active golden retrievers in the mix as well. Things are hectic and we do a lot of running around – but we love it. Other than that, you'll probably find me outside. We have a cottage on Lake Erie, and we all love watersports and being out on our boat, but sometimes it's good just to kick our feet up and relax.
Are you looking to join the ranks of the #PeopleOf GNI? We're hiring for multiple roles - check out open opportunities here.