Getting the Right Type of Ontario Cottage Insulation
August 08, 2019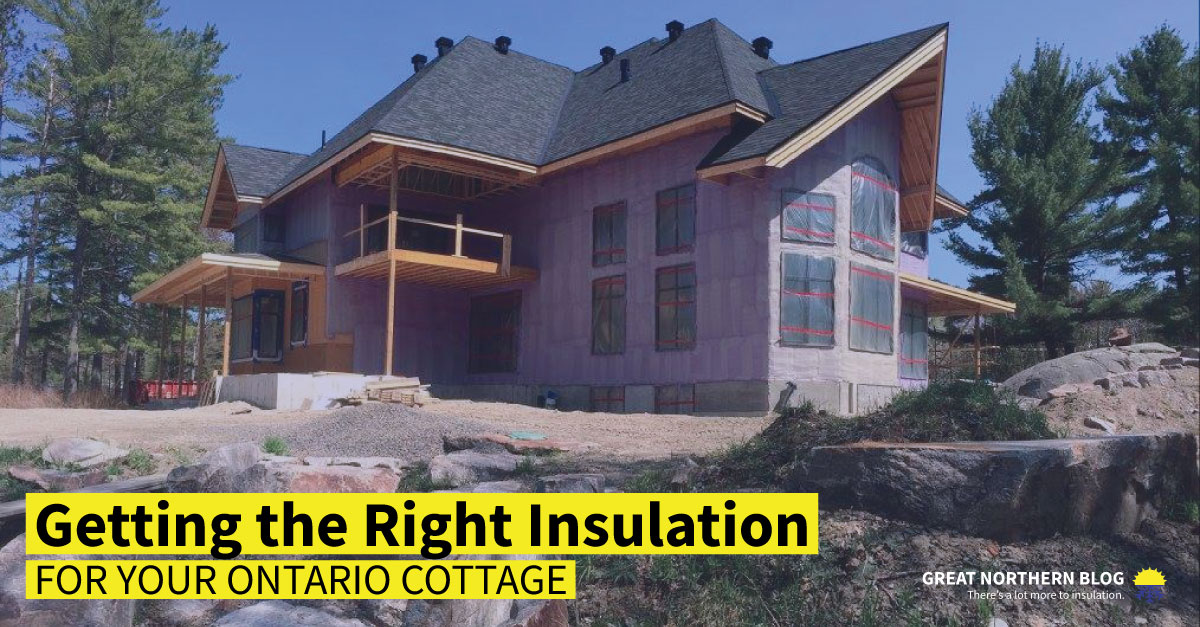 Finding affordable and effective cottage insulation can be difficult - but not as difficult as it may seem. GNI services all of Southern Ontario, meaning that energy efficient home upgrades are readily available to anyone with a home or cottage within Ontario's cottage country. Whether you are looking for a Gravenhurst insulation renovation, a Haliburton insulation install, or a Parry Sound insulation upgrade, GNI are the experts you can trust. Also, with our locations in the GTA and across South Western Ontario, professional help from GNI is always right around the corner.
For over 35 years, GNI has been providing homeowners, business owners, and multi residential building owners with an affordable solution to high utility costs. By making a cottage insulation improvement, (or any energy efficiency improvement for that matter) you will see significant savings on your monthly utility bills. Also, you can make your home have a more uniform temperature on every floor, reduce your risk of sick building syndrome, control your interior humidity levels, and even increase your home's market value when it comes time to sell.
If you have any questions about the benefits of a well insulated cottage or home, or you would like to schedule a time for a free home evaluation from our insulation experts, please leave us a message with your contact details on the front page of our website, or give us a call at 1.800.265.1914 and our Customer Experience Team will be right with you.
Your Muskoka Insulation Experts
In Muskoka, insulation is important. In the winter it reduces the amount of energy needed in order to keep your home or cottage comfortable; and in the summer it reduces unwanted humidity build up and keeps your interior cool and livable. Since there is a GNI location in Barrie, insulation experts are always readily available in Ontario's cottage country area.
Did you want to make a home renovation or improvement in Magnetawan? GNI has you covered. Were you looking to add some stronger attic insulation in the Bracebridge area? Our professional installers are right around the corner. Perhaps your home in Bancroft needs a second opinion - GNI is happy to help. For all of your cottage insulation needs, concerns, or inquiries, Great Northern has the answer.
In Parry Sound, Insulation is the Key to Home Comfort
With long harsh winters and short but scorching summers, the need for accessible Parry Sound insulation is high. In order to keep your energy bills low, or the wood for your wood stove stacked high, it is worth looking into energy efficiency improvements for your home or cottage. By improving things such as your cottage's insulation and airtightness, you are also improving the quality of your cottage's living space. This means: less drafts, a more controllable interior temperature, and a uniform temperature on every floor.
By upgrading your cottage's energy efficiency, you can also attract a larger range of buyers when you decide to sell. This is due to the fact that a well renovated and insulated cottage is much more desirable on the market. This is especially true in the Parry Sound, Muskoka, and Durham regions, since many cottages are only able to be opened during the warmer months - making a winterable cottage have a substantial advantage on the market.
A Home Energy Audit Shows the Path to Cost-Effective Renovations
There are many different ways for a home or cottage to be renovated or improved for the sake of energy efficiency, and that makes it difficult to determine which way is the most cost-effective. Thankfully, a home energy audit makes this easy. With the expertise of a registered energy advisor from a certified service organization, such as our friends at Barrier Sciences Group, you can get an in-depth look at your cottage's current energy performance, along with a list of suggestions detailing how it could be most cost-effectively improved.
Each suggestion includes its expected energy savings and utility bill savings, making it easy for you to see which upgrades are the best investment. Overall, this means that your Muskoka insulation upgrades and Parry Sound insulation retrofits can be made in the most cost-effective manner possible, and you can rest easy knowing that you have made an informed decision by consulting an expert.
Save on Energy and Money with Home Reno Rebates
There has never been a better time to invest in energy efficiency upgrades for your home or cottage. With the newly created Home Efficiency Rebate (HER) program, all Enbridge/Union Gas customers in Ontario have up to $5000 of home reno rebates available to them. This means that it is even easier for you to see a return on your energy efficiency investments through utility bill savings.
For example, the HER program offers homeowners $2000 for upgrading their entire home so that it is insulated to an R-Value of R20 at least, $40 dollars per qualified window replacement, and $150 for airtightness improvements. Also, the program offers a $250 bonus rebate for every qualified upgrade that is done after the first two.
Here at GNI we are not only your local insulation experts, but we are your rebate experts too. If you have any questions regarding the Home Efficiency Rebate program, or you would like to know more about the other rebate programs you may be eligible for, please contact us through our website, or call us at 1.800.265.1914 and our Customer Experience Team will be happy to assist you.
If you would like to see some behind the scenes photos of our expert installers in action (taken by our installers themselves!) stop by our facebook photo gallery.