Fiberglass Insulation vs Cellulose Insulation: A Fight for R-Value
April 15, 2020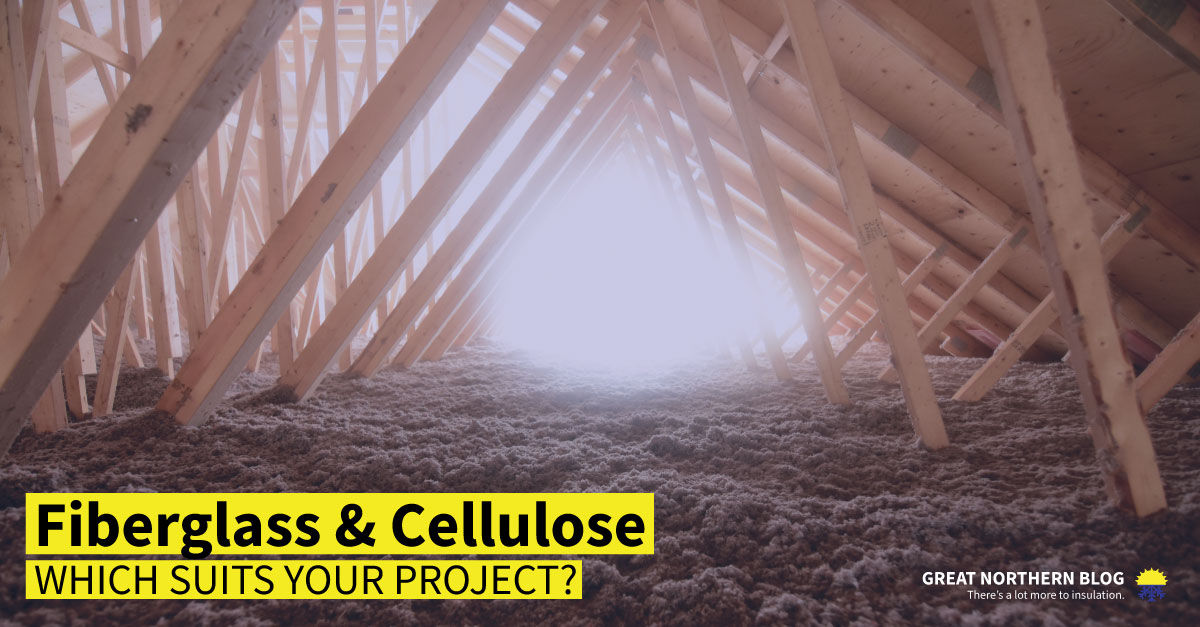 Blown in insulation is a versatile product that can be used throughout a home. It is able to improve energy efficiency, home comfort, and lower utility costs. Today we are going to look at two of the most common materials used as blown in insulation: fiberglass insulation and cellulose insulation. We are also going to see how fiberglass batts stack up in comparison.
To start a conversation with us about upgrading your home, please fill out the form below. Our Customer Experience Team is happy to answer any questions you may have, and can arrange for you to have a free home insulation estimate.
What is Fiberglass Insulation?
Fiberglass insulation is a popular material used to insulate homes. It can be professionally installed as batts or as blown in insulation. Made from small chunks of recycled glass mixed with sand, fiberglass insulation is able to improve sound deadening and resist water absorption. However, pre-existing water leaks and similar issues need to be addressed before you insulate to prevent the possibility of future water damage. Like all insulation products, fiberglass insulation products are regularly refined and improved to increase their energy performance and eco-friendliness.
What is Cellulose Insulation?
Cellulose insulation is a material made largely from post-consumer recycled products and is treated to reduce risks from fire, water, and mould. It is fire resistant as blown in insulation, but can be susceptible to water damage if the proper precautions are not taken for a pre-existing issue during installation. GNI recommends that all cellulose insulation installs be conducted by an industry professional.
Where Can Fiberglass Insulation and Cellulose Insulation be Installed?
Both fiberglass and cellulose insulation are versatile products that can be used throughout a home. With a few exceptions, it is possible to use either one or the other for basement insulation, attic insulation, and in wall cavities, ceilings, and floors. Both cellulose and fiberglass insulation are capable of making tremendous improvements to a home's energy efficiency and comfort.
As an example, fiberglass batts are excellent at insulating wall cavities and other areas that are already exposed. However, cellulose blown in insulation is a terrific choice for insulating a wall that is already covered with drywall. With dense pack cellulose insulation, homeowners can make a less invasive install that does not require them to tear down drywall or wall finishings to make an upgrade. Instead, a small hole can be drilled into each wall cavity, allowing for dense pack cellulose insulation to fill the entire area. From there, it can easily be patched up and finished.
GNI's insulation experts can help you decide which material or type of insulation to choose for each of your specific upgrades or renovations. To learn more, we can be reached at 1-800-265-1914 or on the web at www.gni.ca/contact.
What are the Pros and Cons of Fiberglass Insulation?
Pros
Can be installed nearly anywhere and combined with spray foam insulation
Fire and water resistant (be sure to fix leaks and pre-existing issues first)
Provides sound deadening
Cost-effective
Similar R-Value to cellulose insulation
Can be combined with spray foam to tremendous effect
Cons
What are the Pros and Cons of Cellulose Insulation?
Pros
Versatile and can be combined with spray foam insulation
Treated to be fire retardant
Cost-effective
Similar R-Value to fiberglass insulation
Environmentally friendly due to high levels of recycled content
Allows for dense packing in existing wall cavities
Cons
Can be susceptible to water damage if there is a pre-existing issue
Settles after install which can reduce effectiveness (professionally installed cellulose insulation is installed with settling in mind)
Is Fiberglass Insulation Better than Cellulose Insulation Overall?
It is a bit difficult to say if fiberglass insulation is better than cellulose insulation overall. There are many different factors that can influence the most beneficial insulation choice. Factors such as: the home's airtightness level, the climate that the home resides in, and the timeline / budget of the homeowners. The pros and cons of both cellulose and fiberglass insulation are very similar, meaning that each type can almost always be used effectively in the same situation. At the same time, each can be used for unique projects, such as a drill and fill with cellulose insulation.
If you have any questions about which material you should choose for your renovations or upgrades, please contact us at 1-800-265-1914 or online at www.gni.ca/contact. Our Customer Experience Team can also arrange for you to have a free insulation estimate to help you figure out your options.
What Type of Blown in Insulation Should I Use for My Attic?
When it comes down to attic insulation, homeowners have a few options. Cellulose insulation can be used very effectively when professionally installed, and it is able to drastically improve a home's energy efficiency and comfort by reducing the impact of the stack effect. Another option is to use a type of hybrid insulation that combines either blown in cellulose or fibreglass batts with spray foam. This allows homeowners to reap the benefits of multiple products simultaneously. In other words, the cost-effectiveness of blown in cellulose or fibreglass batts can be combined with the strong energy performance of spray foam, creating a best of both worlds scenario that keeps costs down and performance levels up.
Is Cellulose Insulation Better than Fiberglass Insulation in a Basement?
It is not common to find cellulose insulation used in a basement. As basement insulation, spray foam and fibreglass insulation are the most common choices for homeowners. In an unfinished basement, GNI often installs fibreglass insulation blanket wraps that allow for a cost-effective upgrade. Whereas finished basements are often best improved with fibreglass / mineral wool batts, spray foam, or a mixture of both in a cost-effective combination. Concerns of any possible water damage or moisture build up can be taken into consideration by the installer, so it is important that you have a professional evaluation and fix any underlying issues before you start making any upgrades.
Is There a Clear Victor?
Both cellulose and fiberglass insulation - whether as batts or blown in - can be used to tremendous effectiveness in a variety of situations. To declare a clear victor is rather difficult, especially since the pros and cons for each are similar and they both carry similar R-Values. A GNI insulation expert can help you decide on the material to use for each of your planned renovations or installs. It is worth keeping in mind that no matter what choice you make, blown in insulation and fiberglass batts are both capable of making several improvements to a home.
Improvements such as:
Stronger energy efficiency
Better home comfort
Fewer cold drafts
Lower utility costs
Better home resale value
Better air quality and a lower risk of sick building syndrome
How Do I Know Which Type of Blown In Insulation Material to Use?
If you are strictly looking at cellulose insulation vs fiberglass for blown in insulation, the first thing you should do is get the opinion of an industry expert. For a look into which product is more cost-effective in your current scenario, you can have a Registered Energy Advisor conduct a home energy audit. This allows you to see all of your home's potential upgrades, and the rankings for which upgrades or materials would be the most cost-effective for you to use.