A Day in the Life of an Insulation Technician
January 25, 2022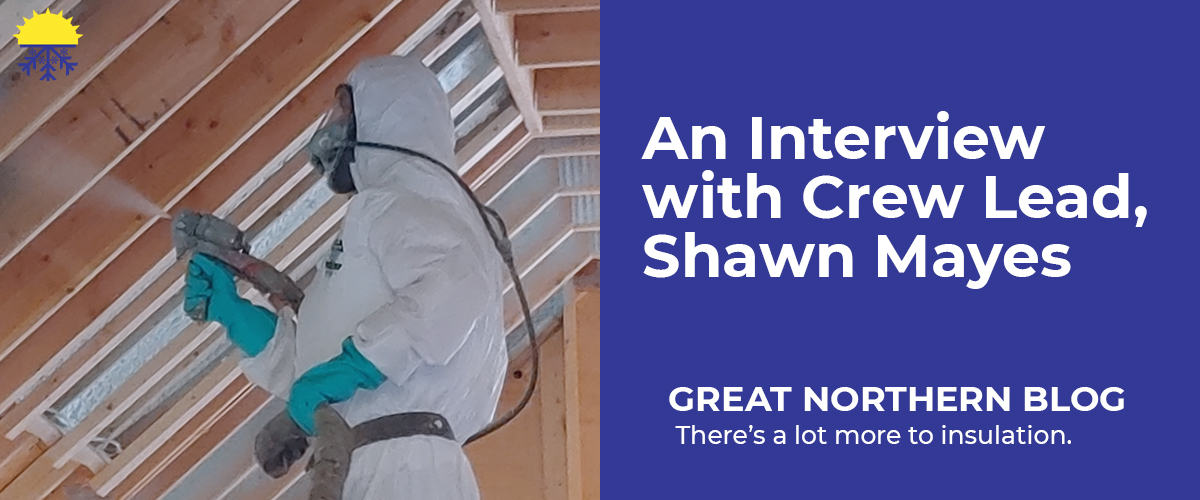 Ever wondered what a career as an insulation installer is like? We talked to crew leader Shawn Mayes from GNI's busy Gravenhurst branch to see what his days look like, what he loves most about what he does, and why it can be a great career for someone interested in working in the trades.
Shawn, what does your typical day look like?
There is no "typical" when it comes to this job. We go to different job sites, switch up our partners and crews, meet new people and learn new skills. There's a lot of variety, which keeps things interesting.
In Gravenhurst, most of the work we do is residential – usually custom homes – so we tend to run into unique floor plans that require problem solving and thinking outside the box. Builders don't always build with "someone has to insulate this" in mind, so sometimes we need to get creative. But it's never boring.
Today, to give you an example, my partner and I are doing "blown-in blanket" insulation. We're putting mesh on the walls and bringing in a hose that's attached to our 5-ton truck, which mulches up bales of fibreglass into fine pieces. We blow those pieces into the walls and the attic, and it looks like a big, fluffy pink blanket – hence the name.
This video is made by Shawn, showcasing his passion for the job.
When does your workday usually start?
Early – I'm at the shop at 6:30am. I fill out my COVID check, mask up, punch in and head over to the priorities board. That's where I see what my assignment is for the day, which truck I'll be on and who I'll be working with. Kelly, our Branch Operations Manager, hands out the paperwork, and we load up the truck with all the materials we need for the job and head out.
If it's a multi-day job, the crew leader (that's me) stays on it until it's done, but partners/helpers may change day to day. It's a great way for newer installers to learn from more experienced ones, and it's great to work with a variety of people, personalities and skill sets. Some jobs take a few days, or we might be assigned several smaller ones in a single day. Blowing attics, for example, we can do 2 or 3 in a single day.
At the end of the workday, it's back to the office at around 5 (though sometimes we stay at the job site longer). We fill out our paperwork, clean all the materials out of the trucks so they're ready to go the next day – and head home.
What's the best thing about your job?
Having ownership of the work I do appeals to me: it gives me a real sense of accomplishment when a customer is happy with the job I've done. And I also appreciate all the training we get: there's always an opportunity to learn something new, to get further into the company knowledge-wise.
How do you become a crew lead?
It's 100% about attitude. Show up on time, manage your time well throughout the day, build your knowledge and skill, and have pride of ownership – those things will take you far at GNI. As for how long it takes to move up to a lead role, that's completely based on your performance. If you're a quick learner, are willing to listen, learn and ask questions, and you're always ready to jump in where you're needed, you'll do well.
How did you become an insulation technician?
Eleven years ago, I was an overnight manager at Walmart, and it was a role I didn't love. A friend of mine was working at an insulation company and convinced me to apply. It was the right choice – I took to it pretty fast, and stayed with that company until I joined GNI 4 years ago.
Why the switch?
GNI offers a lot of things other companies don't: benefits, RRSP matching, tons of training. They actually paid for me to get my spray foam installer's license: if you show potential and drive, they'll invest in you. It's a great feeling to be valued in that way, and I love that there's always more opportunity to learn. The company just launched a new training facility, which I'm excited to check out: it has different roof pitches and framing sizes, two attic spaces, a crawl space and a finished room for installers to practice on.
Any advice for someone thinking about becoming an insulation installer?
If you want to get into the trades, becoming an installer is pretty straightforward: you get most of your training on the job. It's a fast-paced, interesting industry with great job security, especially these days: as an essential service, we worked throughout the pandemic. If you want to do well in the role, as I said, a positive attitude and willingness to learn is what you need most. If you show interest, there's always room for advancement.
Interested in a career as an insulation installer?
GNI has open positions across our Ontario operations. Click here to view our open positions.