What is the Best Type of Attic Insulation?
March 06, 2020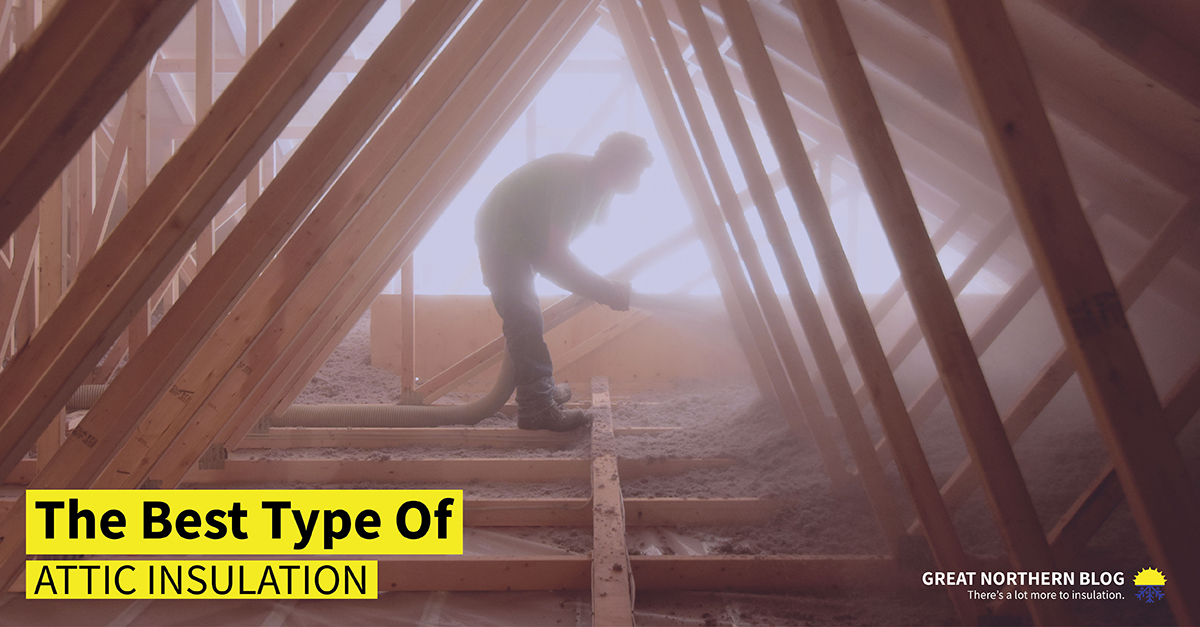 There is no single type of attic insulation that is the best choice for all purposes. Instead, each type provides similar benefits that can be maximized depending on the scenario. To target cost effectiveness, homeowners should upgrade using the right type(s) of attic insulation for their home and apply adequate air sealing. With GNI's help, you can be sure that you are making the most cost effective choice and that you are qualifying for your maximum available rebate through an Ontario energy rebate program.
To start a conversation with us about your home's attic insulation or about qualifying for the Home Efficiency Rebate program, fill out the form below.
Why Should I Start with Attic Insulation?
The average residential home often sees the biggest improvements through attic insulation and air sealing upgrades. A well insulated attic works to control a home's air flow issues by addressing something called the stack effect. It also provides the homeowners with several benefits that can be felt throughout the home, such as:
Lower energy usage and utility bills
A more comfortable living environment
Fewer drafts on every floor
A more uniform and controllable room temperature
Less stress placed on the HVAC system
Better interior air quality
Higher home resale value
What are the Different Types of Attic Insulation?
Blown in Attic Insulation
Most commonly applied with fibreglass or cellulose, blown in attic insulation is effective, fire retardant or resistant depending on the material, and eco friendly due to its recycled materials. It can be applied directly to wall cavities, rim joists, and in the small (or large) spaces of an attic. When cellulose is used as the blowing agent, slightly higher R-values can be achieved over fibreglass blowing agents, however blown in insulation may settle over a long period of time. This might appear to be a negative aspect, but it actually means the insulation is conforming to the attic space. Professional attic insulation installers are also aware that insulation will settle – your attic insulation is safe!
Cost
The cost of blown in attic insulation varies depending on a few factors. Such as the size of area that needs to be insulated, the targeted R-value for the attic, and the type of material used.
Spray Foam Attic Insulation
An extremely effective and versatile product, spray foam attic insulation provides strong R-values, air sealing, and vapour barrier all in one. GNI can help you choose between open cell and closed cell spray foam, depending on your needs.
Cost
When professionally installed, spray foam attic insulation is capable of saving homeowners a significant amount of money over time through energy savings. To maximize both cost savings and performance, many homeowners opt to combine spray foam with another type of insulating material, such as fibreglass batts (see Hybrid Attic Insulation below).
Batt Attic Insulation
A very common type of insulating material, batt attic insulation is effective for homeowners looking to make noticeable upgrades with affordability in mind. It provides excellent sound deadening and is naturally non-flammable, making it a terrific choice for attics. Batts are cut to fit snuggly into the crevices of your attic. To optimally install batt insulation, we recommend that you also have air sealing performed.
Cost
A cost-effective option for many homeowners, fibreglass batts are a common choice for smaller renovations and budgets. When professionally installed, fibreglass batts are capable of making significant improvements to the home's energy performance, utility cost, and home comfort.
Attic Air Sealing
Although not often listed as a type of insulating material, it is one of the most important. Effective attic air sealing is a crucial part of home comfort and energy efficiency. It allows for the proper control of air flow, and is necessary to lessen the impact of the stack effect on home energy performance and comfort.
Cost
The cost of air sealing your attic depends largely on the severity and location of your home's current air leaks. To locate and identify the source of your home's air leaks, GNI will arrange for you to have a blower door test conducted. That way, you can become aware of every air leak in your home and how they could be most cost-effectively sealed.
Can Different Types of Attic Insulation be Combined?
Hybrid Attic Insulation
Absolutely! In fact, many homeowners opt to combine spray foam with batt attic insulation for optimal performance and affordability. GNI can help you determine if the hybrid approach is the right choice for your needs and your home. Our goal is to help you see the biggest possible improvements per dollar of your investment.
How Do I Know Which Type to Choose?
Home Energy Audit
As a homeowner, it can be a bit tricky to decide which type of attic insulation to go with. The best way for you to make sense of your options is to have a comprehensive home energy audit conducted by a registered energy advisor. This provides you with all the information you need about your home's energy performance, along with suggested pathways for making cost-effective upgrades.
Once the home energy audit has been conducted, you can easily see which type of insulating material would be the best choice to install in your home. An energy audit is also a crucial part of qualifying for most Ontario energy rebates. To arrange for your home to have a home energy audit conducted, please contact our Customer Experience Team at 1-800-265-1914, or chat with us online at www.gni.ca/contact.
Ontario Energy Rebates
Before you start any renovations or upgrades, it is worth looking into Ontario energy rebates to see if you can qualify for a rebate. Here at GNI, our rebate experts can help you check to see if your home will qualify, and help you determine what steps need to be taken for you to see the maximum return through the program. Depending on how your home might qualify, this could affect your optimal choice of insulating material.
The Home Efficiency Rebate program offers a topmost rebate of $5,000 and is only available to homeowners who are customers of either Union Gas or Enbridge Gas. It also requires a home energy audit to be conducted both before renovations start and after they are completed - a rebate is available through the program to help cover these costs.