Save on Energy Deal Days: New Program for Homeowners
October 12, 2017
This is the time of year for homeowners to take advantage of discounts and savings on a wide selection of energy-efficient products. Save on Energy Deal Days runs for an entire month, from October 6 to November 5 with more than 1,000 participating retailers right across Ontario. Find a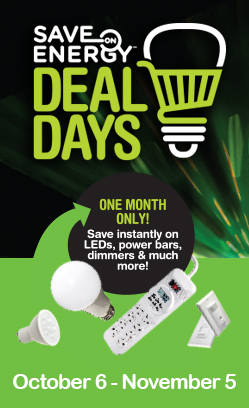 participating retailer near you.
Significant savings for homeowners
During Save on Energy Deal Days, homeowners can stock up on LED lights, power bars, light dimmers and other energy saving products. Participating retailers across the province are offering instant discounts on products that reduce energy usage and save money on utilities. Check out the link to see what energy products are on sale https://saveonenergy.ca/dealdays.
Energy upgrades - attic to basement
Ontario homeowners can now benefit with Save on Energy Deal Days by taking advantage of cash incentives for making energy upgrades. Homeowners can have their home assessed to identify the best way to upgrade – from replacing a furnace, to replacing windows, to installing insulation.
Rebates from Union Gas or Enbridge
Residential homeowners can partake in cash rebates from Union Gas (Home Reno Rebate) or Enbridge (Home Energy Conservation Program). Rebates are available for upgrading such things as the heating system or replacing old electric appliances (part of Save on Energy Deal Days).
Energy audits for renovation projects
Energy advisors provide a "pre-reno" and "post-reno" assessment that reviews lighting, heating and cooling, insulation performance, and integrity of appliances. Recommendations are provided on ways to reduce energy consumption and substantially improve home energy efficiencies.
Upgrading to more efficient appliances
By upgrading to energy-efficient appliances, homeowners can realize significant savings on their electric bill. Going with ENERGY STAR® high-efficiency appliances can result in savings of up to 60% (when compared with old appliances). Offers are included in Save on Energy Deal Days.
Many energy efficient products offered
There are a host of energy-efficient products offered to homeowners during Save on Energy Deal Days - LED light bulbs; light fixtures; ceiling fans; motion sensors; dimmer switches; advanced power bars; programmable thermostats; insulation blankets; and hot water pipe wrapping.
Home Assistance Program available
The Home Assistance Program is available to qualifying Ontario homeowners, tenants, and social housing providers in order to improve energy efficiency. Even small upgrades can go a long way in saving energy: energy-saving light bulbs; low-flow showerhead; and even faucet aerators.
Home comfort with energy efficiency
Home energy efficiency is primarily about reducing energy use and saving on monthly utilities. With the availability of rebates and incentives, it's a good time to make changes. From major energy upgrades, to major appliance purchases, to DIY projects, it all helps in the big picture.
Home energy upgrades with Great Northern Insulation
At Great Northern Insulation, home energy upgrades include everything from weatherizing, to insulation retrofits; to air leak sealing; to energy auditing. In-house energy specialists provide an on-site assessment in order to determine performance deficiencies and potential remedies.
When an energy audit has been completed, GNI can offer various project recommendations to improve home energy performance. Throughout Ontario, homeowners can contact the experts at Great Northern Insulation at 1-800-265-1914 to arrange for a professional energy assessment.
To learn more about energy efficiency upgrades and retrofits, visit GNI at www.gni.ca.