How to Seal Windows for Winter with Insulation
November 01, 2019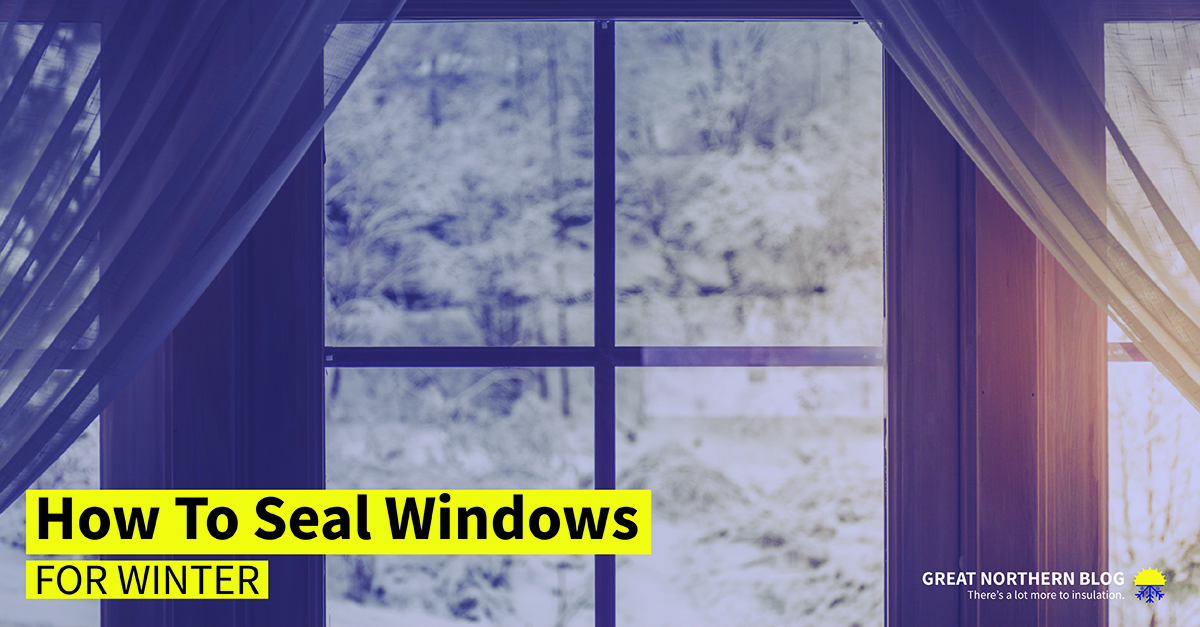 There are a number of different ways to seal windows for winter weather, but the most important parts to improve are your airtightness and insulation. A window that is well insulated and air sealed will protect against harsh weather and temperature drops, making it an important part of any winter-ready home. With the help of GNI's insulation consultants, you can target the most cost-effective options for window insulation in your home - meaning that when you seal windows, winter weather can be easily and affordably managed.
Effective window insulation also means fewer drafts and air leaks, better energy efficiency, lower utility costs, improved air quality, and even a higher market value (since a home that has been upgraded for energy efficiency is desirable on today's housing market).
To upgrade a home's window insulation, and to help seal windows for winter, GNI often recommends and arranges for homeowners to have an energy audit conducted; which locates and identifies every air leak within a home. That way, a cost-effective solution to improve air sealing can be applied, working to significantly improve a home's level of energy efficiency and airtightness.
If you would like to learn more about how you can seal windows for winter weather, or how you can most cost-effectively improve your home's window insulation, give our Customer Experience Team a call at 1-800-265-1914, or stop by our website at www.gni.ca/contact. From here, you can also schedule a time to have our expert insulation consultants conduct a free assessment of your home, providing you with an excellent starting off point for making home improvements.
Keep the Original Aesthetic with Magnetite
For our customers who are looking for an effective and affordable solution to poor window insulation and air leaks, GNI often recommends a Magnetite window retrofit. This provides an airtight seal, a strong insulative layer, and does not change the look of the original aesthetic. That means that you are able to improve your home's window insulation and airtightness without altering your home's appearance - making it a perfect upgrade for period homes and for homeowners who are already happy with how their home looks.
The installation process for a Magnetite window retrofit is also extremely simple and straightforward. First, our expert insulation consultants will measure all of the windows you would like to have retrofitted, and from there will send the measurements to the Magnetite factory so that they can custom make your product. After being built, GNI's installers will ensure a proper fit and an airtight seal has been achieved, and will happily show you how easily they can be removed.
Since Magnetite products are attached and sealed by magnets (hence the name 'Magnetite'), they are easily removable and allow for full access to the window they cover. That way, you can have the benefits of an extremely airtight and well insulated window, while still being able to open it up for some fresh air whenever you would like.
To learn more about Magnetite window retrofits and how they work to keep the original aesthetic of your home, give our Customer Experience Team a call at 1-800-265-1914, or chat with us on the web at www.gni.ca/contact.
If You Seal Windows, Winter Problems Can Be Avoided
There are a number of issues that can crop up in a home during the winter, due to poor window insulation and airtightness. This can include: high energy bills, poor air quality, extra stress placed on the furnace / heater, and vicious cold drafts. However if you effectively seal windows, winter problems such as these can be avoided. This means that both the home's airtightness and insulative layer should be improved.
To determine which areas of your home need the most attention, GNI can arrange for you to have a home energy audit conducted by a registered energy advisor. This gives you an in-depth look at your home's total energy performance, along with a list of the most cost-effective pathways for you to improve your home's energy efficiency. For example, a home energy audit can identify air leaks and window insulation problems, while also determining the most cost-effective solutions that you could use to remedy those issues.
In many cases, the most cost-effective solution to certain issues is often as simple as caulking air leaks or replacing old insulation, but in the case of poor window insulation and air sealing - Magnetite window retrofits are frequently suggested. This is due to their ability to greatly improve a home's airtghtness and insulative layer, while costing much less than a full window replacement.
Strong Window Insulation Improves the Whole Home
A home with air leaks and gaps in insulation will be difficult to keep comfortable, and will have a higher operating cost than a home that is well air sealed and insulated. For this reason, it is extremely important to have well insulated and airtight windows, as they are often hot spots of energy loss within a home. By improving your home's airtightness and insulative layer, you are also greatly improving its level of energy efficiency; and an energy efficient home has a number of tremendous benefits - especially during the colder months.
With higher levels of energy efficiency comes lower utility costs, a more comfortable interior temperature, fewer cold drafts, and even a higher market value (since energy efficiency is becoming an increasingly desirable feature for homebuyers). Also, if you seal windows, winter weather has less of an impact on your home and your energy savings can be even greater.
To get started on your window insulation improvements, and to see energy efficiency improvements through air sealing upgrades, GNI offers free in-home assessments to give you an idea of where you stand to see the biggest upgrades. Our expert insulation consultants are happy to answer any questions you may have about air sealing your home, making home improvements, adding window insulation such as Magnetite window retrofits. To learn more, or to schedule a time for your free in-home assessment, our Customer Experience Team can be contacted at 1-800-265-1914, or through our live chat feature on our website at www.gni.ca/contact.