How Insulation Works - from the Attic to the Crawlspace
June 27, 2018
While most homeowners have a basic understanding of how insulation works, there's still quite a bit of knowledge that gets hidden behind the wall. Insulating any home goes well beyond installing insulation materials. The principle idea is to retain heat and conditioned air, and that translates to better health, comfort and energy efficiency.
What is the connection between insulation and air sealing?
The key to energy efficiency in any home is a combination of properly installed insulation and thorough air sealing. When you hire a professional contractor, energy efficiency is guaranteed – with reduced energy usage and lower utility bills. Regardless of the size of a home, air leakage has a negative impact on insulation performance and energy efficiency. In fact, the industry standard is to seal air leakage prior to installing any new insulation; however, not every contractor will recommend this, which can also be an indication of how well the job will be done. A home that is inadequately air sealed is simply wasting heat and air conditioning.
THE AVERAGE HOME IN ONTARIO CAN UNCONTROLLABLY LEAK OUT ALL OF ITS AIR MORE THAN 9 TIMES EVERY DAY.
To better help homeowners understand how insulation works, the experts at Great Northern Insulation provide free, no obligation home assessments to measure both air leakage and insulation performance. Also available are detailed energy evaluations, or "blower door tests," which can accurately gauge the extent of air leakage in a building by measuring Air Changes per Hour. The test results allow for practical solutions to be performed, including air sealing measures and insulation retrofitting. With Great Northern Insulation, customers can benefit in a number of ways:
prevent wasted heating and air conditioning
pay less to heat and cool your home
reduce energy consumption and energy bills
have a comfortable home from season to season
upgrade insulation/air sealing when renovating
make indoor air cleaner and healthier
Better understanding the concept of the house as a "system"
In better understanding how home insulation works, it's important to understand that a house (or any building) functions as a "system". And although the average homeowner understands the basics of plumbing and electrical, not many understand the concept of how it all works together
Every home comprises of mechanical components that work together in an inter-dependent system. Simply put, a house must be protected from outdoor elements; it must be able to control how often and how much it "breathes" air (in and out); and it must provide regulated, consistent indoor temperatures. It's all about occupant comfort.
Part of the system is the building envelope, and part is the mechanical systems. The building envelope is made up of the roof, walls, and foundation, all separating the interior from the exterior. The mechanical systems are designed to regulate heat, air, and moisture.
Why is air sealing so important to the building envelope?
Air sealing and insulation have a direct impact on both home comfort and energy efficiency. A poorly sealed home will often suffer from drafty areas and uneven room temperatures. More than that, air leakage will cause heating loss and cooling loss, both of which are a waste of money.
On the flip side, a well sealed, well insulated home, provides comfort for occupants, and increased energy efficiency in winter and summer. When air sealing works, and insulation works, the combination provides balanced temperatures throughout the home, which can enhance HVAC performance. In fact, if there is lot of air sealing insulation, it is worth checking to see if your heating and cooling systems have become overpowered.
Home energy efficiency has become more integral than ever in both new and renovated homes. Proposed changes to Ontario's Building Code will also have quite a dramatic impact on homebuilders and homeowners in the next decade. The bottom line: markedly reducing energy consumption through continuous insulation and air sealing.
Apart from building code requirements, homeowners who are prepared to enhance home energy efficiencies are certain to consume less energy, and therefore pay less on energy bills. The point is, everything from air sealing to insulation upgrades will contribute to better overall performance and finances.
From the attic to the crawlspace – every retrofit contributes to energy efficiency
A HOME THAT IS WELL SEALED AND WELL INSULATED CAN SAVE YOU UP TO 50% IN SEASONAL UTILITY BILLS.
Unfortunately, many homeowners focus on the outside of their home for aesthetics, with much less focus on the mechanical systems inside the home - like heating, cooling and ventilation. The money saved on energy bills could be reinvested into aesthetics – especially when there are rebates involved for doing the upgrades.
Insulating the attic
Whatever the climate, proper attic insulation is key to energy efficiency (and home comfort). The importance is often underestimated, leading to insufficient insulation, and resulting in high heating and cooling bills. Throughout the attic, insulation provides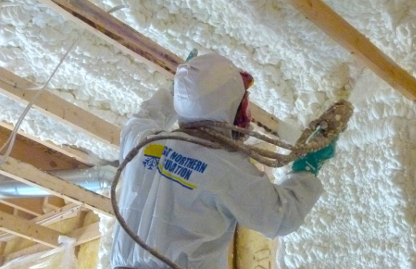 a "blanket" that prevents airflow from entering and exiting the home.
Regardless of house size, it's important to keep heated air inside during winter, and cooled air inside during summer. That's essentially the job of attic insulation - creating an air barrier and insulation barrier that offers optimum HVAC performance and seasonal comfort for occupants.
For professionals like Great Northern Insulation, attic work begins with air sealing. The idea is to constrain airflow and allow the insulation materials to perform effectively. Here again, air sealing and insulation are designed to work together in order to deliver maximum energy efficiency. It is vital to air seal before applying insulation in an attic, especially around the attic hatch if you are not using it for storage.
Insulating crawl spaces
Crawl space insulation is essential in maintaining a home's overall energy efficiency. When it's un-insulated, the crawl space allows heated and/or cooled air to be easily lost. Whether a crawl space is ventilated or not, the goal of insulation is the same – to protect your living space from the unconditioned, unfiltered air below.
Vented crawl spaces pose problems with regard to humidity and indoor air temperature. There is potential for condensation, and this compromises the effectiveness of the insulation. With expert installation, a seasoned contractor will ensure that the space is properly sealed and insulated.
Some homeowners might consider crawl space insulation to be a DIY project, and while this may save some dollars, a professional approach is the better approach because it will be considered as part of the system. As it is, this may be the ideal space to use spray foam insulation and guarantee complete dryness and thermal protection.
Insulating the basement
In the basement, insulation works particularly well for balancing temperatures, blocking drafts, and providing the foundation for a comfortable, finished living space. When properly installed, basement insulation reduces energy consumption measurably, while lowering gas and electric bills throughout the year.
Oftentimes, insulating the basement is about creating a cozy and comfortable living space. But the benefits of a comprehensive install go well beyond what it can mean for aesthetics. Just the energy savings from season to season make the project worthwhile. Plus, a well-insulated basement also adds real estate value.
When the basement is properly sealed, insulated, and ventilated, the benefits are many: there is no more unregulated airflow; thermal performance allows for seasonal comfort; air moisture is prevented from accumulating; and the home's overall energy efficiency is noticeably enhanced.
Exterior home insulation
Relative to the age of a home, exterior home insulation can boost thermal performance quite substantially. But it has to be done the right way – to manage airflow, to control air moisture, and to deliver maximum R-Values. Large home or small, exterior insulation makes a huge difference.
Whether it's a new build or a retrofit, exterior insulation requires a professional touch. And when spray foam insulation or a drill and fill are prescribed, the installation work is best left to experts in the field. Considered to be the best performer amongst all insulation products, spray foam is a highly specialized installation, and drill and fills require care for your home's siding.
Great Northern Insulation is the industry leader in spray foam insulation. GNI installs everything to code; with highly trained and certified installers; and a comprehensive manufacturer warranty. And for exterior home insulation, no other product or combination of products can surpass spray foam. Please note that spray foam insulation will only be used for exterior walls when it makes sense to, such as when you are performing complete renovations and the drywall is being taken down.
Under-slab insulation
In a new home or during a major renovation, insulating the under-slab (of the foundation) is the ultimate in thermal protection. Insulating with spray foam effectively controls heat loss and moisture collection, providing the home with maximum comfort in both winter and summer.
Professionally insulating the under-slab of a home makes a huge difference in energy efficiency. To further enhance effectiveness, spray foam can also be applied to the lower portions of the foundation walls - this ensures a continuous barrier between the floor and basement walls.
Spray foam is ideal as an under-slab application because it bonds with most substrates, without compromising performance. As it creates an impermeable envelope, the spray foam easily seals plumbing, drainage, and any mechanical infrastructure. No other insulating product comes close.
Great Northern Insulation offers practical insulation solutions
When done right, home insulation works – with high quality products and superior installation. At Great Northern Insulation, homeowners can choose from a range of home insulation solutions, each designed to satisfy a specific need. And with GNI, customer satisfaction is guaranteed 100%.
Retrofit Drill and Fill
Today, because of the added focus on home energy efficiency, many homes are being "retrofitted" with more effective insulation. The drill-and-fill approach is an innovative installation that allows existing walls (can be either interior or exterior) to be upgraded with insulation with little effort.
With drill-and-fill, small holes are drilled into a wall where loose fill insulation (often cellulose) is blown into the empty wall cavities. Once the wall cavities are insulated, all the holes are patched up and the wall re-finished. There is virtually no wall damage and R-Value results are immediate.
MANY OLDER HOMES, BUILT TO OLDER, OUT-DATED BUILDING CODES, DO NOT HAVE AN ADEQUATE AMOUNT OF INSULATION IN THE WALLS FOR ONTARIO'S CLIMATE.
Retrofit drill-and-fill is ideal for older homes that have little or no wall insulation. These homes suffer from exterior walls that are cold to the touch, and heating/cooling costs that are quite high. Upgrading insulation with the drill-and-fill install has proven to be the best answer for many.
Fibreglass Batt Insulation
Fiberglass batt insulation is a popular install for roofs, attics, and walls. Properly installed, this product delivers satisfactory R-Values and improved energy efficiency. For optimum results, fiberglass batts should be professionally installed - it's work that requires some expertise.
Fiberglass batts must be placed strategically and installed with precision in order to ensure peak performance. The insulation provides an effective "thermal blanket" without retaining moisture. With expert installation, the batts do not settle measurably over time and maintain their R-Value.
Fiberglass batts, as well as fibreglass loose fill insulation, are completely safe. The materials are odour-free, non-combustible, and non-corrosive. Manufactured by using substantial amounts of recycled material, fibreglass is also asbestos-free. Many of the brands are air-quality certified.
Spray Foam Insulation
When it comes to home insulation, spray foam products are widely recognized as the best performing. Spray foam insulation provides better sealing, better R-Values, and better energy efficiency than any other comparative product. No other insulation products come close.
The biggest advantage of spray foam insulation is its capacity to seal. Spray foam completely seals a given area, forming an impermeable air and vapour barrier that does not absorb water. The result is an installation space that is completely airtight, and presents little potential for heat loss.
For professionals like Great Northern Insulation, spray foam has become the product-of-choice in residential and commercial applications. It's considered a premium product, but maintains an economic competitiveness when compared with rigid foam insulation and air/vapour barriers.
Condo/Apartment Buildings
In condominiums and apartment buildings, insulation experts must address air movement issues (known as the Stack Effect) when providing insulation and air sealing solutions. In summer and winter, the Stack Effect causes undesirable air movement that in turn negatively affects temperature fluctuations.
From season to season, indoor temperature fluctuations cause discomfort for occupants and/or residents. Worse still, energy efficiency is dramatically compromised, resulting in higher energy costs for building owners. The solution rests in undertaking a comprehensive approach.
At Great Northern Insulation, building science professionals offer a host of remedies to address the Stack Effect and the negative effects on resident comfort and retention. Building owners can benefit from efficient air sealing, high performance insulation products, and air ventilation.
With GNI, 100% customer satisfaction is guaranteed.
For the experts at Great Northern Insulation, insulation works best when quality products are professionally installed. GNI installers are certified and licensed, installing everything to code, without taking unnecessary shortcuts. Everything is installed to manufacturer specifications and with the house a system in mind.
Attic or basement, GNI ensures that installed insulation works at peak performance. Thousands of customers throughout Ontario have already relied on Great Northern Insulation for end-to-end project management, with reputable manufacturer's product warranties and a company guarantee on work performed.
To find out more about insulation options, sign up for a FREE, no obligation in-home assessment with one of the experts at GNI. We'll show you how to significantly improve energy efficiency and home comfort in the most cost effective manner. And we'll show you how to reduce energy bills.
From renovation retrofitting, to new home construction, we can provide the insulation solution. Call GNI directly at 1.800.265.19141 or visit the company website at https://www.gni.ca .