Unwanted Cannabis Odour: How it Gets in & How to Stop it
October 16, 2018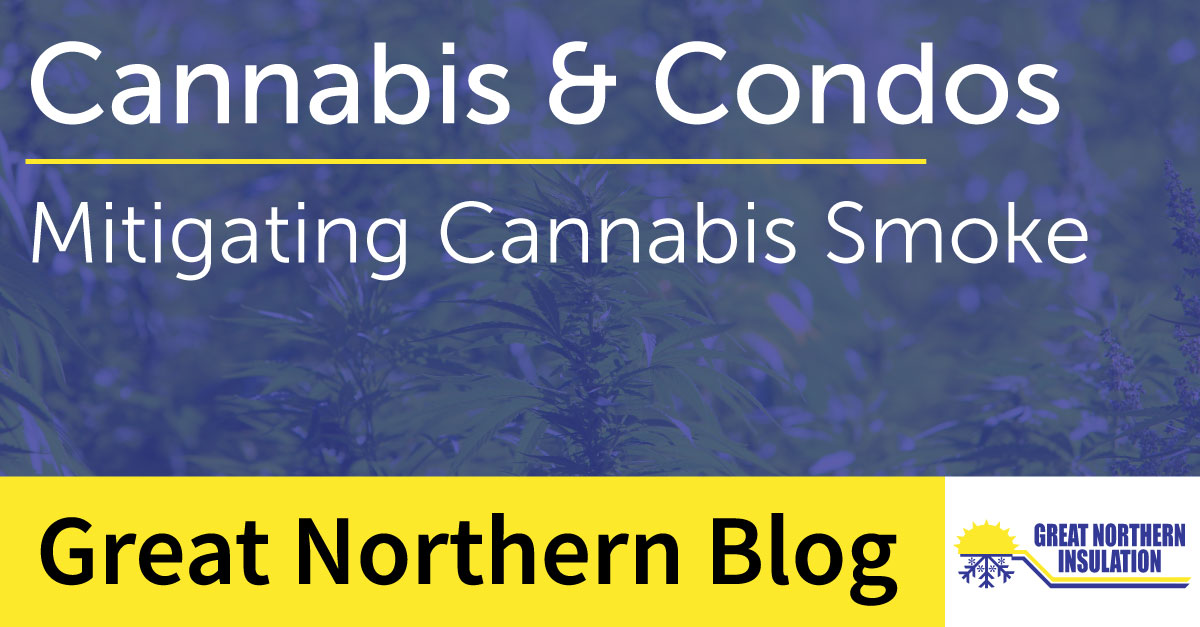 Cannabis is set to be legalized on October 17th, and this allows Canadians to freely smoke recreationally on their own property, or anywhere that cigarettes may be smoked. Marijuana smoke is known to have a strong skunky odour, and as Canadians start to light up on Thursday, it may pose an air quality concern for homeowners who live inside homes with poor air tightness/compartmentalization, and for tenants of a multi-unit building with recreational or medicinal-smoking residents. Property managers need to be prepared for concerns raised by tenants regarding air quality and/or unwanted cannabis smoke, as they are not something to be taken lightly. People who have asthma, allergies, or prior respiratory issues may have a worse reaction to the smell of cannabis - causing them to seek immediate action to resolve the issue.
How Does Smoke Get in?
Even a small and unnoticeable hole within a building is capable of allowing smoke to enter - a house or a unit may not feel drafty, but it is still possible that smoke is easily allowed to creep in. Common places for this to happen include: doors, uninsulated electrical sockets, air vents, and windows. Looking to prevent intrusive pot smoke is something we recommend for property managers to start considering immediately, if they have not done so already. This is to ensure that your tenants are reassured something is being done to prevent unwanted marijuana odours, and that the air quality and comfort within their rented property is preserved. GNI offers many services specifically tailored to commercial retrofits, and is capable of air sealing/compartmentalizing individual units.
Large buildings with insufficient air sealing are affected by something called the stack effect. This causes the lighter and more buoyant warm air to rise up and escape through any unsealed openings, while also pulling in cool air from around the base of the building. This is detrimental not only to overall energy efficiency, but it can also: threaten the integrity of the building, lower the interior air quality, lower the comfort of tenants by creating drafts, and can pull any cannabis smoke that is in the outside air into the building's units or common areas.
How Do You Stop the Spread of Smoke?
Through a building envelope consulting firm that is registered to perform energy audits, such as our friends at Barrier Sciences Group, an airtightness test can be conducted to locate and identify the areas where smoke can find its way in. In places where the interior air is able to freely exchange with the exterior air, so too can smoke. And although your home does need to 'breathe', it's important for energy efficiency and comfort that this is done in a regulated manner. An airtightness test conducted by a Registered Energy Advisor allows our experienced insulation installers to effectively target and fix the leaky areas of the home, unit, or building; helping to improve air quality, comfort, and energy efficiency.
After an air tightness test has been conducted, and all areas of possible smoke intrusion have been located, the next step is to start working on compartmentalizing the home or affected areas of the building.
What is Compartmentalizing and How Can it Help?
The term compartmentalizing is used to refer to the general air sealing of a home. Whether that is completed by an experienced insulation installer properly installing insulation, or by work such as sealing leaky areas with caulk, compartmentalizing is the most effective way for preventing the spread of cannabis smoke - both for hiding it, and for hiding from it. As there are also numerous rebates for home renovation available - many of which may be directly applied to work that improves your home's air tightness and air quality, it is a fantastic time to start looking towards increasing your home's energy efficiency and interior air purity all in one fell swoop.
Can you Compartmentalize a Single Unit or Common Area?
Yes! A single unit, common area, or hallway can be compartmentalized to prevent air and smoke leaks. In a managed property, compartmentalizing individual units, certain areas, or even entire buildings can easily be seen as a wise investment. Not only does compartmentalizing increasing a building's energy efficiency, thereby lowering its operating cost, but it also improves the comfort and satisfaction of the tenants. Commercial or residential insulation retrofits are capable even on older buildings, and can increase a property's value by providing an attractive selling point for potential buyers or new tenants.
As compartmentalizing is extremely effective at maintaining a smoke-free interior, and can be applied to individual rooms with a razor sharp precision, it is capable for tenants of a multi-unit building to feel safe and free from second hand smoke while in living inside their property. Even as condo boards are rushing to prevent the smoking or cultivation of marijuana while in a rented property, units may still be susceptible to the intrusion of exterior smoke due to improper air sealing and the stack effect.
What's the Solution for a Multi-Unit Building?
Completely banning smoking may not be possible in some condos, as there may be a legal impossibility, and/or tenants who require it medically. In a case such as this, it may be worth making a distinction between smoking, vaping and oral consumption, so that tenants still have freedom in their home, without the possibility of imposing on other tenants.
Our recommendation to property managers or homeowners concerned with this issue, is to get in contact with a building envelope consulting firm that can provide you with an air tightness test, and to follow the suggestions in the report to work towards compartmentalizing affected units or the entire building.