Industry-Leading Training Program
June 07, 2022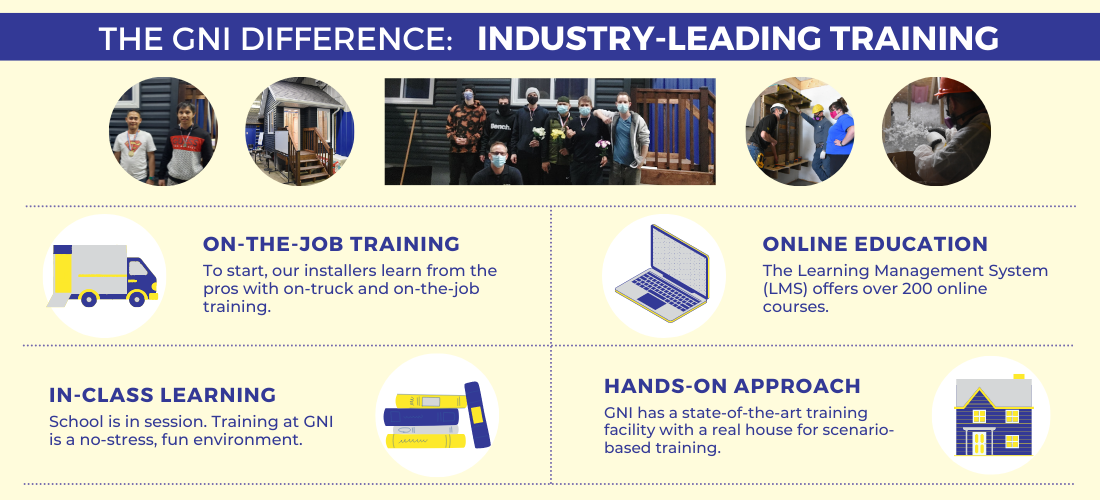 The difference between doing a good job and a great one is knowledge. So while most insulation companies offer hands-on training in the field, GNI takes learning to the next level. In addition to on-the-job training, we also provide our crew members with in-class and online education, as well as hands-on learning at our state-of-the-art training facility.
In a recent employee survey, 70% of our crew members said they had received opportunities to learn new skills at work, and 40% said they've had several opportunities in the last 12 months alone. So not only do our customers get exceptional service, our installers gain the skills and confidence they need to do excellent work, tackle problems when they arise, reduce callbacks – and grow their careers.
How our trainers got their knowledge
This industry-leading program is the effort of two pros with a lot of knowledge: Bernie and Sam. Close friends since high school, these two insulation ninjas are thrilled to be sharing their know-how with up-and-coming GNI installers.
As two generalists who know all the facets of the business, there was nobody better equipped to get crew members learning and upgrading their skills. The duo oversaw the building of the training facility, developed training content – and created the program as it is today. Now they teach building science and building envelope principles. Installers test out what they've learned in class in the training house, a controlled environment for scenario-based training.
"In the training house, we can actually blow in and remove insulation from an attic," says Sam. "There's a lot of hands-on stuff on how to vent a house and properly calculate your venting. We focus on the stuff our installers see day to day."
Learning beyond the classroom
Bernie and Sam are hands-on across the business. Not only do they train installers, they're also involved in new product testing and forensic analytics of service issues. What they learn there goes directly into the content they develop.
The learning management system (LMS) is another facet of the comprehensive program. Accessible to all employees, it has over 200 courses, ranging from third-party videos and manufacturer content to custom courses created internally by Bernie, Sam and Terry, the LMS coordinator.
3 days of intensive learning
Training is offered primarily to installers who have been with GNI for 3 to 6 months and have had a chance to learn the basics on the truck. It's a combination of class time spent on theory and practical time in the facility. But it's not like school: it's informal and laid back – and even fun.
"Training at GNI is a no-stress zone," says Bernie. "It's a chance to talk shop, compare stories and get to know other installers. We see ourselves as mentors rather than teachers, and really encourage an open, friendly environment."
The support doesn't end when the 3 days are up
Bernie and Sam are always open to calls and questions. They've set up a WhatsApp group that lets crew members stay in touch with them and with each other: messages range from social stuff to questions about issues crew members encounter on site.
"Our installers know it's not just two of them on a truck out in the field somewhere, trying to figure everything out on their own," says Sam. "We've created an environment where you can reach out and get support. There are people here that care about what you're going through."
Now hiring crew members in Ontario
Looking to join a company that supports you with all the knowledge you need to do a great job and grow your career? Great Northern insulation is hiring crew members across our Ontario locations – apply today.