Which Ontario Home Renovation Rebates Are Right For You?
May 16, 2019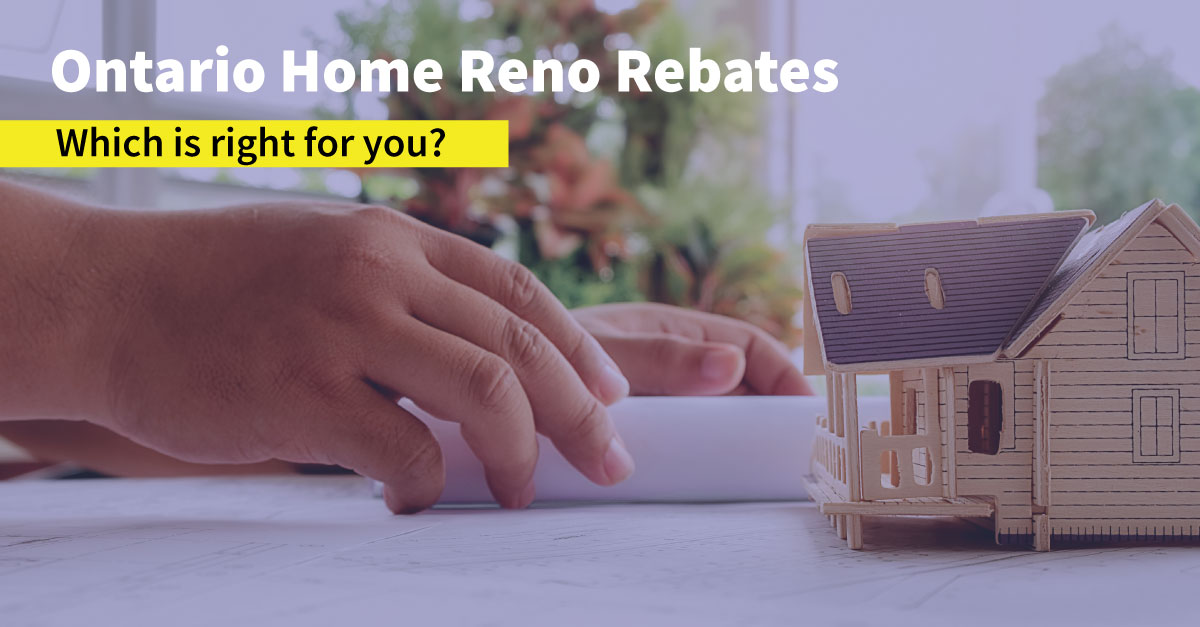 Currently, there are many different rebates available to Ontario residents and homeowners who improve their home's energy efficiency. The purpose of these rebates is to help make it more affordable for Ontarians to upgrade their home, and to help them start reaping the benefits of living in a more energy efficient living space. It can be a bit difficult to determine which rebate programs are the best fit for your needs, so we have created a handy cheat-sheet to help you make sense of things.
If you have any questions about the rebate programs that are available, or if you would like some help figuring out which ones you are eligible for, call us toll free at 1-(800) 265-1914 and one of our customer care representatives will be happy to assist you.
The Home Efficiency Rebate Program
Probably the most well known of the ontario rebate programs is the Home Efficiency Rebate program (HER) from Enbridge Gas. With up to $5,000 of rebates available, this program offers homeowners a financial incentive to upgrade and improve their home's energy efficiency. It is available to all Ontario homeowners who live within either the Union Gas or Enbridge Gas service areas, and requires two energy audits from a certified service organization to qualify; (one before renovations have begun, and one after they have finished).
Quite often, homeowners will use this program to improve multiple areas of their home all at once and in an affordable manner. The HER program also offers up to $550 to help cover the cost of the required energy audits, and $500 for attic insulation upgrades - which is often the most cost-effective way for an Ontario homeowner to improve their home and reduce their utility bill. .
Rebates are also available for home renovations such as: air sealing, wall and basement insulation improvements, window and door upgrades, and even HVAC upgrades. With the help of the HER program you can see faster returns on your home improvement investments, and with the information in your first energy audit, you can know which areas of your home would be the most cost-effective to improve first.
To begin the qualification process for the Home Efficiency Rebate program, request your free in-home assessment. If you have any questions about the HER program, or if you are wondering about your eligibility, call us at 1-(800) 265-1914 and one of our rebate experts will gladly provide you with the answers you need.

The CMHC Green Home Premium Refund
Through the Canadian Mortgage and Housing Corporation comes the Green Home Refund program. For eligible homeowners, a refund of up to 25 percent of the insurances costs for their mortgage loan is available - if they are financed through the CMHC. The refund is available for those who are buying, building, or renovating a home towards energy efficiency, and since this is a percentage based refund, the more upgrades that are done to reduce energy consumption, the more money that is refunded through the program.
Similar to the Home Efficiency Rebate program, the Green Home Refund program requires an energy audit from a certified service organization, such as our friends at Barrier Sciences Group. By having an energy audit conducted, you are not only helping yourself qualify for a number of different Ontario rebates, but you are also receiving a comprehensive look at to how your home has been performing in terms of energy consumption and utility costs. Once your energy audit has been completed, GNI can recommend the upgrades that will net you the biggest rebates and the biggest energy efficiency improvements per dollar of your investment.
For Toronto Residents: The Home Energy Loan Program (HELP)
If you are a resident of Toronto, you can take advantage of a fixed low interest loan from the City of Toronto to improve your home's water and energy use. A loan of up to $75,000 is available on 5,10, and 15 year terms, and can be payed off at anytime with zero penalty. A unique aspect of the HELP program is that the homeowner is able to sell the house before all of the payments have finished. Instead, the new homebuyer takes on the rest of the loan.
For example: let's say you want to use the HELP program to update your Toronto home. You follow the application process and have the necessary energy audit conducted by a certified service organization. With the information in the energy audit, you are able to tell that airtightness upgrades, and stronger attic insulation would be the most cost-effective improvements for you to make. You also decide to go with the 10 year loan option.
Now fast forward a couple of years. Your upgrades have been finished for a while and settled in nicely, but you are looking at moving to a new home in a slightly more expensive location. With a few years still left on the loan, it's extremely beneficial that it stays with the property and will not be following you to your new place. It's also beneficial that new homebuyers are excited at the idea of purchasing a comfortable and well-upgraded home, and that the remaining term on the loan has not at all been acting as a deterrent.
Ontario's AffordAbility Fund
The AffordAbility Fund of Ontario is a Government aid program designed to assist any resident of Ontario reduce their electricity bill if they are being weighed down by it. This means financial assistance is available to: homeowners, those who rent, those who live in assisted or social housing, and those who are unable to keep up with their electricity bills. Funding is provided for improvements such as: LED light upgrades, more efficient appliances, and even stronger insulation and weatherstripping (which is effective at reducing energy use).
To see how much assistance you could qualify for, you can check on the AffordAbility Fund's website by typing in the average monthly income of your household and your monthly electricity bill. In some cases, 100 percent of upgrade costs will be covered through the program.
Why is it Important for me to Improve my Home's Energy Efficiency?
Improving the energy efficiency of your home is the most effective way of lowering your monthly utility payments, overall energy consumption, and carbon footprint. It is also effective at making your home more comfortable, have a more uniform temperature in every room, have better air quality, and even have a better market value - as an efficient home is more attractive to potential homebuyers.
To get started with your home upgrades, or to determine which Ontario rebates you are eligible for, GNI's customer care representatives can be reached at 1-(800) 265-1914. Additionally we offer in-home assessments completely free of charge and with no obligations. Contact us now to start saving on your energy costs and to start living in a more comfortable home.