Ontario Home Insulation With Great Northern Insulation
August 15, 2019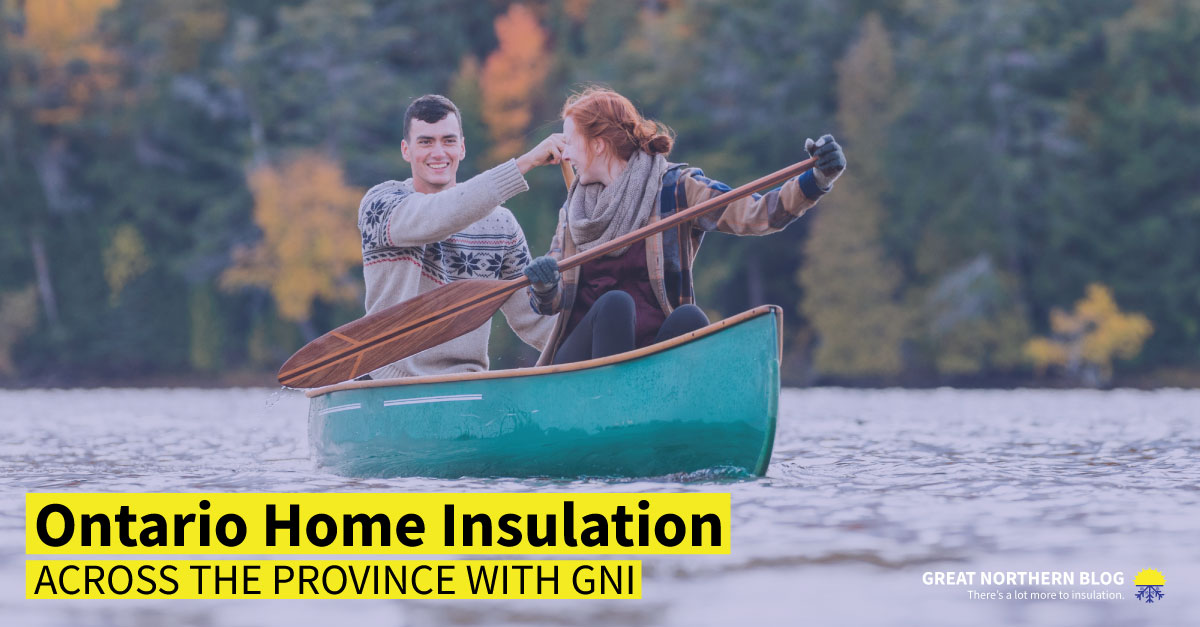 Ontario Home Insulation with GNI
From Ottawa insulation installs to Windsor insulation retrofits - GNI has you covered. With 7 locations across Ontario, GNI is committed to providing quality service that comes packaged with a satisfaction guarantee. This means that no matter which one of our Ontario branches helps you with your home renovations, you will be in the well-trained hands of our Customer Experience Team and our experienced crew of installers.
GNI Is Proud to Serve all of Southern Ontario
The main offices for GNI are all over southern Ontario, ensuring that every Ontarian has access to an affordable and effective way of improving their home. The main GNI locations for Southwestern Ontario are: Sarnia and Comber. For South-Central Ontario: Woodstock. For the GTA: Milton and Port Perry. For Muskoka and Northern Ontario: Barrie and Gravenhurst. And for Eastern Ontario: Nepean (Ottawa).
To find your nearest GNI provider, please enter your postal code near the bottom of the GNI webpage. If you would like to speak with our Customer Experience Team and take the first steps towards a more comfortable, affordable, and environmentally friendly home, call us toll free at 1.800.265.1914 or leave us a message on the GNI website.
Toronto Insulation Installs are Affordable and Effective
Making home renovations in the GTA can seem intimidating due to unexpected costs and the need to set aside enough time for the renovations to be completed. However, GNI helps you plan your home improvements according to your budget and your schedule. This means that you can rest easy knowing that your renovations are in experienced and efficient hands. Also, with the current rebates available, it has never been more affordable for homeowners to make home improvements within the GTA.
Toronto residents are able to apply for the Home Energy Loan Program (HELP), which offers a low interest loan for homeowners to improve their home's energy efficiency. The loan is also unique as it is attached to the home and not the individual. This means that when it comes time to sell and the loan has not been fully paid off, the new owners will take on the remainder of the loan along with the improvements that you have already made thus far. With the help of HELP, Toronto insulation upgrades, improvements, and retrofits can be made to fit into even the tightest of budgets.
The Home Efficiency Rebate Program for Ontario Insulation
Recently, a new rebate program has emerged to help make it more affordable for Ontarians to improve their home's energy efficiency. With up to $5,000 of rebates available, the Home Efficiency Rebate program has made it easier for homeowners to see a return on their investments through utility bill savings. Additionally, the Home Efficiency Rebate Program (HER) is offered to all Ontario homeowners who are Enbridge Gas/Union Gas customers, meaning that even homeowners who live in smaller cities/towns are eligible to apply. For example, the HER program can help with Collingwood insulation installs, Hanover insulation upgrades, Brighton insulation retrofits, and Goderich insulation renovations.

The first step to receiving a rebate through the HER program is to have a certified service organization conduct an energy audit of your home. A home energy audit provides you with a comprehensive look at your home's current energy performance, along with a list of suggestions for how it could be most cost-effectively improved.
A Home Energy Audit is the Key to Cost-Effectiveness
With a home energy audit from a certified service organization - such as our friends at Barrier Sciences Group - the most cost-effective home improvements can be targeted for things such as: Toronto insulation installs or Woodstock insulation retrofits. This is possible due to the extensive testing and computer modelling that occurs during an energy audit, and the knowledge and experience of the registered energy advisor who conducts it.
With the information the audit provides, you can also see the expected energy savings and financial savings for each suggested home improvement. This makes it easier and more affordable for Ontario homeowners to improve their home, as they are able to target the most cost-effective upgrades only. As a result, it is easier for homeowners all across Ontario to improve their home and start reaping the benefits of a more energy efficient home.
You Can Count on GNI - Even in Smaller Towns
With 7 GNI locations scattered across Ontario, and GNI's ability to improve any type of home or building, homeowners of every different building type are all starting to take their first steps towards a more energy efficient and affordable living space.
This means that for homeowners with a heritage home in Windsor, insulation improvements are viable and effective. The same applies for homeowners in a newly built home in Ottawa, as insulation levels can still be substantially improved over the requirements of the current building code. For homeowners in Toronto, insulation costs can be effectively managed with the Home Energy Loan Program. And for all homeowners in Ontario, insulation can be affordably improved with the help of the Home Efficiency Rebate program.
Contact Us
If you would like to get started with your home improvements, or if you have any questions about our services or our service area, call us toll free at 1.800.265.1914. Alternatively, you can leave us a message on the GNI website that includes your contact details, and our Customer Experience Team will be in touch with you shortly. Also, as your rebate experts, GNI is able to answer any questions you may have regarding the Home Energy Loan Program in Toronto, the Home Efficiency Rebate program in Ontario, or any of the other rebate programs that are currently available to Ontario homeowners. Don't wait to make your home improvements - contact us now and feel the difference of living in an energy efficient home.