What is Crawlspace Insulation and Why Do I Need it?
October 03, 2019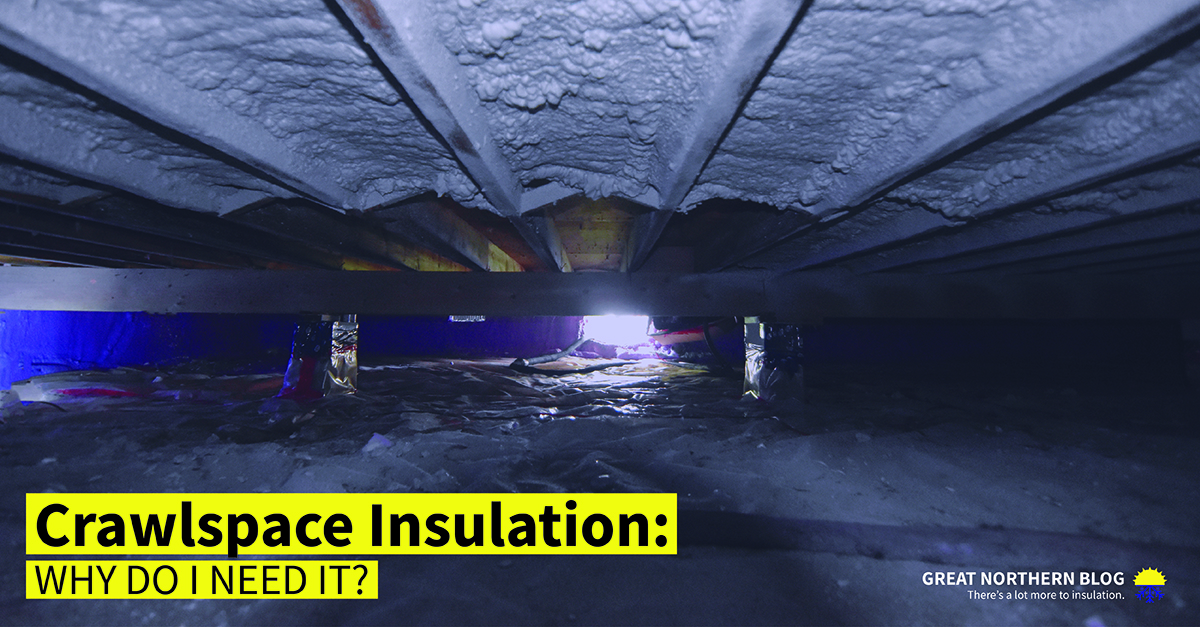 Crawlspace Insulation with GNI - FAQ
The energy efficiency of a home is greatly affected by the level of insulation and airtightness on every floor. This means that strong crawlspace insulation is not something to be overlooked, as it significantly contributes to a more comfortable home, lower utility costs, and can assist in the mitigation of moisture build up in hard to reach areas.
Also, since crawlspaces differ from home to home, the most cost-effective approach to insulation might not be the same from one home to the next. For this reason, we recommend starting any crawlspace insulation upgrades (or any home renovations for that matter) with a free in-home evaluation and / or a home energy audit. This allows you to see the benefits, costs, and expected returns of every option for crawlspace insulation in your home.
If you have any questions about the benefits of strong crawlspace insulation, or would like to schedule a time for a free in-home evaluation with our team of home insulation experts, give our Customer Experience Team a call at 1-800-265-1914. Alternatively, you can message us directly through our live-chat feature at www.gni.ca/contact.
How Does Crawlspace Insulation Work with a Dirt Floor?
A crawlspace with a dirt floor is highly susceptible to increased levels of moisture and unwanted air leaks. To remedy this, our professional insulation installers ensure that the entire dirt floor is properly air sealed and added moisture control (usually through plastic sheets that work similar to vapour barrier). Spray foam can also be used, and is often considered the best product on the market for any home use - including being used as crawlspace insulation.
The reason for this is that spray foam is able to provide thermal protection, help with moisture control, and air sealing all in one. This makes it a formidable asset when improving crawlspace insulation and home energy efficiency levels. Also, spray foam insulation is able to form fit to the area that is applied. This means that small cracks or areas of air leakage are easily sealed without additional effort.
To locate air leaks within any part of a home, we recommend for homeowners to have a blower door test conducted. This involves creating a negative pressure within the home, so that every air leak can be properly identified and labeled - making it easier to accurately improve the level of airtightness within the home.
If you have any questions about crawlspace insulation with a dirt floor, or about blower door tests and how they help improve a home, give us a call at 1-800-265-1914, or a message online at www.gni.ca/contact and our Customer Experience Team will be happy to help
Should an Insulated Crawlspace be Climate Controlled?
In general, an insulated crawlspace does not need to be climate controlled. Since the crawlspace is not a commonly inhabited area of a home, there is no need to maintain a comfortable living temperature inside it. The main purpose of crawlspace insulation is to prevent unwanted heat exchange (hot air invading in the summer and escaping in the winter) - which drives up energy costs - and help to prevent the build-up of potentially damaging moisture within the crawlspace itself.
While effective crawlspace insulation is good at maintaining temperatures within the confines of the crawlspace, it is actually making a larger difference to the comfort and energy use within the rest of the home. Also, since it is impossible to make a blanket statement that covers the needs of every home and the goals of every homeowner, the best way to receive an answer for this question (specific to your home) is to have our professional insulation installers conduct a free in-home evaluation. From there, they can recommend the next steps and optimal pathways for you to take regarding your crawlspace insulation concerns.
Do I Need to Insulate my Crawlspace Ceiling?
If it is part of your building envelope, then it should be well insulated and air sealed. The building envelope of a home can be thought of as a protective shell that surrounds the home and shields it from the exterior elements. This means that every part of the building envelope must work together in order for it to be effective, and issues such as air leaks and poor insulation can reduce its ability to protect and keep your home comfortable.
GNI can help you better understand your home's building envelope, and will arrange for a comprehensive, whole-home energy audit that details every aspect of your home's energy performance, including pathways for improvement. Call our Customer Experience Team at 1-800-265-1914 for more information, or chat with us online at www.gni.ca/contact.
How Does Crawlspace Insulation Differ from Basement Insulation?
In many ways crawlspace insulation and basement insulation are the same, but in others they are slightly different. Both crawlspaces and basements should be insulated and airtight, and it is common for both to remain unfinished (in terms of drywall etc.). However, basements are climate controlled more often than crawlspaces, and are often in a different part of the home. This means they have slightly different requirements for things such as ventilation and moisture control.
In most cases, spray foam insulation is the best choice for maximum energy performance - whether in the basement or a crawl space. It is versatile and able to completely seal cracks or air leaks, while providing an extremely high R-Value and add to moisture control capabilities depending on climate. Other types of insulation can also be used as effective basement and crawlspace insulation, such as fibreglass batts and blown-in fibre insulation.
GNI can help determine the specific needs of each part of your home, ensuring that the right steps are taken for the most cost-effective results. This means that you can make the biggest improvements to your home's energy performance for the lowest cost. To get started with your free home evaluation, contact our Customer Experience Team at 1-800-265-1914, or online at www.gni.ca/contact.