Tiny Home Construction Bi-Laws & Municipal Requirements
January 24, 2020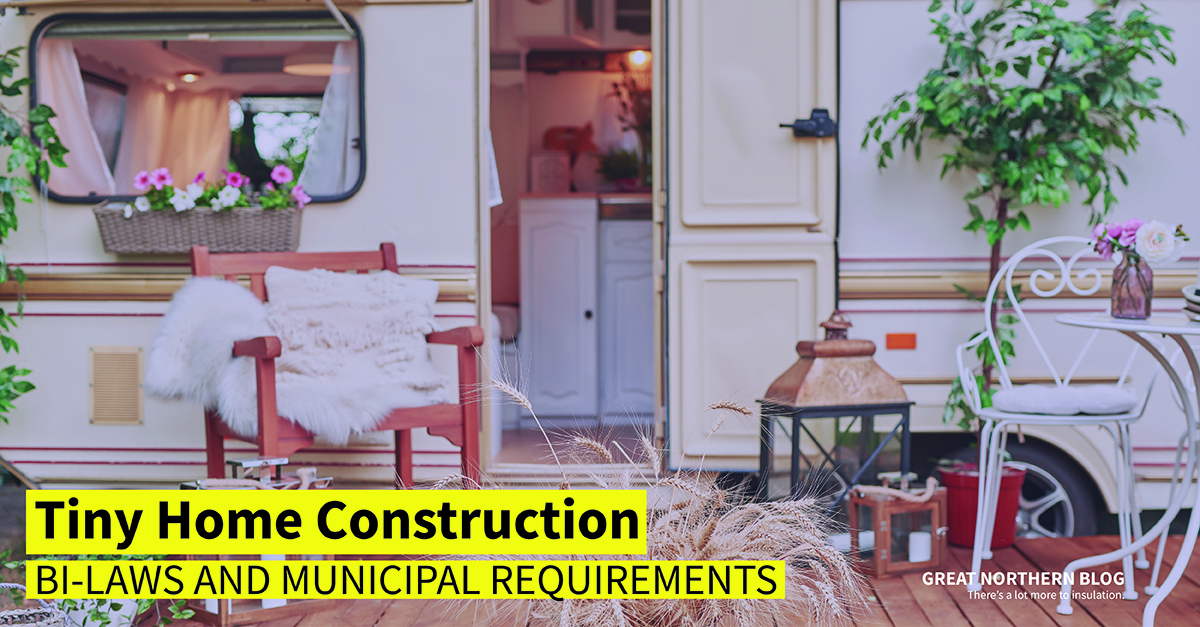 With rising energy prices, potential upcoming energy shortages, and a high cost of living in many areas of Ontario, more and more homeowners are becoming interested in cost-effective homes. Tiny homes are just one of many that are catching the eyes of energy conscious people across Ontario. A tiny home is a small yet functional home that contains all the normal amenities of a traditional home - making it an attractive and affordable option for many.
A building need to meet specific requirements to be classified as a tiny home. These requirements cab based on the local municipal bi-laws, and general guidelines. While the minimum size may vary by location due to tiny home municipal bi-laws, to be called as such, a tiny home needs to:
Be small and able to be used year round.
Meet the requirements of the Ontario Building Code for health and safety,
Have usable hookups for necessary services such as water and sewage,
Have a functioning kitchen and bathroom,
Have areas for dining, living, and sleeping
The Tiniest Tiny Home
The in-depth parameters for each of these requirements, such as the minimum ceiling height of a living space or the required width of a hallway, can be found in the downloadable PDF from the Government of Ontario's guide for building or buying a tiny home.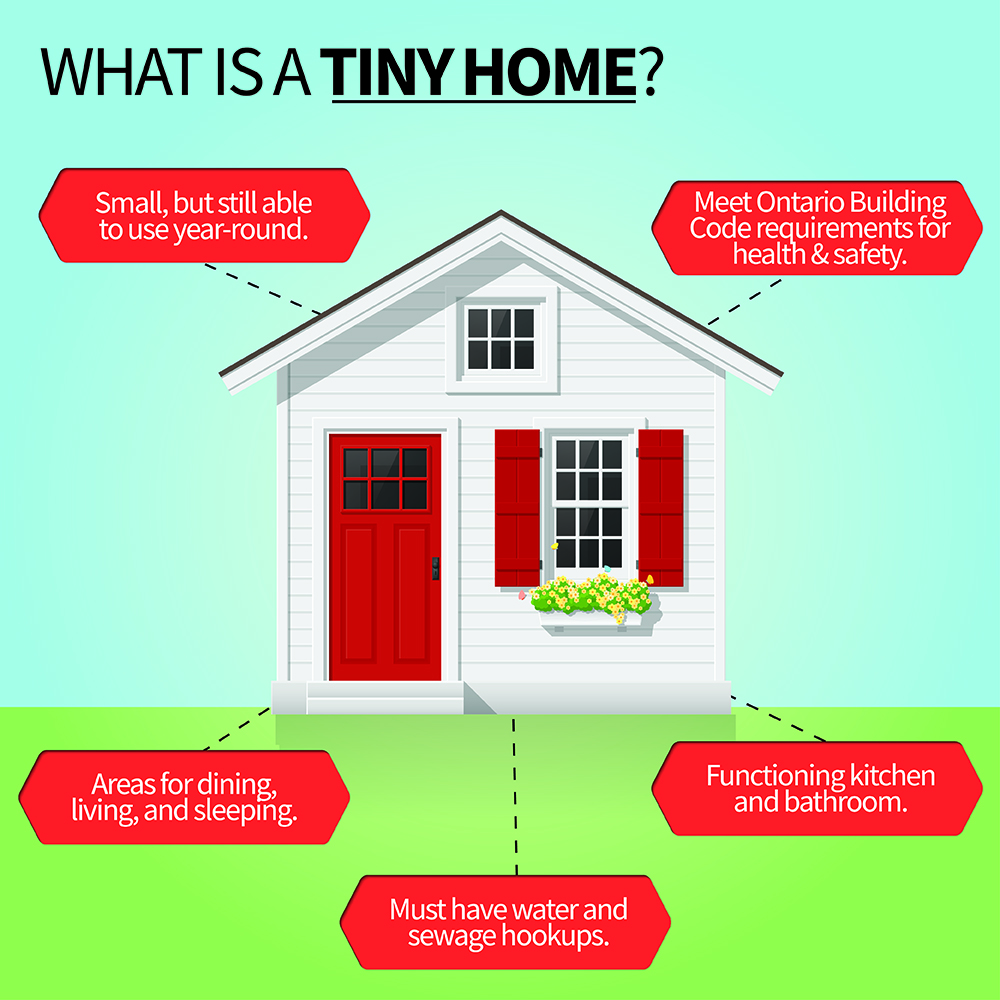 It is worth noting that while municipal bi-laws may set a specific minimum size, tiny home construction bi-laws dictate that the absolute smallest a home can be is 17.5 ft2 (188ft2) and 37m2 (400 ft2 ) at its largest. These size parameters allow for the construction of a cozy home with extremely high levels of energy efficiency due to its reduced size, while still allowing for enough living space. Also, since there is less space to heat and cool than a traditional home, less energy needs to be used to keep the home at a comfortable temperature - making the cost of living significantly lower.
Zoning Requirements and Tiny Home Municipal Bi-Laws
Zoning requirements are also important to follow, as some lots will not work for tiny home construction. They may require further municipal approval, the lot may be too small due to local requirements or to meet setbacks, and / or the lot may not have proper access for emergency services. Tiny home construction bi-laws also require that every newly built home needs to meet the requirements of the Canadian Standards Association and pass the building inspection that occurs during construction - even if the home was built off-site and shipped to the final location. Also, just like every other newly built home in Ontario, you will need to have warranty protection from Tarion's Ontario New Home Warranties Plan.
Tiny home municipal bi-laws dictate your zoning - i.e. where they can be built. There are several requirements that may need to be met in order to build within a specific area or municipality.
These include:
Minimum lot size
Minimum residential building size
Distance from lot lines and/or a public street
Height requirements
Parking needs
Location of exits
Access to municipal services (sewage, electricity etc.)
Architectural design
Access for emergency services.
If your property does not meet the zoning requirements for your municipality, there are two options that are commonly taken. You can apply for your lot to be rezoned through a zoning bi-law amendment, or apply for a minor variance. Rezoning is usually only required for large changes, such as if your lot is only zoned to allow one living residence on the property.
For smaller changes, a minor variance is most often used. An example would be where the setbacks on a property (the minimum distance required between the lot line and the wall of a building) could not be completely met. In this case, a minor variance can be requested in order to still meet the requirements set out by the tiny home construction bi-laws for setback spacing. It is worth noting that your application for a minor variance can still be affected by a number of factors, such as any appeals made by neighbours about your zoning changes.
The Best Insulation for Tiny Homes
Tiny homes can come in all sorts of different shapes and designs, but they all share one feature - their relatively small size. This makes them extremely ideal for reaching high levels of energy efficiency and home comfort, as there is less space to insulate and air seal. Not only does this significantly lower heating and cooling costs, it also means you may not want to get a typical furnace. Instead, alternative heating options can be chosen, such as baseboard heaters or a ductless split system. Also, a heat recovery ventilator will always be required due to tiny home construction bi-laws, which allows for more energy efficient usage of your home's heated or cooled air.
In terms of meeting the Ontario Building Code's requirements for energy efficiency, it is crucially important that you work with a professional insulation installer and / or a building envelope specialist to ensure that you are properly and effectively insulating your new home build - since insulation and air sealing are the biggest contributors to overall energy efficiency. Even just a few air leaks can drastically affect a small building's level of energy efficiency, and moisture build up can lead to further problems or expensive repairs down the road. For this reason, GNI strongly recommends that you get in contact with a professional before you start construction, which allows you to get an idea which insulation options and air sealing methods are the best for your home. Similarly, it is extremely helpful to contact an HVAC specialist to determine how your home could be most-effectively heated and cooled.
Great Northern Insulation has Experience with Tiny Homes
GNI are experts in the field of insulation. We have already helped with the construction of several - such as those that use a shipping container to build a comfortable, affordable, and energy efficient living space within a small area. In terms of which type of insulation to choose, it strongly depends on a number of other factors involved with your build - such as the climate in your region, your planned design / layout, and your local tiny home construction bi-laws. In addition to installing the type of insulation that fits your needs, including fiberglass, cellulose and spray foam, we also make sure that your tiny home is air sealed to make your already cozy tiny home even cozier.
Tiny Home Municipal Bi-Laws Can Vary by Region
Depending on where you live or are planning to build, the tiny home municipal bi-laws in your area may be largely different than in the rest of Ontario. There may be specific rules that affect how your home will have to look, its overall size, its zoning requirements, its access to necessary services such as sewage and water, and many others. The best way to learn about your local bi-laws is to contact your local municipality before you start construction.
With their lower cost of living, more affordable construction costs, and smaller space requirements than traditional homes, tiny homes are becoming a viable and affordable option for many Ontario homeowners. To start a conversation with us about insulating and air sealing your tiny home, or to learn more about what to watch for before you start construction, our Customer Experience Team can be reached by telephone at 1-800-265-1914, or online at www.gni.ca/contact.