Everything You Need to Know About Home Insulation In 2020
March 12, 2020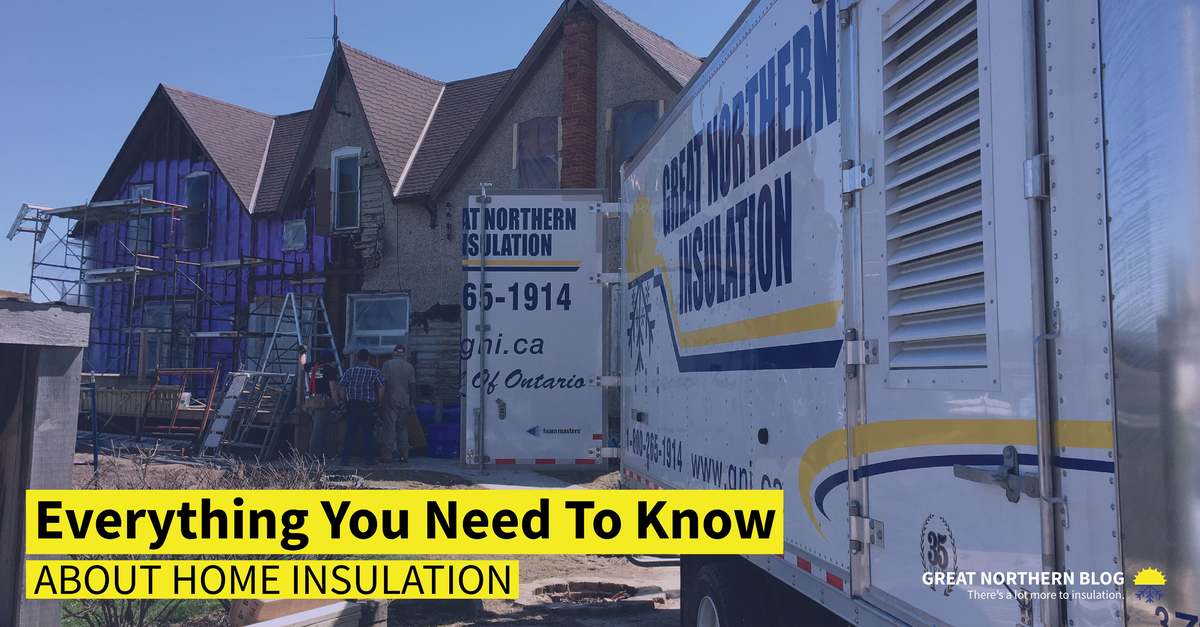 Here at the GNI offices, we put together this small list that addresses our most frequently asked questions about home insulation. If you would like to start a conversation with us about installing, removing, or upgrading the insulation in your home, please fill out the form below. Once you are in touch with our Customer Experience Team, you can also request a free assessment to help you figure out where to start.
How Does Insulation Work?
Insulation works like a cocoon that wraps the home in a thermal blanket to prevent energy loss through heat transfer. If it is cold outside, the insulating material in your home keeps you warm for as long as possible by essentially trapping the heated air inside. The opposite is true in the warm summer months - as it keeps your air conditioned interior air cool for as long as possible. Without it your home would be incredibly expensive and difficult to keep comfortable.
Why Does a Home Need Insulation?
A home needs insulation to keep its residents safe, protected and comfortable from the weather outside. When combined with effective air sealing, a home's insulation provides many different benefits to the homeowners, such as:
A more comfortable living environment
Better air quality
Lower utility costs
Higher home resale value
Lower environmental impact
Fewer drafts and cold spots
What Type of Insulation Should I Choose in 2020?
There is no single type of insulation that is the best for all purposes. Instead, each type of insulation provides a unique set of benefits capable of being maximized in certain uses. GNI can help you determine which type is the best fit for your needs. To help you get started, we have laid out a brief introduction to each type below.
Spray Foam Insulation
Spray foam insulation is a versatile and effective product with an extremely high R-Value for every inch that is applied. It can be used in nearly every part of a home, including rim joists, wall cavities, attics, and basements. Available in both open cell and closed cell variations, an industry professional can help you determine which of these two options would be the best choice for your purposes. Spray foam insulation also offers an air and vapour barrier in addition to its insulative qualities.
Fibreglass Batt Insulation
An affordable and effective option for homeowners looking to make upgrades, fibreglass batt insulation is a common choice for wall insulation. Made using recycled materials, fibreglass batts are flame retardant and can greatly improve a home's energy performance when professionally installed. They are also versatile, and can be installed in wall cavities, attics, and other areas of the home. They are cut to fit snuggly into any area that requires insulation.
Blown In Insulation
Blown in fibre insulation is capable of providing strong improvements to a home's level of comfort and energy efficiency. When properly installed, it is able to reduce air pockets in a wall cavity and helps to improve its overall effectiveness. It is also able to be installed using the retrofit drill and fill method. This allows a wall cavity to be insulated without having to tear down the entire outer layer of the wall for access.
What is R-Value?
R-Value is the measurement of how well a material insulates. The higher the R-Value, the better the material will be at keeping the home comfortable and energy efficient. Spray foam provides the highest R-Value for every inch of application, however blown in fibre or fibreglass batts may be a more cost-effective choice for some uses. You should also remember that insulation is about more than just installing insulation.
What is a Thermal Barrier?
A thermal barrier is a fire delaying / prevention measure. In the case of a fire, the thermal barrier works to slow down the temperature rise in the insulating material of the home. This is a necessary precaution to help keep homeowners safe and protected from potential fire hazards. There are special applications and more common methods, such as drywall.
What is a Vapour Barrier?
The vapour barrier is the part of a home's wall system that prevents moisture accumulation through vapour diffusion. It works in cooperation with the home's air barrier system and greatly helps reduce the risk of moisture related issues - such as mould.
What is an Air Barrier?
The air barrier is the part of the wall system in a home that prevents air leakage and controls airflow. When professionally installed and managed, the air barrier and vapour barrier work alongside the home's insulation to form the building envelope. A well-functioning air barrier is an important part of maintaining home comfort and energy performance.
What is Air Sealing?
A home's air sealing works to prevent unwanted air flow and control air leaks. By upgrading your home's air sealing you can see several improvements, such as:
A lower risk of sick building syndrome
Improved energy efficiency
Lower utility costs
Superior home comfort
A more consistent temperature on each floor
Blower Door Test
The first step to upgrading your home's air sealing is to have a professional evaluate where your home leaks its air. This can be done through a blower door test, which locates and identifies the source of every air leak within a home. To arrange to have a blower door test done on your home, please contact our Customer Experience Team at 1-800-265-1914.
What is Hybrid Insulation?
Hybrid insulation is when two different types of insulating materials are used in combination with one another. Spray foam is usually mixed with either fibreglass batts or blown in fibre to maximize the benefits of both types. A combination such as this provides optimal air sealing coverage and effective insulation. This can be the most cost-effective approach for certain applications - GNI can help you determine if it is right for you.
What is Net Zero Home Insulation?
A Net Zero Home requires strong energy performance and on-site renewable resources capable of supplying the home with the same amount of energy that is being used. This means that the insulating material in the home needs to be efficient and effective enough to reach higher levels of energy performance. A building envelope consultant can act as a guide for reaching the necessary requirements of a Net Zero Home.
What is Passive House Insulation?
A Passive House is an extremely energy efficient home with an incredibly high level of air sealing. The insulating material in a Passive House needs to be able to reach the highest extremes of energy performance. This means that R-Value and air sealing are among the most important factors to weigh when choosing the type of insulating material to use.
DIY Insulation vs Professional Insulation
Although it may be tempting and seem more cost-effective, a DIY insulation install often leaves homeowners with higher maintenance costs and unforeseen problems in the future. With a professional install from GNI, you can also be sure that your upgrades are done in the most cost-effective manner possible. This helps prevent you from over-upgrading certain areas while ignoring the others that may require more attention.
A DIY install can also be dangerous in some cases, as certain materials can pose a health hazard when disturbed. For this reason alone, we recommend contacting a professional first - before you start undertaking any renovations or upgrades.