Attic Insulation Ontario
Do you need attic insulation, Ontario?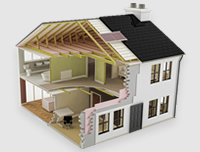 Great Northern Insulation is your expert in attic insulation. Ontario needs to be well protected during the cold winter and hot summer months; from Owen Sound to Peterborough through to London and all points in between. Installing the appropriate attic insulation by a trusted and reliable insulation contractor will help you reduce your energy bills and maintain low energy costs for years to come.
Home attic insulation: Ontario residents should consider:
Would you like to have a free in-home energy efficiency assessment conducted on your home?
Would you like to reduce your energy bills every month of the year?
Would you like to upgrade your home attic insulation?
If you answered YES to any of these questions then you should contact the experienced home insulation contractors Great Northern Insulation. We can help you assess your attic insulation needs with a qualified home efficiency assessment and will follow up with you on recommendations for proceeding forward.
Home attic insulation: Ontario residents' education:
We will help you understand the insulation process and how it affects your energy consumption's bottom line.
You'll learn how much energy you can conserve by simply retrofitting your attic insulation.
You will appreciate how the proper attic insulation will also assist with healthier living.
Great Northern Insulation is the trusted attic insulation company that has installed, replaced and revamped attic insulation needs for many building contractors and single homeowners in Ontario over the last few decades. Installing the proper attic insulation is often one of the easiest aspects of home improvement projects. With the right attic insulation Ontarioresidents can potentially add a lot of livable square footage to their home; thus increasing the home's value.
Trust Great Northern Insulation to expertly install your attic insulation.
Click here to learn more about SAVING MONEY with the government ecoENERGY Retrofit Grant and Great Northern Insulation's spray foam insulation, Ontario residents contact us today.