Weatherization
The overall goal of weatherization is to measurably reduce home energy consumption, and thus reduce home energy costs. This is achieved by implementing retrofits that significantly improve energy efficiency in the home. Once done, the results are noticeable – seasonal energy usage is lessened, utility costs are reduced, and home comfort is enhanced. Depending on the age and size of a home, and taking into consideration the homeowner's budget, there are a host of weatherization retrofits that can be implemented for long-term benefits.
Air Leakage Testing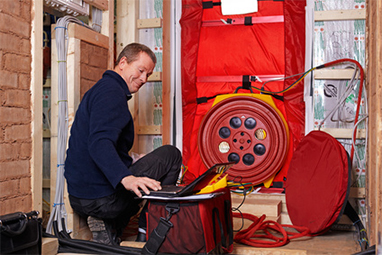 Before any weatherization retrofits are undertaken, an air leakage test is an excellent first step in determining where and how energy improvements can be made. Air leakage throughout a typical home has a very negative effect on energy efficiency. Simply put, a home must be sealed tight in order to ensure optimum energy efficiency. Using a Blower Door Test, it's possible to ascertain the source and scope of air leakage through windows, doors, holes, and cracks. And with the air leakage assessed, it's possible to implement measures that will effectively eliminate air leakage
Air Sealing/Draft Proofing
Comprehensive window caulking and weather-stripping throughout the "building envelope" are basic to proper air sealing and draft-proofing. To be effective, air sealing and draft proofing must be thorough. And that includes weatherizing window frames, doorframes, recessed ceiling lights, and even the heating registers.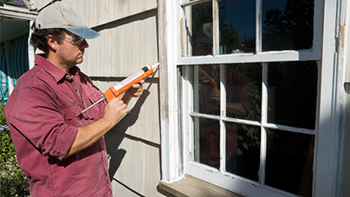 Sealing a home tight is essential to preventing air leakage, as long as there is appropriate ventilation provided. Together, air sealing, draft proofing, and ventilation will provide improved indoor comfort, enhanced energy efficiency, and ongoing utility savings.
Internal Air Barriers
Airflow throughout a home affects everything –
indoor comfort levels; moisture in the air; even the oxygen in the air. Internal air barriers are important so that airflow is properly managed in the home, from top to bottom. In winter and summer, air barriers manage the airflow between the inside of the home and the outside. With a poorly performing air barrier system, winter heat and summer air conditioning are simply being wasted. What's important is to ensure effective air sealing with a membrane, a coating, or an application of spray foam (which seals completely).
Polyurethane Spray Foam
When it comes to effective weatherizing, spray foam is the ideal air barrier, ensuring the most complete and uniform "envelope" throughout a given space.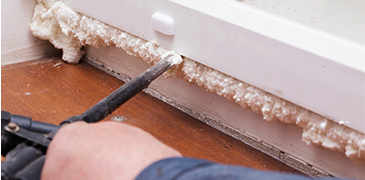 With spray foam installed, there's no need for a separate air barrier and vapor barrier, since the installation accomplishes both. Spray foam actually seals and insulates at one time, providing excellent R-Values and air sealing like no other product. Air leakage is blocked, energy efficiency is optimized, and heating/cooling cycles are better balanced. Most importantly, seasonal utility bills are dramatically reduced annually.
For home weatherization throughout the GTA, Great Northern Insulation can provide the right energy retrofit. Trained professionals install everything to code, with a manufacturer warrantee on every installation. Regardless of project size, homeowners can rely on GNI for quality products and superior installations.