Thermal Imaging
Simply Essential For Building Diagnostics.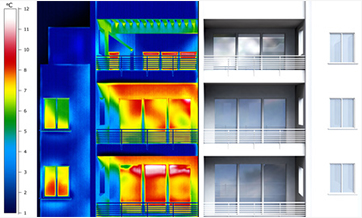 Today, thermal imaging has become an essential component of building diagnostics. Indeed, the extensive data that's provided exceeds any other diagnostic approach. Damaged or inadequate insulation can be readily identified. Air leaks and moisture intrusion in the building envelope are easily detected. And pockets of sub-standard workmanship are accurately pinpointed. All of these are costly to both commercial and residential building owners.
With thermal imaging, an infrared camera identifies building envelope deficiencies from top to bottom. Energy efficiencies can be very precisely diagnosed. Pockets of water damage can be very clearly distinguished. And structural issues in the building envelope can be identified for future rectification. In short, thermal imaging will allow for far better decision-making when it comes to making repairs and retrofits to rectify any of the deficiencies.
The beauty of an infrared camera is that building inspections can be performed without invasive procedures - there's just no need to open up walls, ceilings, or roof cavities. Air infiltration and exfiltration can be isolated so that repairs can be made to improve energy efficiency. At the same time, areas of wetness can be identified to determine the source and extent of any problem areas. Thermal imaging provides a quick, reliable, and accurate diagnosis.
Thermal imaging for energy audits and home inspections
Thermal imaging provides important data that diagnoses a building's air tightness and energy efficiency. This could be relevant in identifying air leakage through chimneys, walls, attics and roofs. But it can also be valuable in detecting poorly sealed doors and windows, as well as areas where insulation is either lacking or missing altogether.
Detecting air infiltration/exfiltration in building structures
Residential or commercial, the primary cause of air leakage is related to construction flaws that allow air to move in and out of the building structure. With thermal imaging, the actual source and extent of air leakage are easy to detect and physically visualize. This allows for specific repairs and/or retrofits to be made to target air leakage at the source.
Accurate diagnosis makes for improved energy efficiencies
Thermal imaging cameras have proven themselves to be valued inspection tools. This technology accurately detects and pinpoints patterns of heat loss that are indistinguishable to the naked eye. Moreover, whatever the source of the deficiency, thermal imaging will set the stage for the best improvements to be made and to be monitored thereafter.
Professionalism is key to precise diagnosis and assessment
Thermal imaging requires a professional approach. The experts understand building science and building construction and have conducted countless inspections over many years. Thermal imaging requires a trained professional who can determine the difference between signs of air leakage, moisture collection, and pockets of thermal bridging.
Thermal imaging in action – interior and exterior surveys
Professionals in the field use infrared video cameras and still cameras to measure the surface temperature of a building structure. The images (video or still) indicate temperature variations of the building envelope, highlighting white areas (warm spots) and black areas (cool spots). All in all, the images help to determine where insulation is required in order to achieve better energy efficiency. Thermal imaging can also be a "quality control" function once retrofitting is complete.
A comprehensive thermographic inspection will include both an interior and exterior survey. For an experienced energy auditor, an interior survey will identify areas where warm air is escaping. And while exterior surveys provide additional valuable data, it's more difficult to detect variances in temperature, mainly because of outdoor weather dynamics. This is why interior surveys are usually more accurate, as the interior of a building envelope has far less distracting effects.
Thermographic surveys are often used when a blower door test is being performed. Here, the blower door test actually exaggerates air leakage throughout the building envelope. With thermal imaging, air leaks appear vividly in the infrared camera and precisely identify areas of deficiency.
For the energy auditor, this is vital in assessing air leakage and heat loss – and therefore making recommendations for repairing/retrofitting for the purpose of improving energy efficiency.
Infrared thermal imaging also allows an energy auditor to evaluate the effectiveness of existing insulation in a residential or commercial building. After a survey, the resulting data can help to determine whether insulation should be upgraded, and precisely where. This has become a very effective way of upgrading insulation where it's most needed. In any building envelope, it's a cost-effective approach, which allows for the best possible return on investment for the long term.
While there are a wide variety of infrared imaging devices on the market today, energy auditors find the most accuracy with imaging cameras that produce a two-dimensional picture. As it is, less sophisticated scanners do not provide the kind of detail that's required for a complete and comprehensive home energy assessment. Interior or exterior, the more detail the better, and the more deficiencies that show up, the better chance there is of rectifying those deficiencies.
The overall benefits of thermal imaging assessments
Commercial or residential, the benefits of thermal imaging appraisals outweigh other diagnostic approaches. Beyond the precision and accuracy of data result, thermal imaging provides early detection of deficiencies and defects.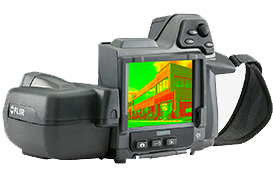 As such, restorative work can be expedited before serious problems arise, or potential damages ensue.
Expert surveyors can very quickly scan a building envelope inside and out with the right infrared imaging equipment. Temperature distribution can be accurately measured, without the need for any preparation or any pre-inspection work. Thermal imaging is entirely non-invasive. There is no need to penetrate walls, ceilings or floors.
As a pre-emptive assessment, thermal imaging serves to detect problems before they can become serious and costly. In this way, appropriate repairs and retrofits can be planned and scheduled with some forethought – the best way to ensure cost effectiveness, and the best way to prevent unwelcome surprises and future damages.
As with anything in the home improvement arena, there is sometimes a tendency to opt for a DIY approach with infrared thermal imaging. However, better results stem from a professional touch – and from experts who understand the nuances of building science.