Spray Foam Insulation
Spray foam insulation is widely recognized as the most versatile insulating product on the market today. A professional installation provides superior energy-efficiency; better sealing and airtightness; far higher R-Value per installed inch; and even structural strength throughout the installation area. Simply put, spray foam insulation is a better option than any other comparable product or combination of products.
There are a number of homeowner issues that can be resolved with spray foam insulation, and when issues do arise, it's sensible to have a professional inspect the premises. For the experts at Great Northern Insulation, spray foam has become the product-of-choice for resolving many of the most common homeowner issues.
Heating and cooling costs that are higher than the average
Irregular heating and cooling patterns throughout the home
Furnace and air conditioner (HVAC) not at peak performance
Evidence of mold growth (especially in the basement areas)
Uncomfortable air drafts, mostly noticeable in the basement
Obvious signs that insects, bugs or vermin are gaining entry
The key to spray foam insulation (also known as Spray Polyurethane Foam) is its capacity to seal. A good install will completely seal a given area – it will form an air and vapor barrier that will not absorb water and will prevent condensation. The result is a building structure that is airtight - without undesirable heat loss; without the potential for mold; and with the most energy efficient "envelope" that any product can offer.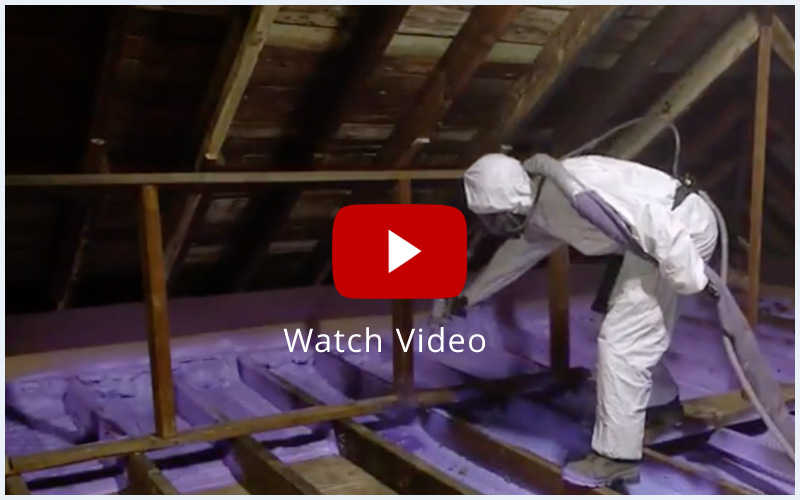 When it comes to insulation value, spray foam offers one of the highest R-Value levels per installed inch. And although it's considered a premium product, spray foam maintains an economic competitiveness with other products like rigid insulation and various air/vapor barriers. When spray foam is specified as the primary air barrier (in a new build or a retrofit), the installation will ensures a monolithic "envelope" throughout.
In many situations, spray foam insulation eliminates the need for a separate vapor barrier, mainly because it controls moisture diffusion where installed. In short, the "envelope" is it's own vapor barrier. As well, a good install will seal up all of the awkward spaces where other insulation methods fail. It means that draft-causing openings are completely sealed – the home is warmer in winter and cooler during the summer.
The professionals at Great Northern Insulation install spray foam in virtually any unenclosed cavity: walls and ceilings; attics and flat roofs; cathedral ceilings and floors; even garages. At the end of the day, a home is better insulated, with improved energy efficiency, and with measurably reduced heating and cooling costs. In fact, homes insulated with spray foam are known to have higher resale values than homes without.
As the industry experts, Great Northern Insulation employs trained professionals with years of product and application expertise. We offer third party manufacturer warrantees on everything that we install, and we fully adhere to product specifications on every project. GNI installation teams subscribe to the building code and maintain the strictest building standards on every job, regardless of size or scope.
At Great Northern Insulation, all products and installations are guaranteed.