THERE'S NO SUBSTITUTE FOR AIR TIGHTNESS!
That's Why Pre-Drywall Blower Door Tests Are Essential.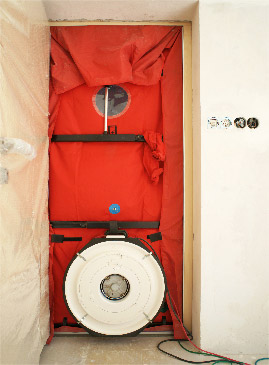 By the end of the year, in December 2016, energy efficiency parameters for buildings and homes will be defined by a new set of standards. An airtight building envelope will be the running model, and planning for such will set the stage for new pre-construction methods. The result: significant energy conservation and substantial energy savings. At the forefront, professional service providers like Great Northern Insulation will coordinate "pre-drywall" blower door tests. Highly technical, the tests will pinpoint air leakage throughout a building envelope, and provide valuable data very early in the construction process. The objective is to proactively strive for energy efficiencies, and avert costly repairs and retrofits in future. Working alongside Certified Energy Advisors, the GNI team will coordinate "pre-drywall" blower door tests in both residential homes and commercial buildings. A Certified Energy Advisor is accredited by National Resources Canada (NRCan) to expedite the tests, and to identify air leakages throughout the entire building envelope.
The aim is to pinpoint areas where airtightness can be improved, and to d it well before any drywall is installed. It's a methodology that allows for comprehensive air sealing and waterproofing to be expedited while construction is in process. Simply put, a building envelope can now be airtight every time. And the experts at GNI will make certain that every managed project runs smoothly.
Proactive Planning Makes For Meaningful Construction Savings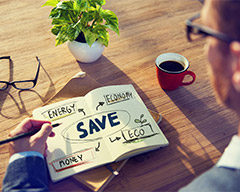 A well-planned building envelope, designed for optimum airtightness, will save measurably on construction costs, while providing energy efficiency for the building itself. Of course, energy efficiency will translate directly into energy savings for building owners/managers. With a proactive plan for airtightness, a building can achieve Air Changes Per Hour by using less costly building materials than otherwise. However, to be sure that a building envelope hits a defined target for Air Changes Per Hour, a "pre-drywall" blower
door test is essential. It's the only way to determine how best to expedite airtightness in the most efficient way.
By Planning For The Future, Building Costs Can Be Much Reduced
With sufficient time allotted to a comprehensive "pre-drywall" blower door test, building owners (and residential homeowners) can effectively identify, and then remediate points of air leakage throughout an entire building envelope. Pre-construction, these deficiencies are easily accessible and far easier to resolve, thus reducing building costs, often substantially. With a blower door test, airtightness is addressed early in the construction and without the need for costly post construction retrofits. It's a win-win situation – reduced building costs to begin with, and long term energy savings for building owners (as well as homeowners).
"Energy Labelling" And The Improved Energuide Rating System
By the beginning of January 2019, "Energy Labelling" will be a mandatory requirement for all newly constructed homes, including all single-family homes that are being listed for sale. In essence, energy efficient homes will become the norm – and every home will strive for a high Energy Ratings Score. Based on the improved EnerGuide Rating System, ratings scores will indicate the annual amount of energy consumed in the home. Needless to say, better energy efficiency will make for a better score.
When it comes to selling a home, buyers will be focused on those homes with Energy Labelling that clearly defines a high energy score.
Pre-Drywall Blower Door Tests Are The Key To Energy Efficiencies
Pre-drywall blower door tests are key to a proactive approach in enhancing a building's energy efficiency. In short, a building that is not energy efficient is a building that is wasting energy and progressively wasting money. On the other hand, with good planning and a pre-emptive approach to airtightness, the process of improving energy efficiency can begin in the early stages of construction. It's a formula for saving on building costs in the short run, while averting the need for high-cost capital investments in future - like repairs, retrofits, and upgrades. Indeed, the savings on energy consumption will also improve profit margins.
Commercial building, or residential home, a professional approach to energy efficiency is an indispensible element for best outcomes. Great Northern Insulation, in tandem with a certified NRCan Energy Advisor, delivers those best outcomes: gathering and assessing the critical data; designing cost effective measures that will bring results: and recommending the pre-construction upgrades and retrofits that will deliver the best return-on-investment.
Meet an Airtightness Target

And Substitute One

Or Substitute Two