Explaining the Passive House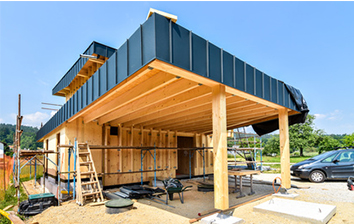 As energy efficiency becomes more and more of a priority throughout the building industry, original and inventive concepts like the Passive House become a reality. In describing the idea of the Passive House, one architect explained it very simply - a Passive House is like a "savings factory" that offers future security against ever-rising energy prices.
The Passive House has been in development in Europe for decades, and in more recent years, Canada is catching up in terms of research, development, and construction.
These houses are dramatically advanced when it comes to thermal insulation and airtightness. As such, the so-called "building envelope" requires dramatic changes in construction.
Conceptually, these houses proved that it was realistic to build homes in the cooler northern climates that didn't need a traditional heating system. And it was possible to ensure indoor comfort for occupants, while providing a high standard of indoor air quality. Simply put, even today, a Passive House is the most cost-efficient house that can be built.
The long-term view with energy-efficient homes (in North America and the European Union) is focused on home construction that delivers economic benefits and ensures energy security.
The General Design Fundamentals
By any definition, the concept of a Passive House is revolutionary. It demands a whole new approach to design and construction. And with a view to home energy performance that will generate savings of 80-90%, big changes are required to conventional construction practices.
Building a Passive House entails pre-planning, with professional advice, and with pre-defined standards at the very beginning of the process. Every stop of design and construction must accommodate the requisite performance standards in order to succeed
The size and shape of the building must serve to eliminate heat loss from the building envelope. With a focus on outstanding energy efficiency, designers and builders use highly sophisticated computerization to ensure that size and shape factors perform
Super-insulation in a Passive House is achieved through "modeling", using software and climate data. Just by example, a home in Canada will need from 3 to 7 times more enhanced insulation performance than a conventional home built to the current code
As conventional windows represent some 50% of heat loss in a home, having triple-glazed windows is essential to the Passive House. It's also critical that window frames be properly insulated (although most windows sold in Canada currently fall quite short)
Very high levels of airtightness must be achieved in a Passive House in order to curtail heat loss, and protect the home from moisture damage. The levels of airtightness must far exceed the techniques and systems employed by conventional construction methods
Ventilation and heat recovery are essential components to ensure exceptional energy efficiency and performance. Heat exchange systems and heat recovery systems will allow for the most efficient heating (as well as cooling and dehumidification in summer)
Thermal bridge-free construction is a strict pre-requisite in a Passive House. Today, there are many thermal bridge-free construction options available. In fact, throughout the Canadian construction industry, viable solutions are already in practice.