Old Insulation Removal
The fact that you may be considering old insulation removal means that you're confronted with this arduous task for some reason or another. There are an abundance of reasons for removal - some of them essential, some not so critical. At Great Northern Insulation, our assessment process will determine if, and to what extent, removal is required. We'll make it easy to deal with, and with the least encumbrance on your lifestyle.
Our people have encountered virtually every removal scenario one can imagine. In some cases, there's too much existing insulation - it actually restricts the efficiency of airflow, and impedes proper ventilation, especially in areas like the attic. This kind of situation can often lead to an invasion of mold and mildew, which in itself might lead to bigger problems. Another common condition is damaged insulation, as a result of a leaking roof, animal contamination, or perhaps smoke damage. In a worst-case scenario, the insulation may require removal in order to eliminate pre-existing materials that are dangerous and harmful (sometimes hazardous), like vermiculite or asbestos.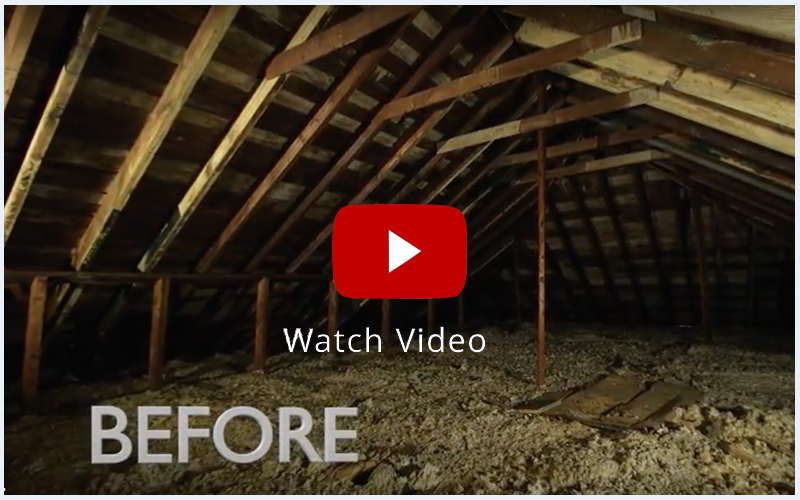 It's also not uncommon for insulation to be removed during a renovation or retrofit. And although new insulation can be installed over old insulation, removal and retrofit during an upgrade is recommended for best results. Great Northern Insulation can perform a complete and thorough removal of the insulation – quick, safe and clean, using state-of-the-art equipment, without disturbing the occupants of the home.
Insulation removal is basically a "cleanup" process, but it needs the experience and expertise for a job well done. Our trained staff uses sophisticated equipment (quite often vacuum hoses) and discards the waste insulation in an exterior disposal system, leaving no debris - the area in question is returned to its original condition, and at times, in better condition. Clearly, we want the area to be in perfect shape for the next step - installation of new, improved insulation that will deliver comfort and cost savings for many years to come.
While it's true that the Internet is full of do-it-yourself options and promises, our personal customer exposure shows that insulation removal is best left to the experts. The process is extremely labor-intensive, and equally time-consuming - you can double that time for someone who is inexperienced. Beyond that, the potential hazards could pose a threat to health: you may be exposed to harmful contaminants; animal remains; mold and mildew deposits; not to mention asbestos or vermiculite. In short, this is not the time or place for a DIY project.
We also like to remind our customers that insulation removal is only part of an overall job. As well as removing every last fragment of loose insulation, there's a need to properly prepare the area for re-insulation: it may require installing a new air barrier or vapor barrier; there may be a need to rough-in pot lights; old wiring may need removal; or it may be a good opportunity to install an exhaust fan. Most importantly, our pros make sure to seal everything tight – and that includes cracks and crevices, light fixtures and air ducts, even the roof vents.