Fibreglass Batts
Fibreglass Batts are an extremely common form of insulation made from extremely fine fibres of glass woven together into thick pads. These pads are called 'batts' and are typically 16" or 24" so as to fit into standard sized cavities.
Fibreglass batts are made from sand and recycled glass, so they are naturally non-combustible. They do not absorb or hold water. Further, batts are sound absorbent material and act to reduce noise pollution.
Batts can be installed in open areas or unenclosed cavities that require insulating. Examples of these areas include attics, ceilings, and unenclosed wall cavities.
While these materials are available in your neighbourhood do-it-yourself store, improper installation can cut their effective R-values from 50-100%. Trust our qualified professional installers to ensure your hard-earned dollars are well spent.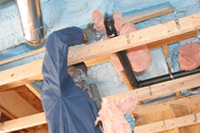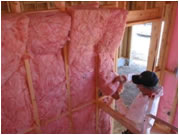 How do I know if I need to install fibreglass batts?
– Is your home newly built with open cavities?
– Does your roof form ice dams in winter?
– Do you notice that there are certain areas on your roof where the snow melts faster?
– Do you have high utility bills?
– Do you hear noise pollution through your walls/floors from other rooms?