Blown Fiber Insulation
Quite often we're asked to advise customers about blown fiber insulation (usually in attics, sometimes in the walls). To begin with, we'll advise the customer if it's even necessary. At Great Northern Insulation, we want to insulate the home properly, and provide viable, cost effective solutions, ensuring that issues have been resolved and long-term benefits are in place. If roof snow is melting quickly in some areas, or if heating and cooling costs are unusually high, then yes, an insulation upgrade is advisable, and blown insulation may be the right option.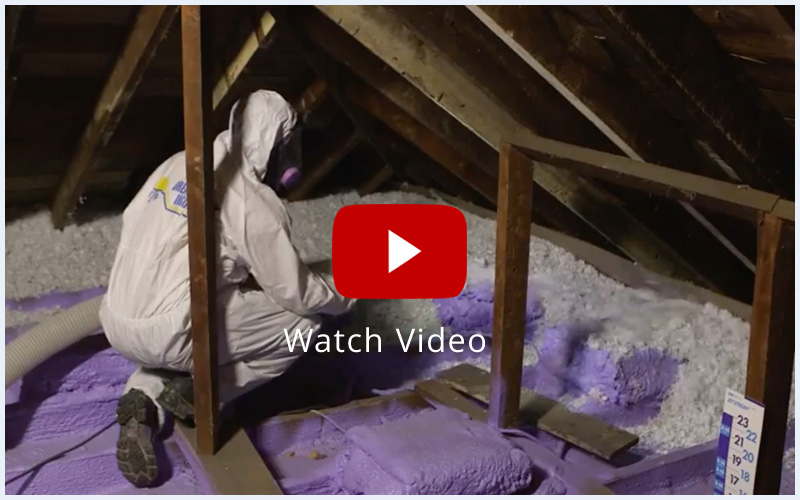 The two most prevalent kinds of blown insulation are cellulose and fiberglass. Each of them has their own advantages, and of course, the brand manufacturers fully support their own products. Both cellulose and fiberglass have similar insulating values, although statistics show that cellulose delivers a slightly higher R-value per inch. At the same time, cellulose has a tendency to settle over long periods of time, and this may eventually have an affect the way the insulation behaves. In comparison, the fiberglass producers tell us that their product does not settle over time. Clearly, whether its cellulose or fiberglass, each product will react and respond to the weather elements in its own way, based on its unique product features.
At Great Northern Insulation, we use only the best products on the market, with manufacturer's warrantees that are passed directly to our customers. The cellulose product is made of shredded newsprint, treated with anti-fungal compounds, and designed to be fire retardant. It's comprised of 100% recycled paper, and "fiberized", which separates the material into cellulose fibers. The fiberglass product, on the other hand, is produced from fine fibers of glass – a proprietary manufacturing process that affords the final product with singular properties and characteristics. Both products are blown in, using a large hose, and allowing for uniform coverage, even in awkward spaces and small recesses. In most cases, both the cellulose and the fiberglass can be applied over existing insulation.
Great Northern Insulation specializes in blown fiber applications (cellulose and fiberglass), offering our customers skilled crews who install everything according to industry standards and building codes. Both of the products are manufactured with fire resistant qualities: the cellulose insulation is chemically treated to be fire resistant, and retards fire from spreading; the fiberglass insulation is very difficult to ignite, and consequently provides a very high level of fire resistance.
Many of our customers are also asking for eco-friendly products these days - sometimes for personal health reasons, sometimes for sustainability concerns. The cellulose product contains very high levels of recycled paper, which in itself is considered a recycled product, while the fiberglass product is manufactured using recycled glass material. Both products are constantly being refined and enhanced, with new "green" options available every year.
The team at Great Northern Insulation works very closely with customers to ensure complete satisfaction. It includes choosing the right product; installing to the highest of standards; and meeting time frames and budgets that satisfy – and that's a guarantee!