Air Sealing Performance Package
For most residential homeowners, the answer to improving energy efficiency is improving home insulation. While this solution is viable, it's only part of the big picture. For the insulation experts at Great Northern Insulation, air leakage throughout a home has proven to be far more impactful than anything else. In short, it's the basis for a professional approach to "seal it tight and ventilate it right". The fact is, air leakage is not what a homeowner wants in the "building envelope".
Every home, regardless of size, should be sealed tight. This is the way to effectively manage "air infiltration" in and out of the home. And with proper ventilation throughout, the HVAC system (heating, ventilation, air conditioning) can control air circulation more efficiently in the home. As a working system, sealing tight and ventilating right will benefit the home with better-balanced HVAC cycles, much-improved energy efficiency, and reduced energy usage season to season.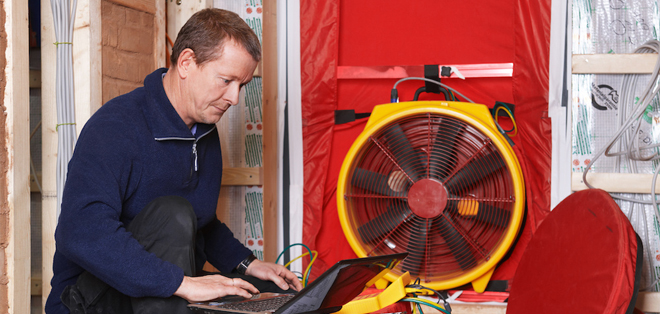 Great Northern Insulation Uses A "Blower Door Test" To Measure Air Leakage
As a Certified Energy Advisor, Great Northern Insulation uses a "blower door test" to accurately assess the rate of air leakage in a home. By "depressurizing" the house, the test can determine the airtightness of a home. This is particularly important when doing a Home Energy Audit since the before/after results are critical to the big picture. GNI measures air leakage by Air Changes/Hour at 50 Pascals (ACH50) – the pressure difference between the inside and outside of the home.
With a "blower door test", the house is depressurized, and outside air is caused to flow in through holes, cracks, and other openings. The test will determine the rate of air infiltration, as well as the source(s). Once the air leakage rate is calculated, the score will reflect the energy efficiency of the home. A house that demonstrates little air leakage will have a higher rating than one with sizable air leakage. More importantly, the results will set the stage for improvements and upgrades.
Great Northern Insulation Will Investigate The Entire House For Air Leakage
Inadequately sealed windows and doors contribute to air leakage in every home. However, there are other sources of air leakage in a "building envelope" that are more critical, yet hidden. These would include seams where materials are joined; openings where pipes and wiring run through, and ductwork that leaves major gaps for air to move around. All together, these types of leaks can create as much air loss as an open window. It's a recipe for wasted energy in summer and winter.
In an effort to isolate and identify the full extent of air leakage in a home, GNI examines the entire "building envelope" in order to underline areas that can be remediated. Here again, it's all about sealing tight and ventilating right. By properly sealing walls, ceilings, floors, and roof cavities, air movement can be curtailed. And by providing suitable air ventilation, the indoor environment of the home benefits - with fewer drafts, less noise, better air quality, and reduced utility bills.
GNI Provides Customers With A Reliable ACH Measure (Air Changes/Hour)
Professionally, the "blower door test" is considered one of the most valuable tools for performing a home energy audit. The measurement basis - air changes per hour - calculates how much air is moving through the "building envelope". ACH is the most commonly used system for measuring airtightness. ACH50 measures the number of times the air changes each hour (at 50 Pascals of air pressure). For the team at GNI, this approach has proven itself with accurate, reliable numbers.
For a home energy audit to be valuable, the results of a "blower door test" will be used to prep an action plan. After all, the objective is to improve the home's energy efficiency and performance. As for remediation work, the more leaky a home, the more reason to perform comprehensive air sealing. This is especially vital in basement areas and in attic spaces, mainly because of the so-called "stack effect" – air leaks down low and up high are far more critical than in the middle.
Great Northern Insulation Can Reduce Air Leakage Through Various Retrofits
Every home (including newly built) is replete with gaps and openings, both large and small. The idea is to seal everything air tight so as to prevent undesirable air infiltration. Clearly, this would include draft proofing the windows and doors, as well as sealing up recessed lighting fixtures and exposed ductwork. For the experts at GNI, there's no such thing as too much sealing -as long as the ventilation is sufficient for everything to work together in a complementary fashion.
Amongst the various energy retrofits available from GNI, one approach stands out, particularly for homes where access to air leaks might be limited. As an application, Spray Polyurethane Foam is considered the ultimate sealer. It seals a space completely airtight; it forms an effective vapour barrier; it prevents undesirable condensation; and it delivers a level of energy efficiency that is hard to match. Basement, attic, or exterior walls, SPF satisfies all the requisites of airtightness.
A Blower Door Test Identifies, Sources, and Measures Air Leakage
Great Northern Insulation employs a Blower Door Test to determine the source and scope of air leakage throughout a home. The objective is to "depressurize" the home, assessingairtightness, and detecting areas where air is flowing in and out of the building structure. This air movement is measured at a pressure of 50 Pascals, and the "air changes per hour" will define the scope of air leakage. Essentially, this data will outline the full extent of air leakage throughout a home.
A Blower Door Test is the primary tool when doing a home energy audit. It allows airleakage to be accurately calculated by measuring airflow in cubic feet/minute (CFM). With some technical calculations, the CFM reading is used to isolate areas of air leakage that can be sealed to remedy the leak. This will set the stage for GNI to initiate strategic air sealing and weatherization retrofitsto eliminate air leakage and effectivelyimprove the overall energy efficiency of the home.
For Great Northern Insulation, the solution to air infiltration is to seal the "building envelope" in an effective manner. Sealing, along with weatherization upgrades, and insulation retrofits, will dramatically improve energy efficiencies, and result in heating and cooling bills that are reduced significantly. The key, of course, is to installquality products, with technical professionalism. And this is where GNI can deliver – with products and installations that outperform the others.
As experts with Spray Foam Insulation (SFI), GNI will seal and insulate a space with performance results that surpass anything on the market. Spray Foam Insulation is considered the definitive sealer and insulator - it seals airtight; it creates an air barrier/vapour barrier combination; and it blocks unwanted moisture from accumulating. Overall, it's an approach to solving air leakage that will deliver improved home energy efficiency better than any other approach