Spray Foam Insulation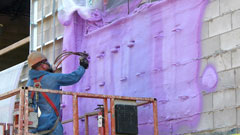 Sprayed-in-place polyurethane foam is a proven performer for new construction that forms a continuous monolithic insulation and air barrier on the wall in a single step.
When introduced into Canada in the 1960s, sprayed-in-place polyurethane foam was found to be an effective insulation for demanding applications such as freezers, coolers, and controlled atmosphere storage.
Offering one of the highest R-values per inch of any insulation material available, spray foam insulation maintains economic competitiveness with rigid insulation and sheet good or mastic air/vapour barriers. When specified as the primary air barrier for the building, it can form a monolithic envelope around the structure, sealing angles and corners as it flows into gaps and cracks ensuring a tight seal around all penetrations. Spray foam insulation often eliminates the need for an additional vapour barrier since it controls the diffusion of moisture through the walls.
Great Northern actively supports specifying polyurethane foam to the architectural community. We employ trained professional installers, offer 3rd party warrantees, and adhere to the strict standards and specifications set-out in each manufacturer's product guide.