Insulated Panelling & Cladding
Give Your Building New Life.
Restore Profit. Restore Beauty. Restore Life.
Great Northern Insulation is Canada's largest full service insulation contractor. Trusted for more than 35 years, we proudly install high-efficiency insulated panelling and cladding for the ICI sector. When your building gets older, spending more money on repairs isn't the only thing that happens. Your building also begins to look outdated, and not in a rustic sort of way. Luckily, there are cost-effective methods to give your building a brand new look and save you money. Insulated panelling and cladding can restore your building's look and useful life.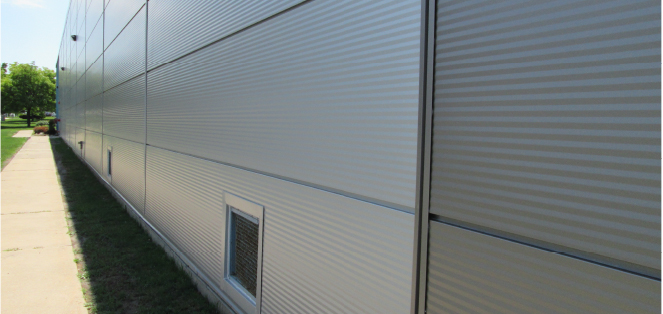 Costs Become Profit
Retrofitting your building with new panelling and cladding is an investment, not an expense. Your building depreciates in value over time due to wear and your accountant knows that. The amount of depreciation becomes a deductable. By installing new panelling and cladding, you are able to increase the life of your building and raise the value of your assets. This will allow you to deduct more money from your revenue, making you more in profit. The extra insulation and closing of thermal bridges also translates to savings in heating and cooling bills.
Profits Get Creative
You are already saving your building and your wallet. Now it is time to get creative. Panelling and cladding can also be used to completely redesign your building. Whether you have had the building for years, or recently acquired it, a new design can invigorate you, your staff, and everyone else who walks through the doors. The flexibility of the material, along with the range of colours and textures, allows for endless creativity. Transform your building inside and out.
Close Thermal Bridges
Thermal bridges are gaps in your building's insulation that stop heat or cold from doing its job – keeping your building at the temperature you set. Instead, the gaps will circulate the opposite temperature, making it harder and costly to heat or cool your building. Thermal bridges can have a detrimental effect on your heating and cooling bills, especially in larger ICI buildings.
Pressure-Equalized Rain Screen
Rain screens protect your building from major rot by allowing your building to dry. Even in areas with less rain, this added protection offers more durability to your walls and your building. A pressure-equalized rain screen also requires less maintenance and care.
Extra Insulation
Give your building extra insulation to keep heated and cooled air inside and the weather outside. This will save you more than just money. This will increase your building's energy-efficiency and require fewer resources. You will be contributing to a sustainable future.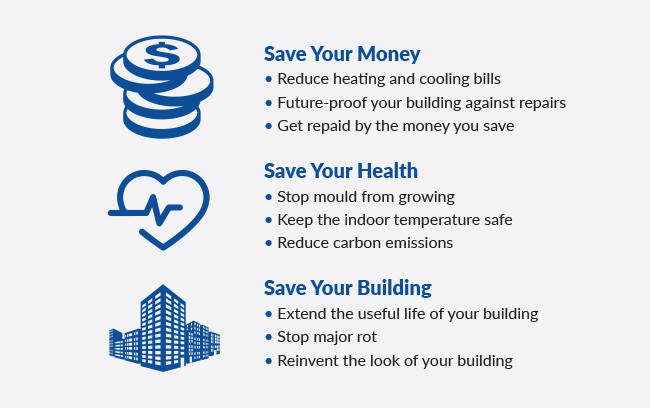 Give Your Building New Life
Contact GNI by calling 1-800-265-1914