Condominium Weatherization & Window Film
Stop Occupant Comfort Complaints.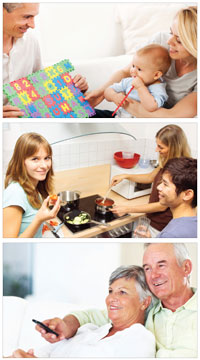 Weatherize your condominium to improve occupant comfort, health and safety, as well as building durability and energy efficiency.
Do your occupants complain of cold drafts or units that are hard to heat and cool? Do they complain about pests, cooking odors or tobacco smoke drifting in from other units? Does the threat of mold keep you up at night? And what about that special assessment to pay for a new roof after last winter's ice dam?
We can help by weatherizing your condo complex using proven building science, state-of-the-art diagnostics and best-in-class materials and methodologies. We can not only address the majority of occupant comfort complaints, but weatherization costs a lot less money than new windows, a new roof, or a lawsuit.
It starts with understanding and applying the science of stopping uncontrolled air leakage, a phenomenon that can waste up to 40% of the energy used to heat and cool a building. Air leakage creates:
Drafts and uneven temperatures
Carries odors and pollutants
Helps mold to flourish
Creates ice dams
Helps smoke spread in the event of a fire.
We are experts in weatherization. We are experts at reducing your risk, and your energy bills. We are experts in improving comfort, indoor air quality and building durability. We can help you sleep at night.
Diagnostics
We begin each weatherization job with a thorough inspection to locate the true source of every problem. We trace every air leakage pathway. Identify the root cause of every complaint. And then we provide you with a complete report including payback and return on investment scenarios. That lets you make a business case with the condo board, and helps occupants understand how you're addressing their concerns.
Low Rise Properties
Ice damming wrecks roofs, and row house and town home complexes are
particularly susceptible. The root source is not the eaves. It's not the gutters. It's not the roof. It's uncontrolled air leakage carrying warm, moist air from the conditioned living spaces into the unconditioned attic. That air melts the snow closest to the roof, where it backs up under the shingles and refreezes. Next thing you know, you have a gigantic set of icicles threatening to fall on someone's head, and a damaged roof in the springtime.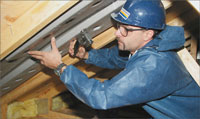 Properly air sealing the attics of low rise condos using spray polyurethane foam makes a significant contribution to preventing ice dams and improving occupant comfort and energy efficiency.
Adding insulation alone will not help. Fibrous insulation materials have no air
sealing properties. Properly air sealing the attic using air impermeable materials like spray polyurethane foam is the only sure way to prevent ice dams from forming. Every penetration - pot lights, plumbing and electrical stacks, bath fans and HVAC - has to be sealed off from the conditioned space.
Knee walls and party walls also need to be sealed using spray foam to prevent warm air from entering the attic. The bonus? Sealing these areas eliminates the transfer of odors and pollutants from one unit to the next and also helps dampen sound transfer for happier occupants right along the row.
High Rise Properties
Air leakage in a high rise building can be severe. Stack effect - hot air rising and cold air dropping - can be so strong you can hear a whistling noise at the ground-level doors in the wintertime as cold air is sucked inside thanks to hot air escaping at the top. Make-up air from the mechanical system can make the problem worse, and also force unwanted smells, pests and pollutants into the units.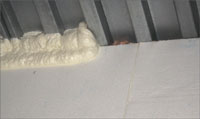 Locating and sealing air leakage pathways in high rise condominium buildings helps control the transfer of odors, pollutants and pests, as well as the movement of smoke in the event of a fire.
Weatherizing high rise condo buildings starts at the top, by sealing roof
penetrations. Next, we seal the bottom to limit the amount of cold air entering the building. If you have an underground garage, sealing it off from the living spaces above also eliminates the transfer of exhaust fumes and volatile organic compounds (VOCs) to greatly improve indoor air quality.
The vertical shafts, such as plumbing chases, elevator shafts and mechanical paths are sealed next, followed by outside walls and openings, and finally, we compartmentalize by sealing internal, horizontal, floor-to-floor air leakage pathways to completely curb stack effect.
Windows: Don't Replace, Repair!
Everyone loves the looks of new windows, and the guy who sells windows will tell you they are the secret to improving building energy efficiency and occupant comfort. But can you justify the cost and snail's pace payback projections?
Repairing the windows in your building is a faster and far more cost effective option, and means a lot less hassle for occupants. In fact, according to Canada Mortgage and Housing Corporation (CMHC) studies, simply installing high-quality weatherstripping, foam and sealants around existing windows can reduce air leakage by 54-83%, and gives you an air leakage rating comparable to new windows for a fraction of the price. And the payback through energy savings? It's often less than five years.
Improve occupant comfort, health and safety, as well as building durability and energy efficiency