Company Info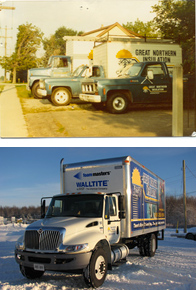 In 1980, Great Northern Insulation began serving Southern Ontario offering spray foam insulation, blown-in attic insulation, and sprayed-in-place acoustic and fireproofing fibres. Today, Great Northern Insulation has grown to serve all of Ontario providing an even wider variety of insulation and weatherization services.
Six locations throughout Ontario; over 200 fulltime employees; 15 field superintendents providing pre and post-inspection services; certified thermographic services; trained blower-door technicians; forensic building science capabilities; EnergyStar trained sales staff; 'D' and 'AZ' licensed professional truck drivers; manufacturer trained and certified installers; dedicated Customer Care department.
While anyone can simply install insulation, we firmly stand by the statement that "There is more to insulating than just adding insulation."
When selecting an insulation contractor, evaluate your options based on their experience, product expertise, customer service and workmanship.
Ensure your next project is a success, contact Great Northern Insulation today.